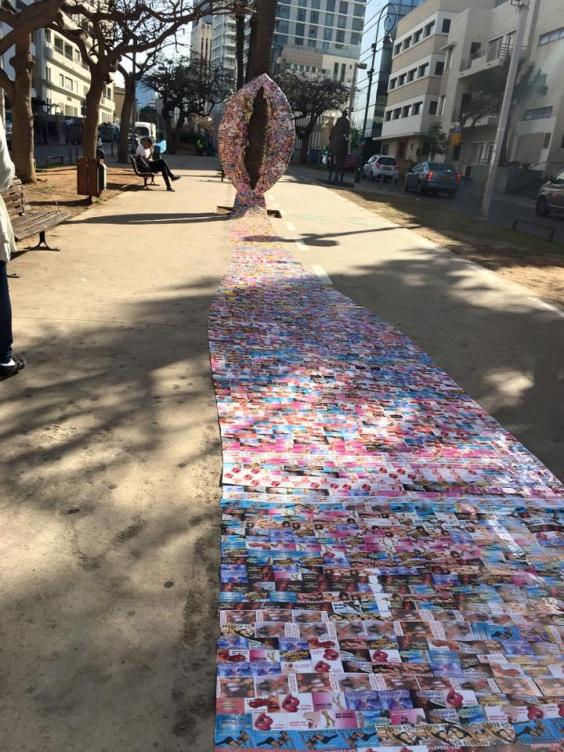 Picture: Marion Bellaiche
A 50ft-long sculpture of a vagina, made from roughly ten thousand calling cards used to advertise prostitutes, has been placed in central Tel Aviv to mark International Women's Day.
The creation by artists Sasha Kurbatov and Vanane Borian was placed on Rothschild Boulevard in the Israeli city on Tuesday morning, having taken around a year to build.
פתחנו בחגיגות יום האישה הבינלאומי!מאות שעות של איסוף ברחובות העיר,עשרות ימים של הרכבה,חמישים מטר אורך,שלוש מטר גובה,אלפי כרטיסים,עשרות אלפים א.נשים.במעגל הזנות.ויום אישה אחד.

Posted by Sasha Kurbatov on Monday, 7 March 2016
The three metre tall sculpture is made from cards advertising prostitution, and acts as a protest against the trade in the city.
Kurbatov told indy100:
We made the sculpture during one year and decided to place it on International Women's Day at a public place in Tel Aviv.

We hope that the project speaks alone for itself.
Prostitution in Israel is currently legal, but organisation of brothels and pimping is prohibited.
A decade ago the United Nations named Israel as one of the main destinations in the world for trafficked women, a reputation the country struggles with to this day.
The US State Department in 2015 ranked Israel in the top tier of destinations for human trafficking in an annual report, recommending improved efforts to identify and protect trafficking victims, as well as imposing "stricter sentences on convicted trafficking offenders", continuing to increase training for law enforcement in "victim identification, victim sensitivity, and enforcement of labor and sex trafficking laws".
It also recommended increasing "investigations of sex trafficking of Israeli nationals".
HT Nicola Abe
---
More: The countries where it's worst to grow up as a woman
More: Comedian spends International Women's Day correcting ignorant meninists on Twitter