Firefighters were called to a bar in Brazil after a monkey walked in, downed a glass of rum, picked up a kitchen knife and started threatening the clientele.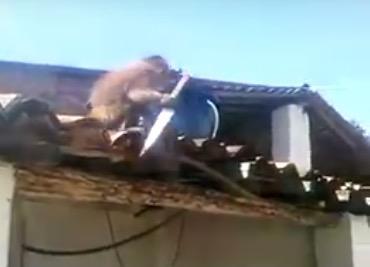 The fire department of Patos, in Paraiba province, said that a call came in on February 5th to deal with an aggressive monkey brandishing a knife at men in a bar and chasing them, while leaving the women alone.
"It was a bar staff oversight that ended with the monkey drinking some rum and taking the knife," fire department chief Saul Laurentino told the aRede website.
One person managed to film the monkey scratching the bar's roof with the large kitchen knife before jumping down to continue its violent rampage.
Firefighters eventually caught it, confiscated the knife and released the monkey back into the wild, but it was later caught again acting aggressively towards people who lived on the edge of a wood.
It's now been caught again, and authorities are now reportedly trying to decide whether to release it or take into permanent captivity.
HT: UPI
---
More: Polish badger drinks seven beers, passes out on beach, sleeps for two days
More: A 'drunk' squirrel caused hundreds of pounds of damage in a pub and the internet is going nuts