Successfully identifying, intercepting and detaining a person intent on committing a violent terrorist act is not easy.
Individuals wanting to cause harm in the name of some twisted ideology are often organised and well funded, and it's a round-the-clock effort by the security services to stop them before they can cause harm. 
The methods which the security services use to track down 'bad dudes,' to steal a phrase of President Trump's, are often criticised with regards to privacy and racial profiling.
However, one method is being criticised for being startlingly basic.
For the past year-and-a-half the FBI have allegedly been using a 48 question survey to determine if someone is a threat, and one of the questions includes whether the target likes to go camping or not.
The document, published by The Intercept, is known as the the 'Indicators of Mobilization to Violence' (IMV) survey, and assigns points on factors such as religious observance, travel history, financial transactions, and physical appearance.
It's like a Facebook quiz, but terrifying. 
There are, of course, logical and rational questions you would expect to find on a survey of this kind. 
Question 1 asks simply:
Has the subject mobilised? (E.g. has the subject travelled, attempted to travel overseas to participate in violence; has the subject been arrested in a terrorism charge; or has the subject conducted a terrorist attack?
Question 20 asks:
Is the subject a regular consumer of extremist propaganda?
And question 31 asks:
Has the subject sought or received direct guidance from overseas extremists?
However, there are a number of questions in there that seem obtuse and in many cases, appear far too broad to truly be affective in identifying someone with extremist views. 
Question 2 enquires: 
Does [the] subject possess or have immediate access to weapons?
Americans own an estimated 265 million guns. That's around one gun for every American adult. And that's only going to go up as the GOP begins to reverse what it calls 'excessive regulation' on firearms by the Obama administration.
With regards to the 'immediate access' part of the above question - there are multiple States that don't impose a waiting period on the purchasing of shotguns or rifles. While the States of Florida and Iowa only have a 3 day waiting period when purchasing handguns.
The Orlando shooter Omar Mateen for example purchased an assault style rifle and a handgun with very little trouble at a Port St. Lucie gun shop.
You can also pick up firearms at a huge number of Walmart stores all around the country.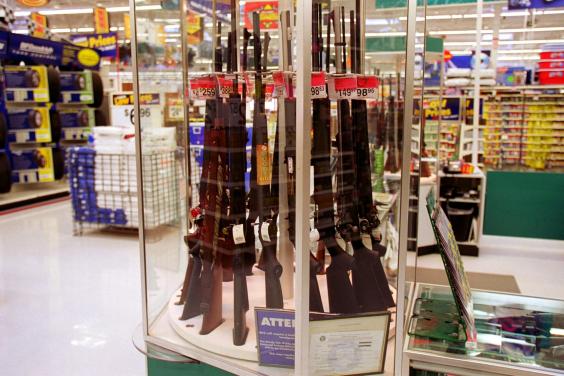 Question 8 asks: 
Has the subject experienced a recent personal loss or humiliation, either real or imagined? 
This includes: 'death breakup, divorce, loss of a job, perceived injury to status or self-image'. 
It's fairly safe to say everyone us has experienced at least one of those factors at some point in our life.
Question 5 asks:
Was the subject convicted of a violent felony?
The FBI's 2015 crime statistics reveal that there were an estimated 372.6 violent crimes per 100,000 inhabitants. The violent crime rate is 3.1 per cent higher than the 2014 rate. 
Question 42 asks: 
Has the subject participated in activities that simulate military or operational environments? (e.g. paint ball, airsoft, laser tag, shooting ranges camping/survival trips)
Yes, camping and laser tag are apparently considered suspicious activities.
After the agent has proceeded through all the questions the survey produces a 0-100 score. It's this score which reveals 'the subject's level of mobilisation or likelihood of carrying out a violent act,' as well as their 'likely level of radicalisation or internal commitment to violent ideology.'
Sahar Aziz, a law professor at Texas A&M University and expert on counter-extremism programmes, told The Intercept that some questions were subject to bias by the FBI agent conducting the test in the first place:
Any effort to create ideological prototypes of people that are presumed to be susceptible to violence can have a chilling effect on constitutionally protected free speech.

When government agents are screening people based on ideological beliefs or lifestyles that are not directly associated with criminal activity, it casts a wide net, and that can create serious consequences for targeted communities.
The survey points out several times that:
Scores should be considered tools for case comparison only, and do not provide conclusive evidence that a subject will take a violent action.
However, it also says that the score could be used to:
Assist decision-makers with determining where to focus available resources.
When approached for comment by The Intercept, the FBI said:
These surveys are but one part of our internal assessment process in counter terrorism cases.
---