Do you have trouble understanding what comes out of Donald Trump's mouth?
Like for instance, his chaotic recent press conference, where he dropped this now-immortal phrase?
If so, just be glad you're not Japanese.
Trump recently met with Japanese Prime Minister Shinzo Abe.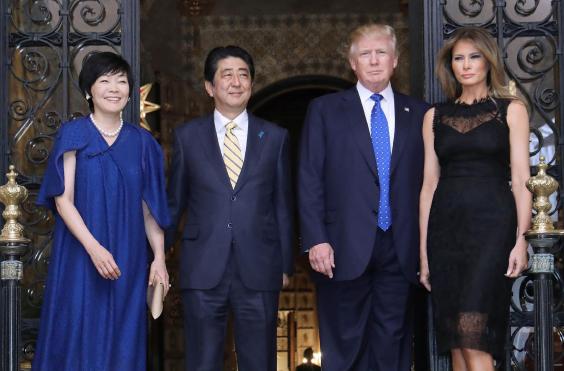 And apparently, Japanese translators are finding Trump's ramblings an utter nightmare to unscramble.
Chikako Tsuruta, who works as an interpreter for CNN, ABC and CBS, told Japan Times:
He rarely speaks logically, and he only emphasizes one side of things as if it were the absolute truth. There are lots of moments when I suspected his assertions were factually dubious.

He is so overconfident and yet so logically unconvincing that my interpreter friends and I often joke that if we translated his words as they are, we would end up making ourselves sound stupid.
In particular, it is his bizarre sentence structure that is causing them the most trouble. The translators Japan Times spoke to said that he tends to randomly jump from subject to subject, and introduce specific references with adding any context or explanation.
Miwako Hibi, who has been a broadcast interpreter for over 20 years, pointed to his victory speech on 9 November, when he brought up the famous race horse Secretariat completely unexpectedly.
I mistranslated that one. It didn't even occur to me that he was talking about a race horse. … It's really hard to follow his train of thought.
In the same speech, he also referred to Republican National Committee Chairman Reince Priebus as a 'superstar', again out of the blue.
Hibi continued:
When he suddenly said 'Reince is a superstar,' I was literally thrown off. Only after the camera zoomed in on the face of a 'Reince' did I realise who Trump was talking about, and I hastily added, for the sake of the audience, that it's actually 'Reince Priebus, the Republican National Committee chairman'.

The convenient thing about the Japanese language, however, is that it tends to do away with a subject in a sentence, so in this particular case, I first translated 'superstar' without clarifying who Trump was referring to, and carried on like this until I got a fuller picture.
But Trump's language, and habit of dropping wild inaccuracies into his speeches has also provoked a dilemma. How do you translate these things when you are supposed to be reporting for a respectable news outlet?
Retired interpreter and Ph.D in interpretating studies Kumiko Torikai said:
As an interpreter, your job is to translate the words of a speaker exactly as they are, no matter how heinous and what an outrageous liar you find the speaker to be.

If Trump is not making sense, you don't get to make sense, either. If his language is coarse, that's the way you translate him.
As Trump and his team continue to make statements the likes of which we've never heard from US leaders before, spare a thought for the translators.
HT: Japan Times and The AV Club
---
More: Donald Trump may be the most reported on human in the world
More: Most voters in the US think Donald Trump is incompetent