JK Rowling has been on fire on Twitter right now, dealing with haters and racists left and right.
At the same time, Donald Trump has been continuing to go off on rants about how negative stories about him are obviously 'fake news'.
Rowling quickly shot him down.
But then her special surprise tag team partner came out to back her up. 
We think they should tweet together more often. 
Maybe they should start some sort of group of super Twitter users. Whose goals are to stand up against negativity. 
Basically we're asking them to start the Twitter Avengers.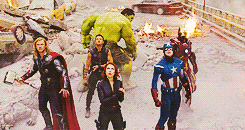 HT: Mashable
---
More: JK Rowling has been responding to people threatening to burn her books and it's brilliant
More: Here are the the most magical things JK Rowling has ever done