Mark Hamill - better known as Luke Skywalker - gave the perfect tribute to his on-screen sister Carrie Fisher.
Speaking at the 40th Anniversary convention to celebrate the film series Hamill knew exactly what to say about his co-star, who died on 27 December last year.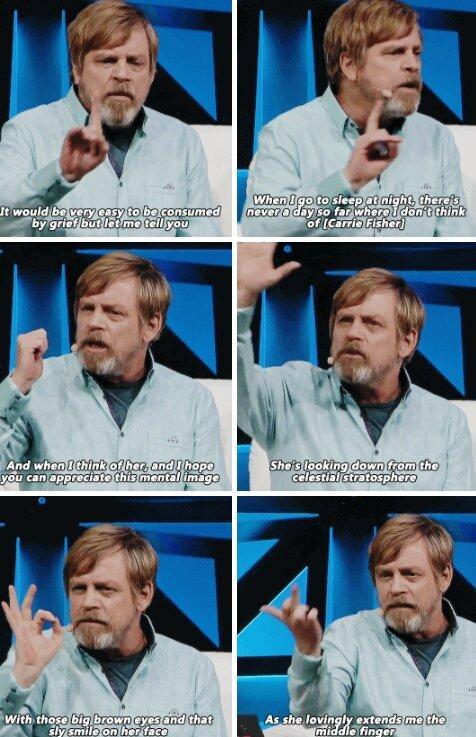 She was our Princess, damn it, and the actress who played her blurred into one gorgeous, fiercely independent and ferociously funny, take-charge woman who took our collective breath away...

Let me tell you, when I go to sleep at night, there's never a day so far where I don't think of her.

And when I think of her … she's looking down from the celestial stratosphere with those big brown eyes, that sly smile on her face as she lovingly extends me the middle finger.
Mark also opened up about how he's struggled to think about the death of his co-star, adding that he can't think of her in the past tense, adding that he hoped the panel wouldn't come for another "30 years". 
I have to tell you, I've been trying to deal with this — you know, there are the five stages of grief — and just when I think I've gotten to acceptance, I bounce back to anger. Because I'm mad. She should be here.

Let me tell you about the first time I ever met her…I was unprepared. I was bowled over by her humour and her wit, and how sardonic she was; how dark she was.

I'm still not thinking of her in past tense.

Certain people have a vitality and an energy that's so strong, it reverberates far beyond their lack of physical presence.

I have to tell you, Carrie would want us to be happy.

She wouldn't want us to become consumed by grief; she was all about having fun every day, which is why it was such a joy to be around her — well, most of the time...

When we found out in the storyline that we were brother and sister, we were more like brother and sister than we realised.

Because we loved each other, but we fought and we criticised and we were judgmental and we'd get fed up with one another.
---