Tax activists descended on several branches of HSBC on Saturday morning to stand against tax avoidance and public sector cuts.
Fifty activists from UK Uncut closed down the Regent Street branch of the bank dressed as 'tax inspectors' saying they were searching for 'missing public funds'.
The group has targeted the bank after it was recently found to have enabled 1,100 wealthy British clients to evade taxes through its Swiss subsidiary.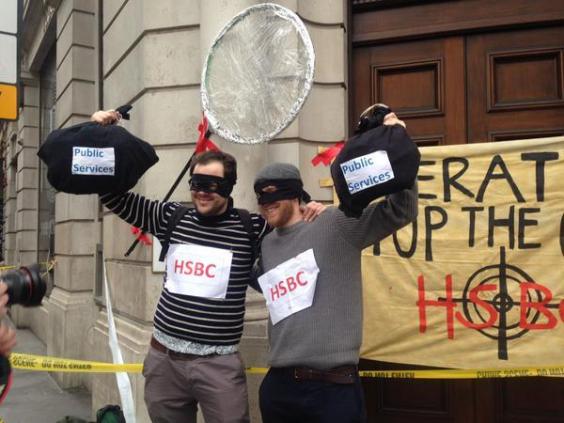 Two activists dressed as HSBC bankers (Picture: UK Uncut)
As part of 'Operation Stop the Cuts' the group has organised a national day of action, which is part of a wider campaign to show that there is an alternative to austerity.
The government has spent the last five years blaming 'benefits scroungers', but it's the mega-rich who dodge over £100 billion a year who're the real scroungers.

We're not broke and the cuts aren't necessary. Cutting vital public services is a political choice, not economic necessity. We need to stop the tax dodgers, make the banks pay for the crisis they caused and fight to protect our public services.
Lisa Stewart, UK Uncut activist
---
UK Uncut say activists have taken to HSBC branches in Taunton, Cambridge, Nottingham and Shrewsbury and one man in Ely even said he was going down to his local branch to protest alone.
Following the recent scandal, HSBC chief executive Stuart Gulliver publicly apologised for the bank's historic misdemeanors but said it has since been "completely overhauled".
"The media focus has been on historical events that show the standards to which we operate today were not universally in place," he wrote.
"We must show we understand that the societies we serve expect more from us. We therefore offer our sincerest apologies."
i100.co.uk has contacted HSBC for a statement about today's UK Uncut action.
---
More: George Osborne has defended that tax 'avoidance' video
More: We went on a tax avoidance tour through the heart of London