The Mail Online excitedly broke the news that actor Tom Hiddleston had a brand new squeeze.
Except. It wasn't. It was a woman who had physical contact with him.
Taffy Brodesser-Akner is a journalist at Gentleman's Quarterly who interviewed Tom Hiddleston, in an article published this week.
The interview was conducted in January, and Brodesser-Akner was spotted one evening with Hiddleston.
They were seen hugging goodbye on a street.
What else would a paparazzo from Eroteme.co.uk or a Mail Online assume?
The Mail Online ran this story.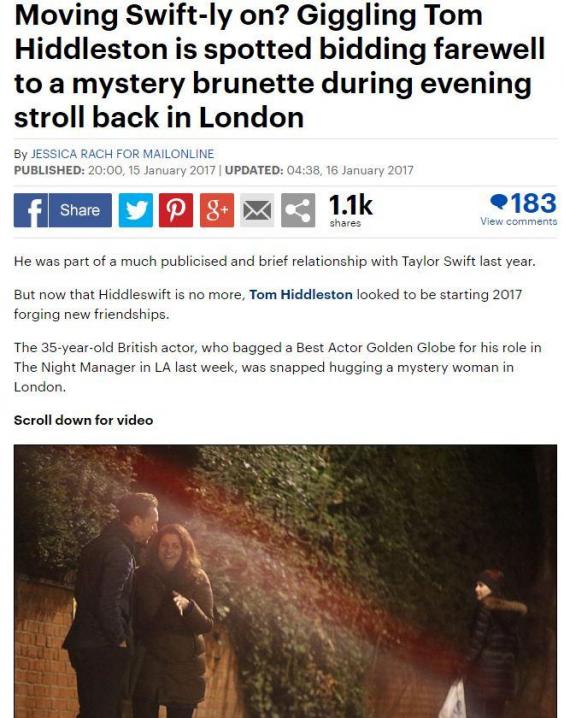 The paper did cover itself that is was not suggesting romance.
While there's nothing to suggest any romance between the pair, the actor caught the attention of a passer-by as he enjoyed a cosy chat with the brunette, who couldn't believe her luck.
Yet some other phrases leap out as rather odd, given the circumstances that they're definitely not suggesting she was his new partner.
For instance:
cosy chat.
They later describe the scene.
The duo were spotted laughing as they stood huddled together on a dimly-lit street engaged in an in-depth conversation. 
Dimly lit? You mean this incident took place after dark? Good gracious.
The writer also decides that Brodesser-Akner was 'smitten'.
Oddest of all, Mail Online claims to know that her appearance is 'put on'.
And the lady looked understandably thrilled, as she put on a casual appearance wrapped up against the frosty weather. 
Gasp.
Brodesser-Akner wrote in the GQ interview that she learnt about her status as 'mystery brunette' from her friends:
(As if to underscore this: A few days after I returned to the States, a friend sent me a link to a Daily Mail article containing nine pictures of Hiddleston and a "mystery brunette"—me—hugging, laughing, and bidding each other farewell. For the record, I was laughing about his [Sir David] Attenborough impression; I was hugging him because we were saying good-bye after two days and because: Tom Hiddleston!)
Admittedly in Mail Online law this is akin to betrothal, and we should all respect their culture.
As if this were all an elaborate fable, the name of the photo agency credited by Mail Online, 'Eroteme', is a word that means: a mark indicating a question.
?????? indeed.
---
More: Every story the Daily Mail chose to run in its paper before the one about the MP murdered by a far-right terrorist
More: People are pointing out the incredible irony of the Daily Mail's front page