Education secretary Nicky Morgan went on the BBC's Newsnight on Monday to defend the Government's mantra of compassionate conservatism.
Presenter Evan Davis showed the Cabinet minister a graph produced by the Institute for Fiscal Studies, which demonstrated the net gains and losses in the poorest and richest incomes as a result of tax and benefit cuts over this Parliament.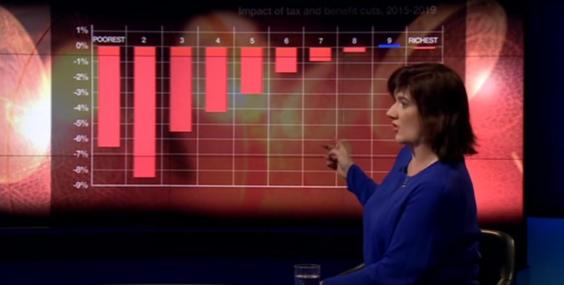 Picture: Newsnight/BBC
The graph showed that, in Davis' words:
The poorest are losing five to eight per cent of their net income and the top people on the right, the richest, are losing almost nothing.
Davis asked Morgan how she would respond to that, having defended the line espoused by the prime minister that his party stood for "modern, compassionate, One Nation" conservativism.
Morgan pointed to other statistics to defend herself:
The fact is that by the end of this Parliament the top 20 per cent in this country will be paying more in tax than the other 80 per cent put together.
Davis returned to the IFS figures:
Are you happy to call that 'one nation conservatism'? 'Compassionate conservatism'? 'We're all in this together'? Just look at it.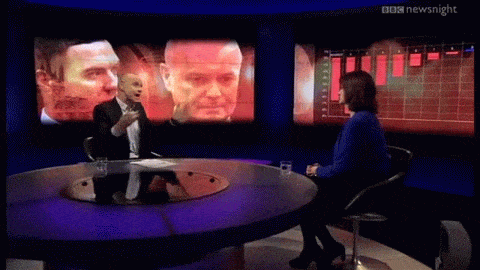 Picture: Newsnight/BBC
Morgan said that she hadn't seen the graph prior to coming on the show, and that she did not know if it included the new national living wage and raising of the income tax threshold.
Davis said that the graph included the raising of the income tax threshold and although it didn't include the national living wage:
I could show you, but it actually doesn't look very different if you put the national living wage in, the resolution foundation have done it, they all look like this.

And you, the minister, the secretary of state, don't even really know that that is what the government is doing, because you haven't been presented with the data.
Morgan replied:
I don't sit there and study the IFS figures, but I look at the figures produced by the Treasury, and the statistic that the top 20 per cent are paying more in tax, the top one per cent pay 28 per cent of income tax.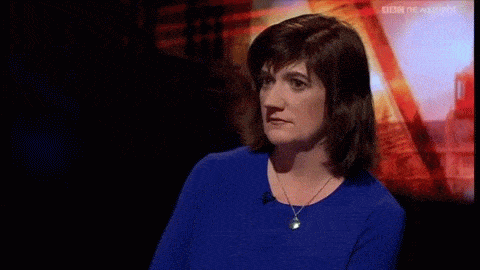 Picture: Newsnight/BBC
Twitter certainly enjoyed the argument:
Watch the full video, below:
---
More: The four problems with making all schools academies
More: Watch Jon Snow grill Seb Coe like a cheese toastie over the Russian athletics doping allegations