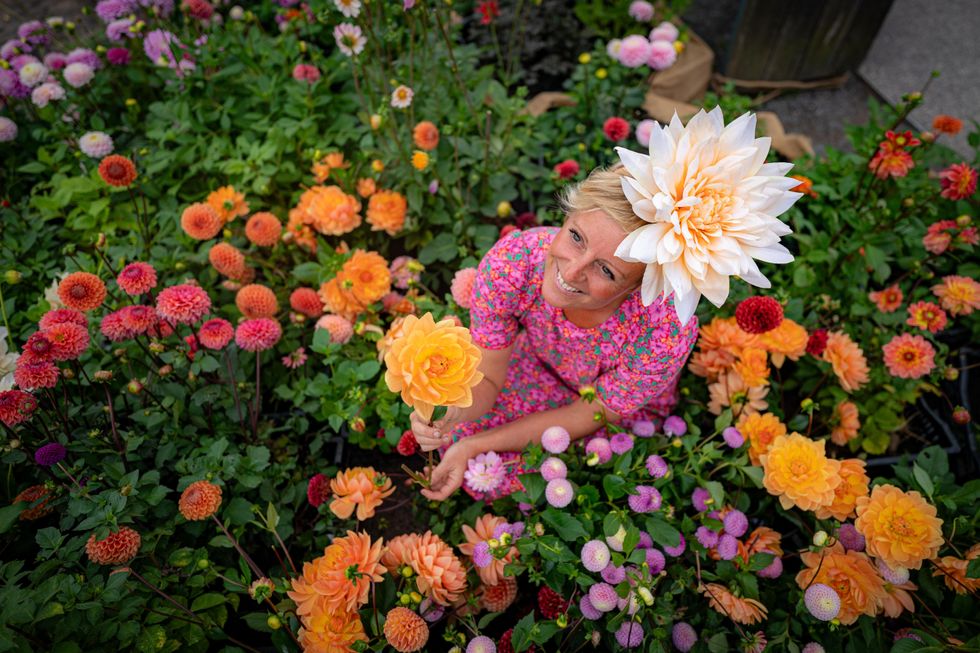 PA Wire/PA Images - Ben Birchall
More than 5,000 dahlias have gone on display at Stonehenge in homage to popular Victorian flower shows at the historic monument.
The Stonehenge dahlia shows, held between 1842 and 1845, attracted crowds of up to 10,000 people who came to view the flowers which were highly fashionable at the time.
Visitors to the Wiltshire site could also enjoy games of cricket on the pitch it had at the time, as well as performances by brass bands and a dining experience.
Dahlia shows were held for four years until the event moved elsewhere, leaving 180 years between then and thousands of blooms being brought to Stonehenge this week.
The British grown dahlias, from Oxford, arrived on Tuesday and have been arranged into sculptures and a flower meadow by local groups.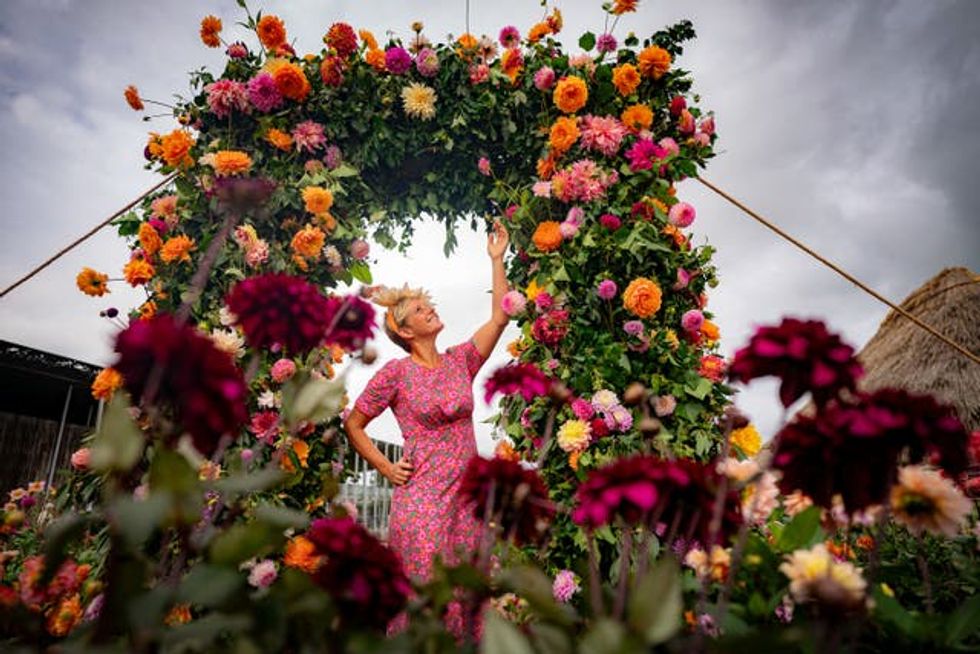 One of the sculptures is in the shape of a trilithon (Ben Birchall/PA)PA Wire/PA Images - Ben Birchall
There is also a traditional flower show, featuring dahlias grown by local members of the National Dahlia Society, at the site's visitor centre.
One of these dahlias will be crowned the Hero of Stonehenge, in homage to a winning flower of the same title in 1842 which is now out of cultivation.
Louise Crawley, landscape historian at English Heritage, said the flower shows highlight how the Neolithic monument played a part in people's lives long after it was built.
"Stonehenge has a much longer afterlife," she said. "It is still the background to people's lives all the way through.
"At that time, Stonehenge wasn't a tourist attraction. You wouldn't get hordes and hordes of people coming to visit.
"It was one of the main carriage routes and a local landmark but no more than that. As the dahlia shows turn up, more and more people turn up.
"You could argue that is part of the beginning of tourism at Stonehenge."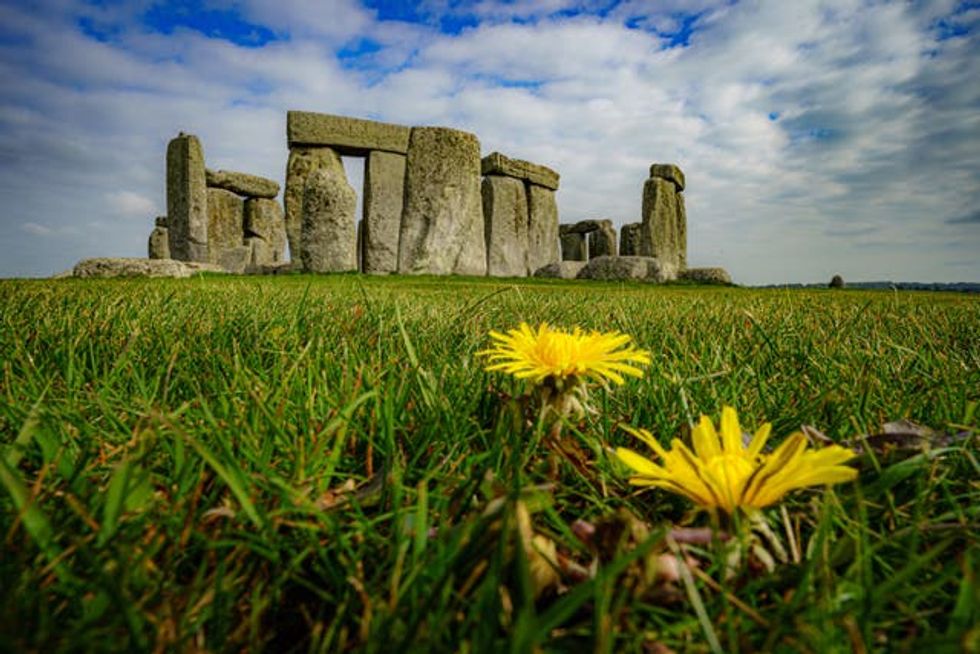 Stonehenge is now a major tourist attraction (Ben Birchall/PA)PA Archive/PA Images - Ben Birchall
Historians used local newspaper cuttings from titles including the Devizes and Wiltshire Gazette – now the Gazette and Herald – and the Salisbury and Winchester Journal – now the Salisbury Journal – to research the dahlia shows.
In September 1842, the Devizes and Wiltshire Gazette described that year's show at Stonehenge.
It reported: "Such a scene of gaiety was never before witnessed on Salisbury Plain … Parties of gentlemen and elegantly dressed ladies were scattered about in all directions."
Arthur Parkinson, a gardening writer, described how there would have been a smaller number of varieties of dahlia on display during the Victorian shows compared with today's offerings.
"I am so excited that English Heritage has decided to tell the story of the Stonehenge dahlia shows of the 1840s, and cannot wait to see which locally grown flower will be crowned the new Hero of Stonehenge," he said.
"I've grown dahlias for some time and the heroes for me are the single and anemone varieties, which literally give life to a garden, brimming as they are with nectar and pollen for our precious pollinators."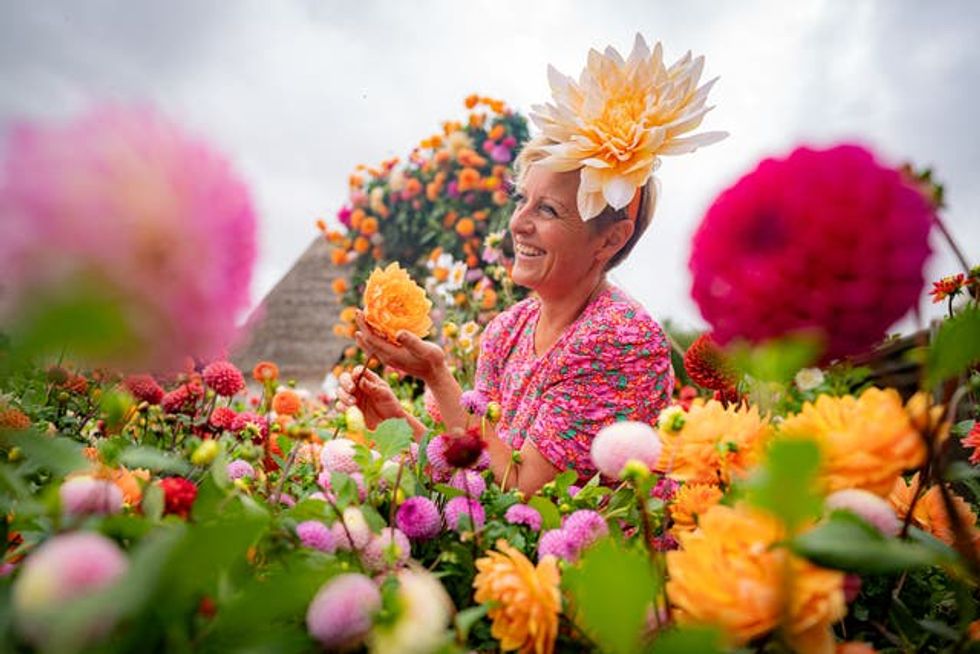 Flower farmer Andie McDowell with some of the 5,000 dahlias on display (Ben Birchall/PA)PA Wire/PA Images - Ben Birchall
This year, nine teams of flower arranging clubs have put together sculptures featuring dahlias and greenery including ivy and eucalyptus.
These include an interpretation of the skyline across the Wiltshire landscape, a piece referencing the solstices at Stonehenge, hanging Indian wedding garlands, and buckets of dahlias.
Salisbury Flower Club has completed a giant trilithon structure, measuring more than 8ft tall and 6ft wide, which took seven hours to create.
Gill Pelton, chair of the club, said there was a focus on sustainability during the arranging.
Flowers came from Dahlia Beach in Oxford, while arrangers used tubes, bowls and chicken wire instead of foam to create the sculptures.
"Our piece is a small tribute to our ancestors in recognition of their amazing legacy," she said.
"It is not small but of course it is small when you compare it against the stones."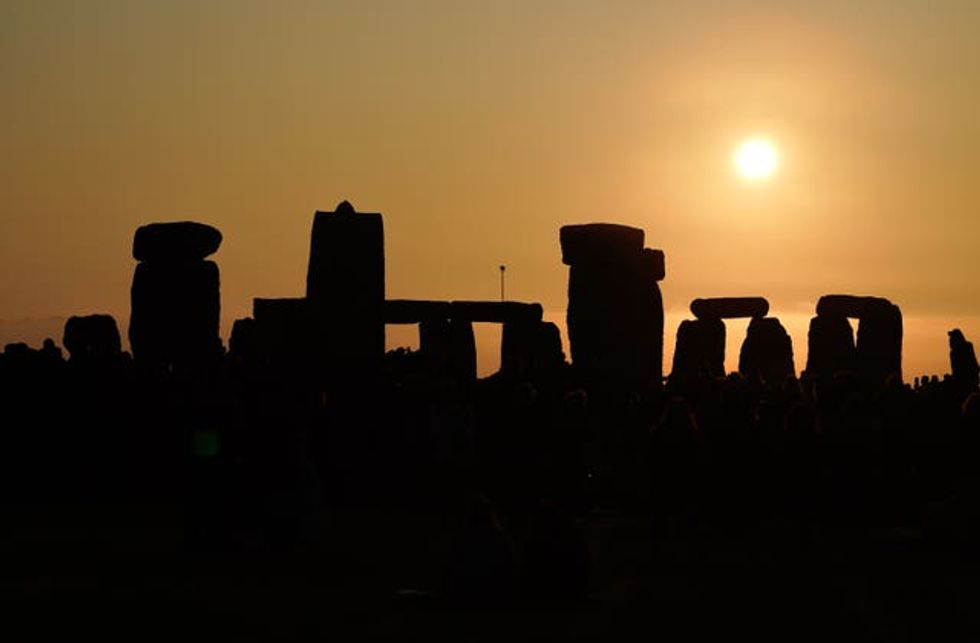 People celebrate winter and summer solstices at the stones (Andrew Matthews/PA)PA Wire/PA Images - Andrew Matthews
London florist Sophie Powell has also created floral crowns of dahlias for the show, referencing the large hats worn by Victorians.
She said the dahlia had varied in popularity during the years, including during the 19th century, but was now in demand again.
"In the past seven years, especially the past three years, dahlias are the flower that everybody wants," she said.
"They come at a time when the weather might have started to change, so you can still have dahlias providing a really nice strong pop of colour.
"They are long-lasting and come in so many different varieties. All the dahlias here are British grown, which people in the floristry world are looking for more and more."
The dahlia show will run at Stonehenge from Friday to Sunday.