You might remember Japanese athlete Hiroki Ogita. He took part in the Men's Pole Volt qualifier at the Olympics on Saturday.
Picture:Franck Fife/Getty
Ogita did quite well, finishing 21st, before tragedy struck and he failed to make the 5.45m jump.
He knocked the pole, you see. Knocked it with his penis.
Seriously.
Well, Ogita isn't happy with the way his jump was reported. In fact, he claims it didn't go down like that.
The BBC translated one of Ogita's recent tweets, which reads:
I never expected the foreign media to take me down like this.
UM.
It's not really the foreign media though, is it? It's his penis...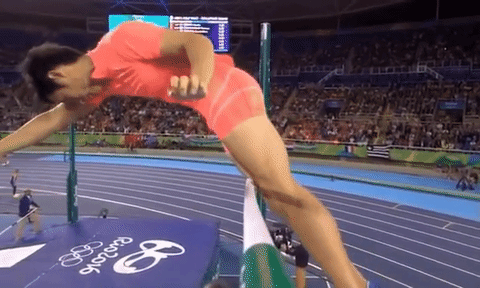 Ogita insisted that the "foreign media" had made it up:
It's one thing if it was true, but I have to say I'm pretty devastated that they'd go so far to make something up to mock and ridicule me so much.
A pole volt expert told the BBC that Ogita had already crossed the bar, and the video was nothing more than a case of unfortunate angles.
The evidence however, seems fairly conclusive...
Besides, it's all in jest, Ogita. There are no hard feelings here.