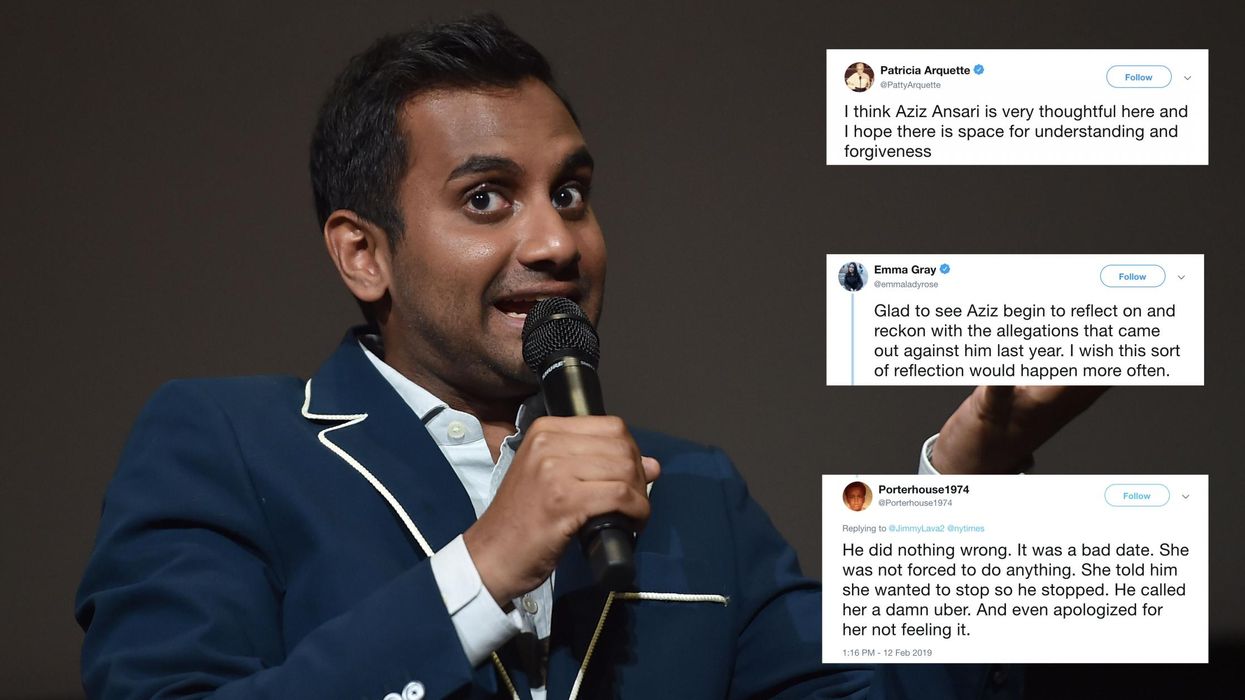 Getty
One year after a woman accused Aziz Ansari of sexual misconduct in an article on Babe.net, the comedian has spoken out and people are praising him.
Ansari, who performed a pop-up show at the Village Underground in New York on Monday, reflected on the "whole thing," telling the audience that there were two reasons he never addressed it.
The Master of None actor said he needed the time, first, to process before determining what to say, and secondly, "it's a terrifying thing to talk about".
There were times I felt really upset and humiliated and embarrassed, and ultimately I just felt terrible this person felt this way

But you know, after a year, how I feel about it is, I hope it was a step forward. It made me think about a lot, and I hope I've become a better person
Ansari said the experience made him rethink every date he's been on:
If that has made not just me but other guys think about this, and just be more thoughtful and aware and willing to go that extra mile, and make sure someone else is comfortable in that moment, that's a good thing
Discussing the damage the allegation could have potentially had on his career, the 35-year-old said:
And I think it also just gave me perspective on my life

There was a moment where I was scared that I'd never be able to do this again
He honestly explains how, at the end of every show, he would always scream, "Thanks so much!" even though he didn't really mean it, and continues by saying:
But now, I really mean it. I mean it on a different level. You canceled whatever you were supposed to do tonight, and you came out in the cold, and you waited in line, and you put your phone in a stupid pouch

You did all this shit just to hear me talk for an hour and some change, and it means the world to me, so thank you so much
The allegations about Anzari sparked a debate about the #MeToo movement, with some people expressing their disappointment in the actor, whereas others, like HLN host AshleighBanfied, called his accuser's action "appaling" and damaging to the entire movement.
The Babe.net article outlined a date gone "horribly wrong" between the comedian and an unidentified woman, who claimed that she felt "forced to have sex" with Ansari, who later apologised.
His latest stand-up show has brought up a lot of these sentiments, but mainly people went online to praise him.
HT Vulture