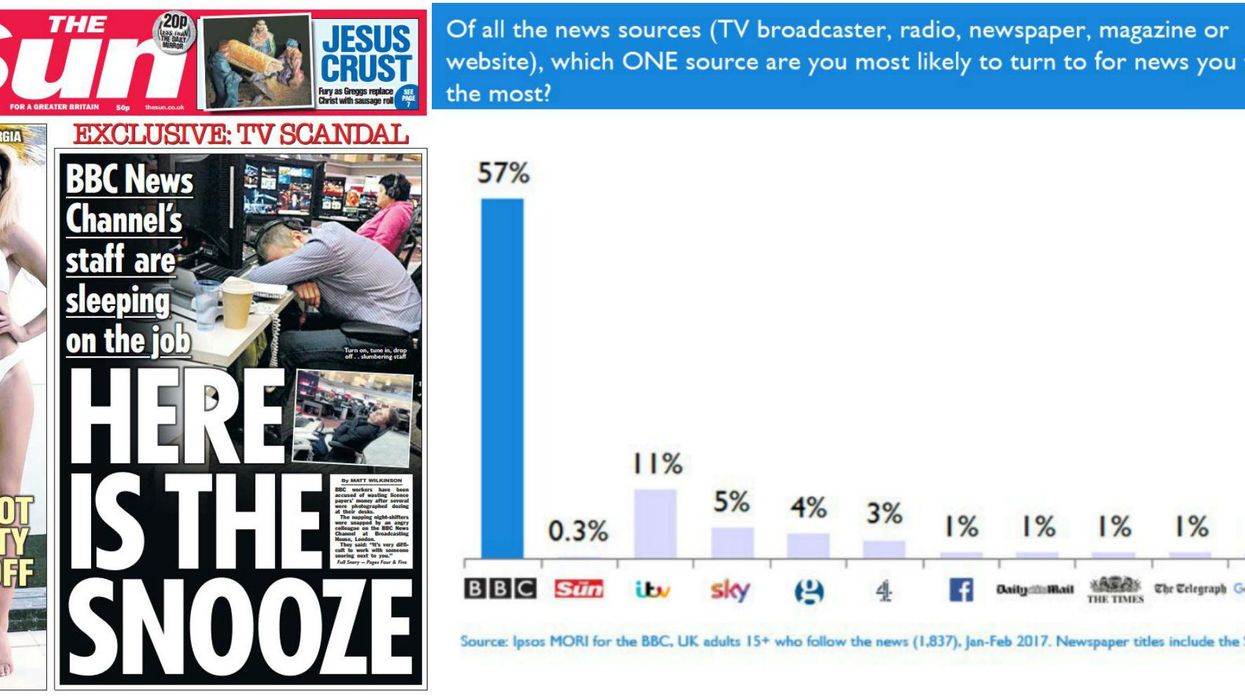 (L) The Sun (R) @BBCPress/Twitter screengrab
Rupert Murdoch's The Sun newspaper used a front page to slam the BBC and its staff for allegedly 'sleeping on the job'.
The story was based on photographs taken by an 'angry colleague', who claimed staff on the BBC News Channel were taking naps while at work.
Napping staff were cited as a waste of tax-payers money. The piece did not identify the staff as journalists, nor acknowledge that the channel is off air at midnight.
In response the BBC press office shared research that shows they were the public's number one choice for trusted news, more so than any other.
The research by Ipsos Mori and Kantar Media was conducted in early 2017.
It showed that 57 per cent of those surveyed would choose the BBC as the first source of news they trust the most.
Murdoch's The Sun was only the first choice of 0.3 per cent of people surveyed.
The same study also gave the BBC the highest ranking for accuracy (57 per cent) and for impartiality (50 per cent). In both instances ITV was second, followed by Sky News.
Newspapers tended to be number one choice for fewer people generally (scoring 1-3 per cent), but even among fellow print publications The Sun lagged behind on trust, accuracy, and impartiality, as it failed to breach the 1 per cent threshold.
Staff at the BBC have been mocking The Sun further by posting about the 'naps' they take at work.