Kevork Djansezian/Getty Images for MTV
Back in 1999, Eminem was an up and coming young rapper with a lot of attitude.
He didn't really care who he offended in his songs and would use whatever language he wanted in the process.
Eminem, real name Marshall Mathers III, has an undeniable skill, regardless of your tastes in music, and the controversial rapper has even been known to slip the odd subliminal message into his tracks.
One of the biggest hits from his early days was the catchy number My Name Is, which went a little something like this...
The song, which was only Eminem's second ever single, was a huge smash and reached number two in the UK charts.
While the tune was a confident way of introducing himself to the music world it appears that there was something a lot more clever going on here.
Thanks to the wonderful world of YouTube it has been discovered that if you play My Name Is backwards a hidden message can be heard.
Devoted Eminem fans might already know this but during the chorus rather than hearing the usual lines of:
My name is, my name is, my name is
You instead hear:
It's Eminem, it's Eminem, it's Eminem, it's slim
Here is an audio example of this discovery courtesy of YouTube user It doesn't matter who we are, what matters is our plan.
Even when listening to the song backwards, Eminem still lets you know who he is.
Genius!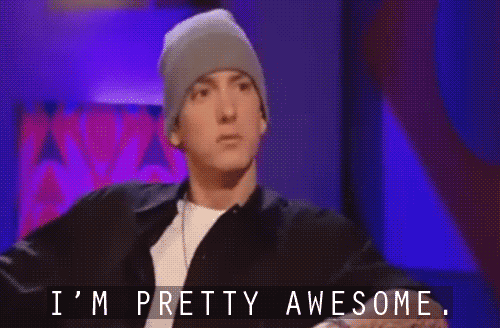 Via: Giphy
Eminem, who is now 45-years-old, has calmed down a little bit over the years, has grown a beard and is more focused on politics.
That being said we wouldn't rule out a few other tricks like this knocking around his discography, or possibly even on his new album Revival, which was released earlier this month.
HT Uni Lad
More: Pink sent Eminem a drunk 'love letter' email. He sent a one-word reply