Benjamin Lopez/ Facebook
Going for a quiet drink by yourself shouldn't be anything to be ashamed of, as it is a good way to think and contemplate things.
Yet if this is a regular occurrence through no choice of your own, even the smallest interaction with someone can make the world of difference.
Spare a thought then for John, who is a regular customer at The Lord Byron pub in Northampton.
He would arrive at the pub and drink a few pints every day, but he was always by himself and no one ever spoke to him.
Bar manager Benjamin Lopez noticed this and, rather than ignore him, decided to speak to him - and it unveiled a sad and moving story.
Speaking to Lad Bible, Benjamin said:
I've been here as the manager for a month and I saw John would come in every day, Monday to Friday, and have his pint of John Smith's.

He never speaks to anyone - people are friendly and they'll say hi to him but he's always alone.
After sitting down to chat with John, Benjamin learned that John has no family and most of his loved ones have passed away meaning he rarely gets the chance to have a conversation with anyone.
Rather than keep John's story to himself, Benjamin decided to share it on the pub's Facebook page and ask people to share it themselves and reply with a kind message.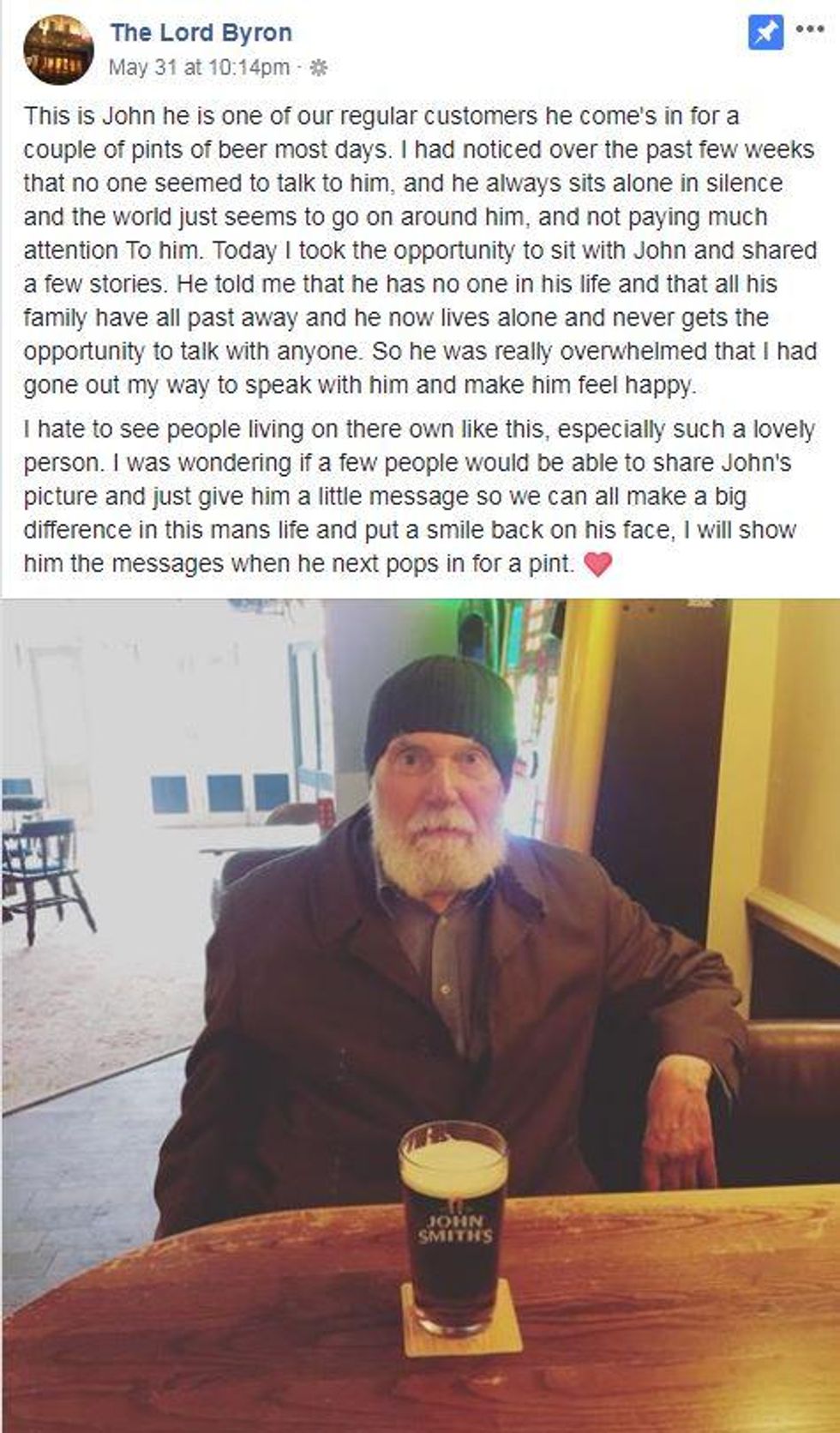 Picture: The Lord Byron/ Facebook
Against all odds, the post went viral on Facebook and it has been swamped with kind comments of support and goodwill towards John.
Benjamin adds:
It's been a really nice surprise.

We've had people getting in touch from all over the UK.

People have messaged to offer to buy him a drink - one woman got in touch to ask how much a John Smith's cost.

I told her £3.20 and she transferred the money straight over.

John was really happy when I showed him. I don't think it's all sunk in yet. I don't think he's really got his head around it all.
This just goes to show how far a little hello and being friendly towards someone can go.
Here's wishing John all the best and we sincerely hope that he will have more people to chat with at the pub soon.
HT Lad Bible