Jeremy Corbyn has been announced as the leader of the Labour party, winning by a landslide 59.5 per cent of the vote.
In what has been described as a "political earthquake", the left-wing MP for Islington North emerged from being a rank outsider despite repeated warnings from those within and outside the party.
Over the summer months, opposition to Corbyn has been relentless. Here are 10 warnings that Labour party members so spectacularly ignored since the leadership election began:
Tony Blair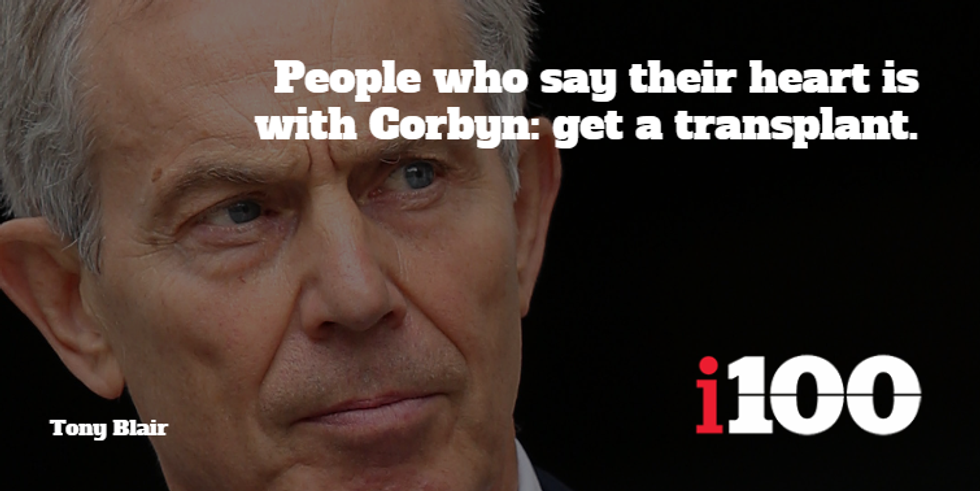 In a speech to the Progress thinktank in July, the former prime minister warned that Jeremy Corbyn was the "Tory choice" for Labour leader and that his supporters needed a serious re-think.
Adding:
When people say 'my heart says I should be with that politics', well get a transplant.
David Cameron
Although the Conservatives have remained mostly silent over the summer, the prime minister did issue a warning in September as Corbyn emerged as the strong favourite.
Speaking of Labour, he said:
This is now a party that has completely vacated the intellectual playing field and no longer represents working people. It is arguing at the extremes of the debate.
The Mail on Sunday
The right-wing paper published a 2,500-word dystopian short story on Corbyn as PM that was "as mad as a bag of frogs"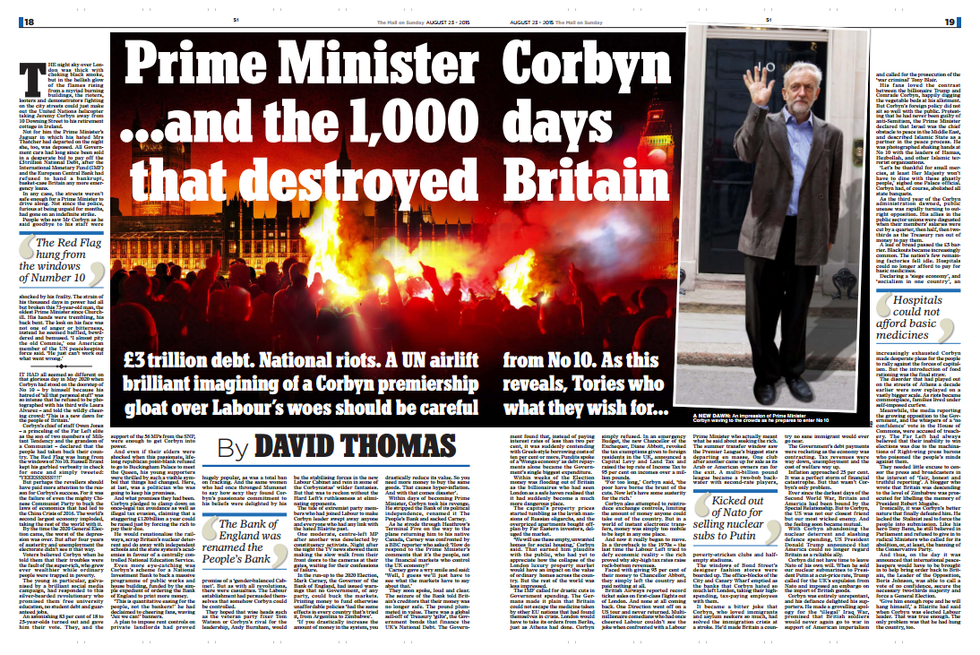 As i100.co.uk's Matthew Champion reported at the time:
"The basic premise is that Corbyn is being helicoptered out of Downing Street in the year 2022, having been elected two years before following the collapse of the world economy in 2016 (thanks, China!).
"But Corbyn spends his years in power seizing the Bank of England, appointing Diane Abbott as shadow chancellor, taxing the Premier League out of existence, forcing police into never-ending strikes, sparking riots on the street over £5 loaves of bread, selling the Trident nuclear deterrent to Russia and triggering a trade war with the US (led by President Donald Trump).
"Oh, and in case you didn't already realise throughout this whole period Owen Jones was his chief of staff."
Peter Mandelson
Lord Mandelson, the former MP and close ally of Tony Blair, reportedly tried to get a mass resignation from the other Labour candidates in August in an attempt to de-legitimise the election.
A party source told the Daily Telegraph: "Lord Mandelson and other Blairites were saying – this is a disgrace, let's get this thing pulled. But it was not going to happen."
Alastair Campbell
Despite previously saying he would not intervene in the leadership contest, Tony Blair's former communications adviser wrote a 3,843-word blog post urging people to vote for ABC - "Anyone But Corbyn".
"It is also important that those who see him as some kind of cross between Russell Brand, Nicola Sturgeon and their favourite uncle take a little bit of time to look at the recent history of the Party..."
He also urged people from outside the Labour party to sign up and vote against Corbyn.
George Osborne
George Osborne, the Chancellor, explained the 66-year-old Islington North MP as a "real risk to Britain's national security" because of his views on scrapping the Trident nuclear missile system.
Jon Cruddas MP
Jon Cruddas, the Labour MP for Dagenham and Rainham, who actually nominated the 66-year-old for the election, compared a potential Corbyn leadership with that of Bolshevik revolutionary Leon Trotsky.
"I'm worried that [a Corbyn-led party] might turn into an early 80s tribute act, a Trotskyist tribute act, which has a culture around it which is very hostile to anybody who disagrees."
Gordon Brown
The last Labour prime minister, Gordon Brown, gave a 50 minute speech in August where he warned party members against Corbyn "unelectability" without actually mentioning the man himself.
Our hearts can be broken and yet it is worse to find out we are powerless to do anything about it. To see a wrong and not be able to right it, to see an injustice and not be able to correct it, to see suffering and be able to do nothing about it, to see pain and know you cannot heal it, to see good that needs to be done and change that needs to be made and not to be in a position to do it.
The Observer
The left-of-centre Sunday paper wrote an editorial in July telling readers: " Jeremy Corbyn is the answer then Labour is asking the wrong question.
If a leaked poll is any guide, then a growing number of the Labour party membership now seem to view Jeremy Corbyn as the answer to that drubbing. This is like a pupil who, on being told they answered incorrectly, repeats the same answer shouting ever more forcefully. It's still the wrong answer.
The Telegraph
Perhaps unsurprisingly, the right-of-centre paper, which endorsed the Conservatives before the election also disapproved of Labour's lurch to the left, telling readers:
Jeremy Corbyn poses as an innocent idealist, but his economics is absurd and his foreign policy appalling. The Labour Party and the country need rescuing from his dangerous campaign.
Sorry to tell you all, but Labour voters weren't listening.