Getty
"Trans broken arm syndrome." This is the term coined to describe the discriminatory practice of reducing the injuries of trans patients to nothing more than their gender identity.
Dr. Louise Theodosiou, of the Royal College of Psychiatrists, recently outlined the repercussions of this rhetoric in a lengthy position statement, calling for more medical training and education on working with gender-diverse people. She underlines a frequent medical assumption that "all medical issues are a result of being trans" and highlights its inaccuracy, before stating:
We simply cannot ignore the fact that while transgender people are becoming more visible and accepted by society – in politics, education and on television – they are still taking their own lives in prisons, and receiving death threats in schools.

It will take education and acceptance to change this.  
Theodosiou points to Stonewall research which revealed that 1 in 10 UK trans children have received death threats at school, 8 in 10 have self-harmed and almost half have attempted suicide. Another report, Stonewall's 2017 Trans Report, found that 41 per cent of UK trans people surveyed had been victims of hate crime in the previous 12 months.
Meanwhile, the HRC reports that, in 2018 so far, seven transgender people have been murdered in the United States. Just last week, Naomi Hersi – a trans woman of colour – was found dead in her Hounslow hotel room with numerous stab wounds. The last tweet she shared was a link to an article detailing the "epidemic of violence and murder" faced by transgender women of colour.
Earlier this month, Rebecca Mercer bravely spoke out on her experiences of transphobia and the ways in which they "completely broke" her. Speaking in a video published by The Plymouth Herald, she explained:
I completely withdrew from my friends and I would only leave my flat if it was absolutely necessary.

My anxiety was already high due to my borderline personality disorder, and [the abuse] sent it through the roof and a major depression hit me. I shut myself away for months.
Her experiences are not uncommon. Trans-specific mental health statistics are difficult to trace, but the NHS outlines that the LGBT+ community suffers from poor levels of mental health brought on by experiences of discrimination.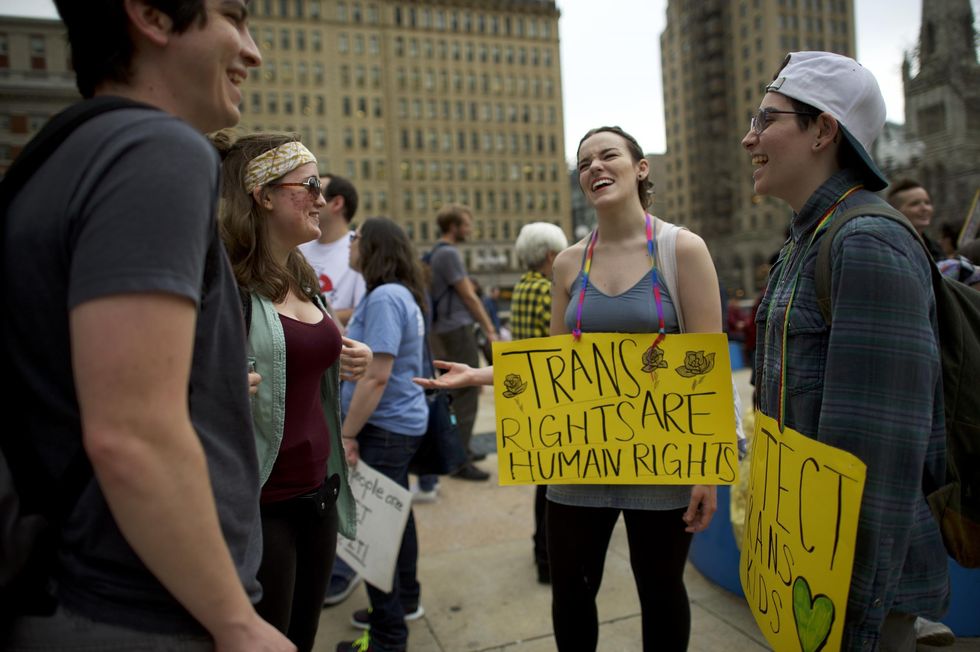 Picture: Mark Makela/Getty Images 
Last year, LGBT Youth Scotland launched the 'Mind Our Health' campaign to raise awareness of these problems, citing independent research which found that 67 per cent transgender respondents and 63 per cent of bisexual women consider themselves to have mental health problems.
Meanwhile, Stonewall's 2017 Trans Report also showed that 41 per cent of trans people felt healthcare staff lacked understanding of their specific needs, and that 7 per cent had been refused care due to being LGBT+. Henry, a 24-year-old respondent, recalled:
Coming out as transgender was the hardest thing I've ever done, and having to explain it over and over again to healthcare professionals that were supposed to be helping me, almost made me end my life. There needs to be better support for us.
A lack of mental health funding is exacerbating these problems; earlier this year, analysis by the Royal College of Psychiatrists showed that, while the government officially proclaims that mental health spending is at "record" levels, the impact of inflation means that UK mental health trusts have less money to work with than they did in 2012. Meanwhile, rates of severe anxiety and depression – among both employed and unemployed UK residents – have continued to rise over the last few years.
As mental health problems continue to rise, the importance of treating trans patients without reducing them to their gender identity and nothing more is crucial. Specific education is needed; this support from the Royal College of Psychiatrists looks set to ensure this process takes place.