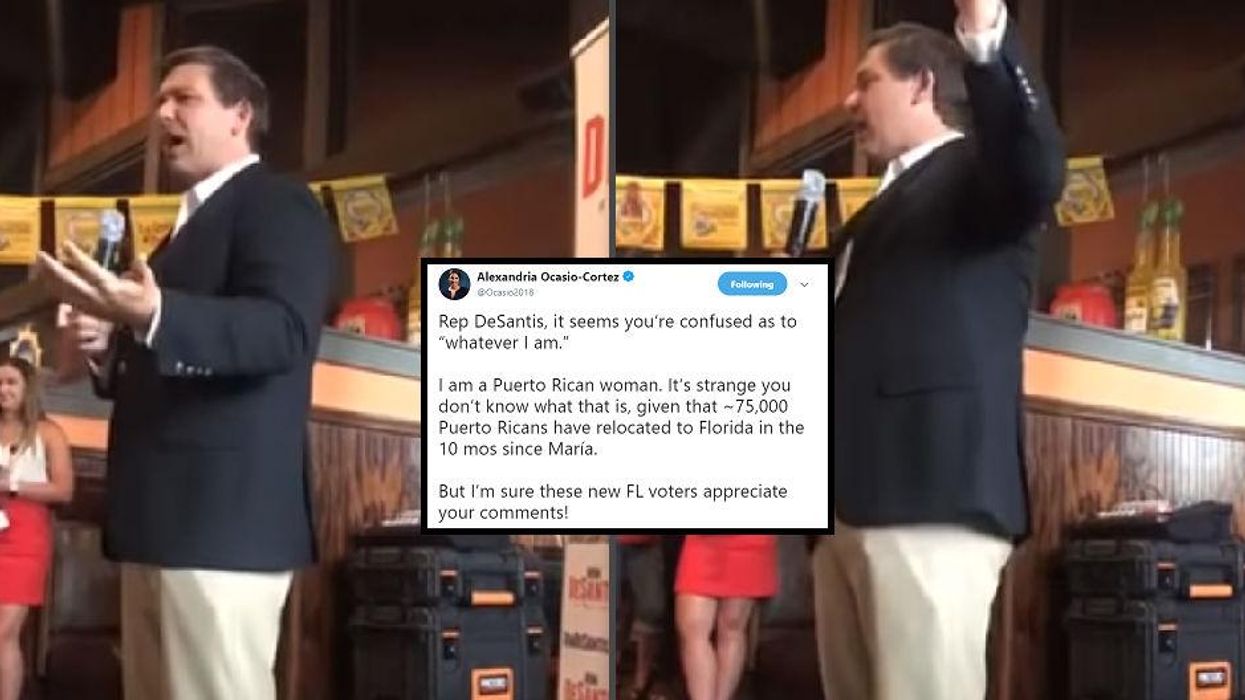 Pete Zaria/YouTube screengrab
Political phenomenon Alexandria Ocasio-Cortez, who recently won the Democratic primary in New York's 14th congressional district, has responded to a Republican congressman who referred to her as a 'girl' during a rant over the weekend.
Florida's Ron DeSantis was recorded on video delivering a speech in which one of the main topics of discussion was the Democratic Socialists of America member, who won in a historic landslide victory against Joe Crowley and will now fight for his New York seat.
DeSantis said:
You look at this girl – Ocasia Cortez, or whatever she is – she's in a totally different universe.

It's basically socialism wrapped in ignorance.

She is a symptom of some of the problems that we have. 
The 28-year-old Ocasio-Cortez responded to the comments, tweeting:
Rep DeSantis, it seems you're confused as to 'whatever I am.'

I am a Puerto Rican woman. It's strange you don't know what that is, given that ~75,000 Puerto Ricans have relocated to Florida in the 10 mos since María.
Rep DeSantis, it seems you're confused as to "whatever I am." I am a Puerto Rican woman. It's strange you don't kn… https://t.co/TiXOZKW5PO

— Alexandria Ocasio-Cortez (@Alexandria Ocasio-Cortez) 1532375568
The Republican also criticised Ocasio-Cortez for comments she made in which she called Israel's existence an 'occupation' of Palestinian land, a move away from a traditionally hard-line pro-Israeli stance taken by Democratic and Republican parties. Following intense backlash, she remarked: 'I am not an expert on geopolitics.'
DeSantis mocked her, saying:
Well wait a minute — you're saying that one of our best allies is occupying some country. There's never been a Palestinian state. You're just repeating these canned, left-wing talking points, and you're somehow the saviour of the Democratic Party? Good Lord. 

She has no clue what she's talking about.
According to the United Nations, Israel has been occupying the West Bank Territory since the 1967 Middle East War, and most countries regard the building of Jewish settlements in the disputed territory – an action for which Ocasio-Cortez has been an outspoken critic – as illegal.