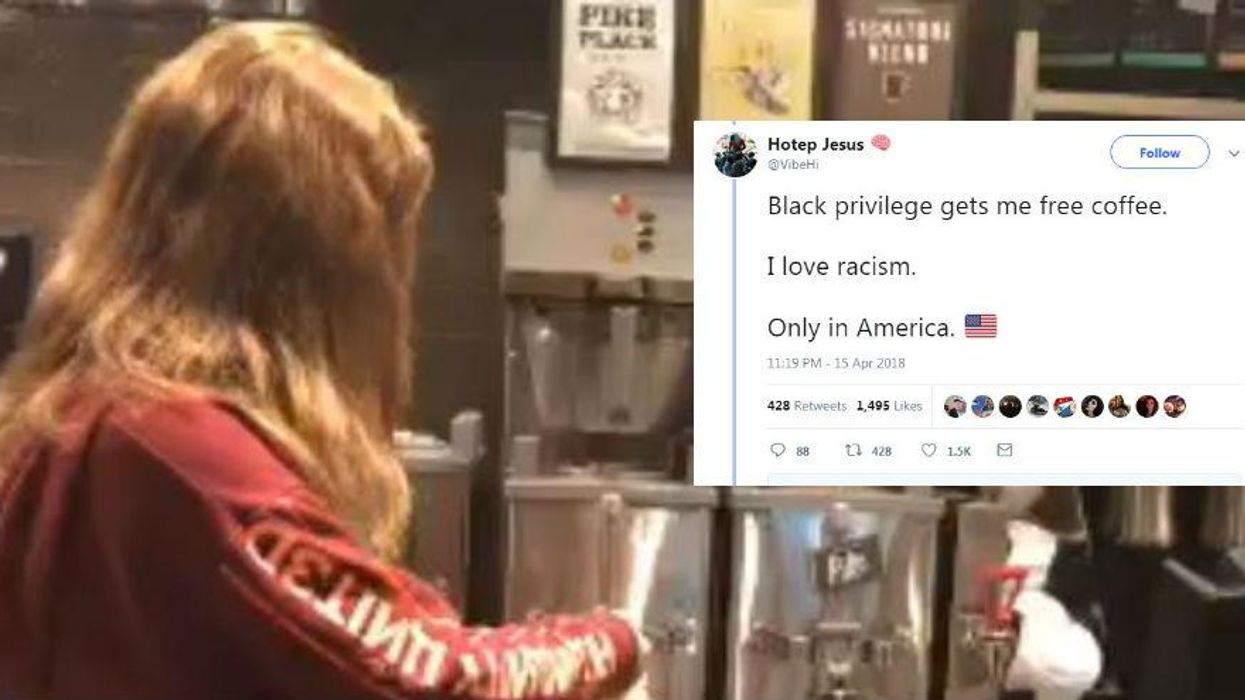 Last week, international coffee chain Starbucks found itself embroiled in a racism scandal after a manager at a Philadelphia branch - who has since left the company in an arrangement described as 'mutual' - called the police on two innocent black men.
A viral video released last Thursday showed the two men, both of whom were waiting for a business associate, being arrested and escorted out of the store. According to reports, they had simply asked to use the bathroom while they waited but were refused permission because they hadn't made a purchase. The store manager saw this as sufficient reason to call the police.
Since then, Starbucks has announced plans to close all of its US stores on the afternoon of 29 May in order to conduct anti-racial bias training.
But the scandal is far from over, as comedian Bryan Sharpe – also a vlogger, who creates content under the handle Hotep Jesus – proved in a recent viral video.
Starbucks is racist https://t.co/fPf3ERMlXX

— Hotep Jesus (@Hotep Jesus) 1523830461
Filming his entry into his local Starbucks branch, he says to the barista:
I heard y'all was racist, so I came to get my free coffee. I wanted to get my Starbucks reparations voucher.
She replies by confirming that she had seen the story and happily fulfils his request – although the Starbucks reparation voucher he cites is fictional – even going so far as to offer free milk and flavourings. "Not our store," she states when he mentions the company's proven racism, thus highlighting her own anti-racist stance.
But there's a twist. Although seemingly progressive in this particular clip, Sharpe has a well-documented affiliation with white nationalists and a history of incendiary commentary on 'free speech':
The minute you say, 'gay, trans, Jew', it's off limits. So I already know that my country, United States of America, is going to become an Islamic, Jewish, LGBT+ dominant state. So I'm out of here. I'm going back to Africa.
He has also criticised Black Lives Matter. despite laughing at the end of the clip and repeating:
Black Lives Matter, baby!
Tellingly, right-wing sites including InfoWars and TheBlaze have already shared the video, branding the barista's willingness to comply with his free drink request as an example of 'white guilt'.
He later tweeted that his free coffee was an example of 'black privilege', a concept which writers have incisively critiqued. As The Odsseypoints out, it's a concept which fails: racism is about institutional power as well as individual discrimination, meaning that a marginalised group can't have 'privilege' because the word applies to a collective group.
Black privilege gets me free coffee. I love racism. Only in America. 🇺🇸

— Hotep Jesus (@Hotep Jesus) 1523830790
Ultimately, Sharpe's video has once again complicated discussions around race and capitalism, proving that the effects of this latest scandal are unlikely to simply disappear.