Getty Images/iStockphoto
The landscape of dating has changed.
According to eHarmony Australia's 2015 Relationship Study, 22 per cent of people surveyed admitted to meeting their current partners online.
And it's not just the way we date that's changed, but also the language we use to speak about relationships.
'Ghosting', 'benching', 'breadcrumbing' and 'slow fade' are all new terms to describe old practices – of basically messing people around.
With millions of users, apps like Tinder and Bumble are giving people the opportunity to drop and change their partners – as well as engage in sexual encounters – at the drop of a hat.
But have our attitudes to sex changed as well?
Online dating website Ok Cupid has been collecting data on its users since its launch in 2005.
Researchers have recently surveyed over one million people about their views on sex, gender and dating, and compared their results to those in 2005 and 2010.
We may be easing back into conservatism…
Picture: Ok Cupid/screengrab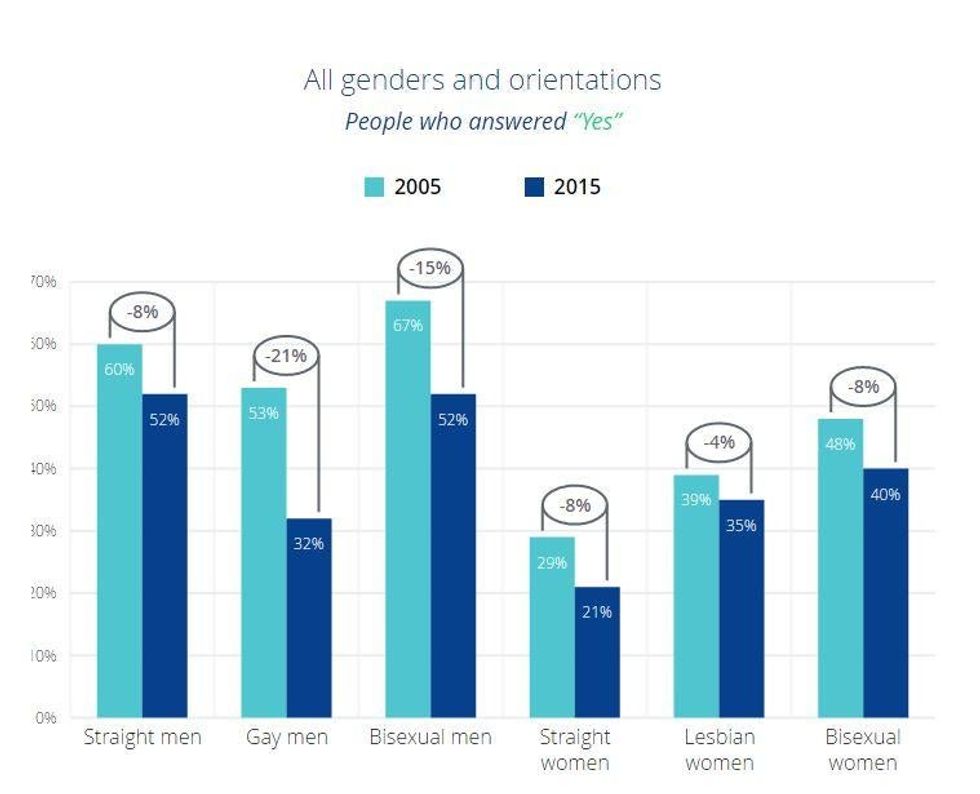 Picture: Ok Cupid/screengrab
In 2005 49 per cent of people surveyed said they would date someone just for sex. This number went down to 41 per cent in 2015.
For men, this was a 9 per cent decrease to 51 per cent in 2015, and for women it was a 9 per cent decrease to 24 per cent.
That's not the only way we've changed...
We're also becoming more open to talking about sex, and of the heterosexual, bisexual and homosexual men and women interviewed, straight men underwent the biggest change. Almost 20 per cent more straight men – 87 per cent in total – think it is ok for a woman to talk openly about her sexual exploits.
Bisexual and gay men and women were in the 90s, with the overwhelming majority believing it was okay.
'Friends with benefits' deals are more and more appealing, however...
An increasing number of people – especially heterosexual men – would consider having a friendship based primarily on sex, "with no intentions for love, romance, or long term commitment".
Heterosexual men went from 61 per cent to 72 per cent, and women from just 32 per cent to 35 per cent.