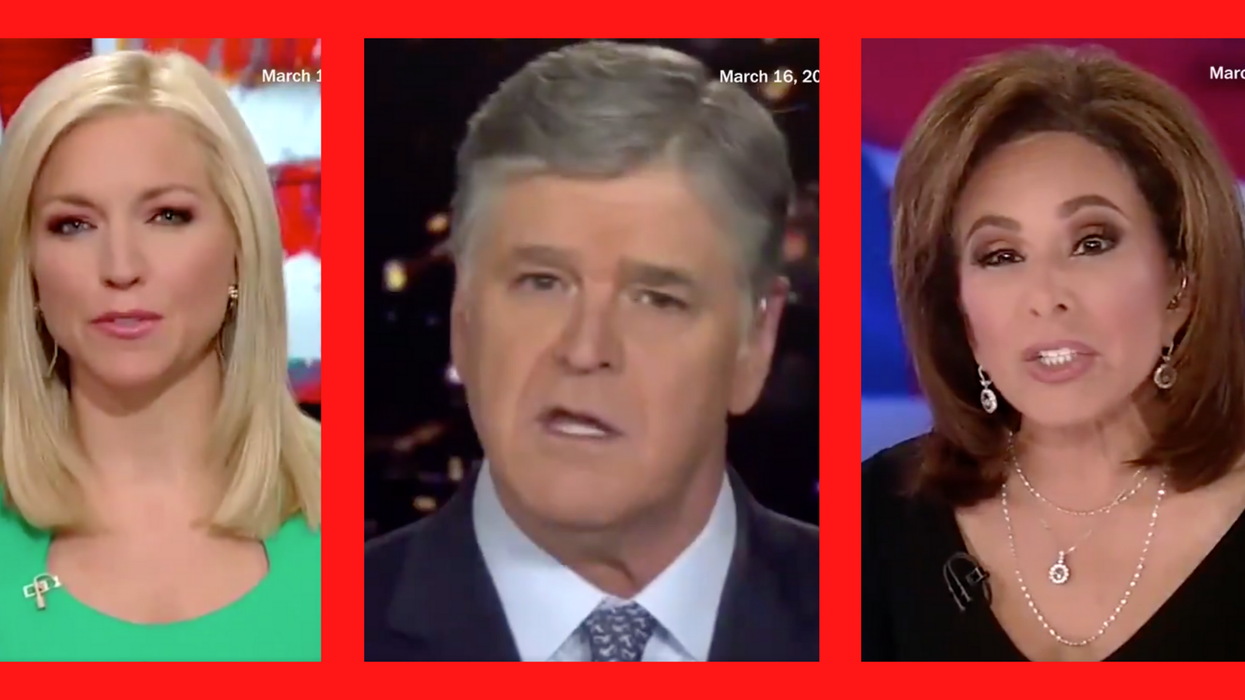 Fox News/Washington Post/indy100
Over the last month, the severity of the issues that we're facing with coronavirus have only become more obvious.
But even two or three weeks ago, Fox News hosts were talking about coronavirus completely differently – writing it off as no worse than the flu, and accusing other people of using it as a political talking point. A video from The Washington Post demonstrates these stark differences from several hosts on Fox News, side by side.
How Fox News has shifted its coronavirus rhetoric https://t.co/iWGZqoprvY https://t.co/L9nITMkV6F

— The Fix (@The Fix) 1584483918
In one clip from 7 March, Jeanine Pirro says that:
All the talk about coronavirus being more deadly doesn't reflect reality.
A week later, she says:
We are facing an incredibly dangerous and contagious virus, that is moving across the world from one hotspot to another.
Trish Regan on 9 March claimed:
This is yet another attempt to impeach the president and sadly it seems they care very little about any of the destruction they are leaving in their wake.
However on 13 March she said:
We must test for the virus in order to stop the spread of it.
Sean Hannity – who has interviewed President Donald Trump – said on 9 March:
We're going to call out anyone and everyone who's using this virus as a political weapon against the president.
A week later, on 16 March, a clip shows him saying :
We are now entering what will be the crucial defining 15-day period as it relates to this virus.
@KFILE Fox News is State TV. https://t.co/kyJAgqL0XJ https://t.co/Je4Iu9HDNK

— Tuxedo Mask (@Tuxedo Mask) 1584506362
Another Twitter user posted side by side screenshots of changes in President Trump's messaging around coronavirus.
In the comments, people were replying to the video posted by The Washington Post to say that Fox News hosts should be fired for spreading misinformation.
This video on Fox News messaging around the coronavirus is really something. They are truly a propaganda outlet for… https://t.co/vnmX9jPgMI

— Amy Siskind 🏳️‍🌈 (@Amy Siskind 🏳️‍🌈) 1584536102
Amy Siskind pointed out that the messaging on Fox News around coronavirus changed at around the same time as President Trump's did.
A CNN article explains how Fox News hosts spun coronavirus as something weaponised by Democrats during impeachment proceedings in the US.