Choreographed first wedding dances can go one of two ways: they can either be a painfully slow experience for assembled guests, watching on as the bride and groom stumble their way through a pained routine, or they can become spectacular viral material.
This first wedding dance is most definitely in the latter category.
Newlyweds Justin Willman and Jillian Sipkins, better known as the "Drunk History" couple, are already well known on YouTube for the tipsy video they uploaded detailing how they met.
But their wedding dance is even better. It's worth watching all the way to the end to see Tillman, who is a professional magician, actually appear to levitate.
The man in the yellow tie in the background pretty much sums up exactly how we felt about the video the first time we saw it: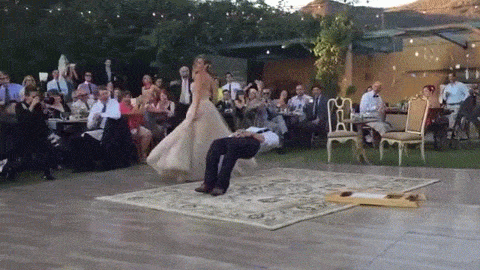 Amazing.
More: This bride forgot her wedding day after a car accident - so her husband married her again