France has made good on its promise to ban burkinis in certain parts of the country despite global criticism.
The ban refers to the burkini explicitly as a religious symbol, with heavy implications to the garment's supposed radical ties:
[Anything that] overtly manifests adherence to a religion at a time when France and places of worship are the target of terrorist attacks.
On Tuesday four armed police officers forced a woman, who had been holidaying in Nice's Promenade des Anglais to remove her shirt.
The woman was also allegedly been given a warning and a fine.
Photographs capturing the silent violence are making the rounds on the internet with people struggling to come to terms with the ban: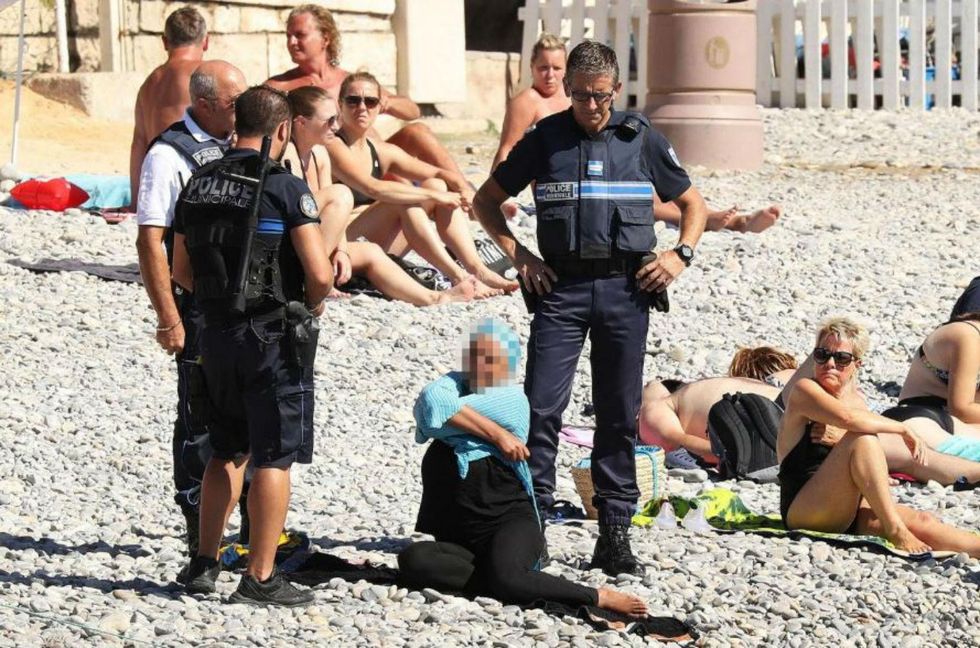 Picture: Vantage News
A theory which has been around since Isis's emergence is also gaining traction again; arguing that France's growing anti-Muslim sentiment reinforces the idea that the West is at war with Islam – a core extremist narrative.
After the Paris attacks last year a spate of Islamophobic assaults on mosques forced experts to come out and warn against alienating Muslims in the West.
Writing for the Independent last year, Arie Kruglanski, a psychology professor with a focus on radicalisation at the University of Maryland had said:
This is precisely what Isis was aiming for — to provoke communities to commit actions against Muslims.

Then Isis will be able to say, 'I told you so. These are your enemies, and the enemies of Islam.'
A year later the theory is still going strong...
Alona Ferber, editor for the Centre on Religion and Geopolitics wrote for the Independent:
Attacking a symbol cannot protect from violence. Humiliating Muslim women in what looks at best like a farce and at worse like militant secularism which will only feed extremists such as Isis.
The Muslim Council of Britain, which represents over 500 affiliated organisations, charities and schools, told indy100:
The French authorities are in good company: the only other people forcing women to change their clothing at gun point are Daesh.