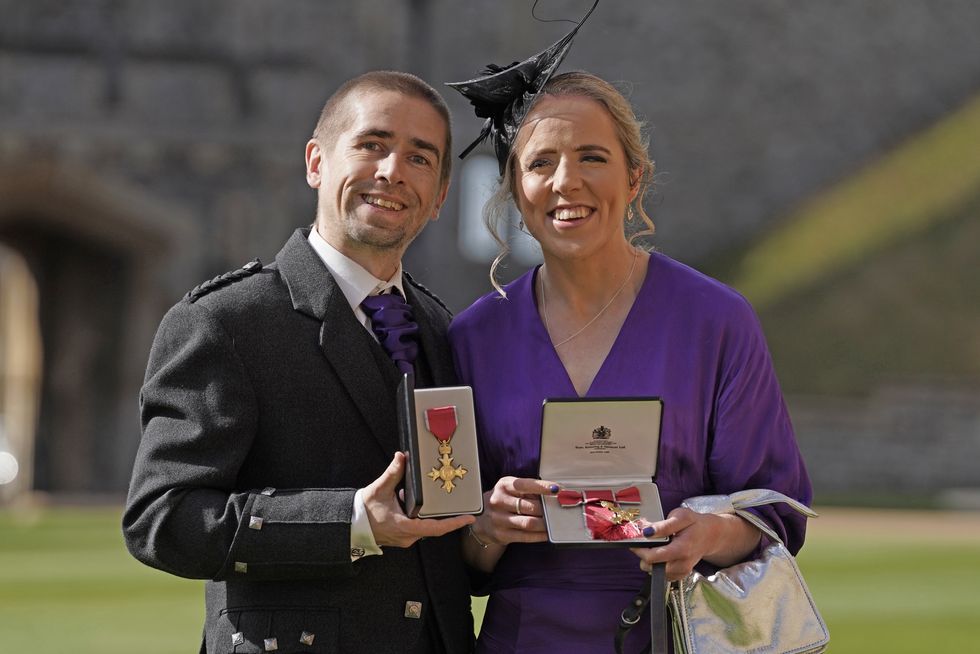 PA Wire/PA Images - Gareth Fuller
A husband and wife who have both won two Paralympic golds have vowed to compete for as long they can as they received OBEs at Windsor Castle.
Lora and Neil Fachie made the pledge after the Princess Royal remarked, "you have both been doing this for a long time", as she handed them their awards at an investiture ceremony.
The couple, who are partially sighted, received OBEs alongside wheelchair tennis players Gordon Reid and Alfie Hewett at Tuesday's ceremony.
The four athletes, all honoured for services to sport, said Anne took a keen interest in their careers as she congratulated them.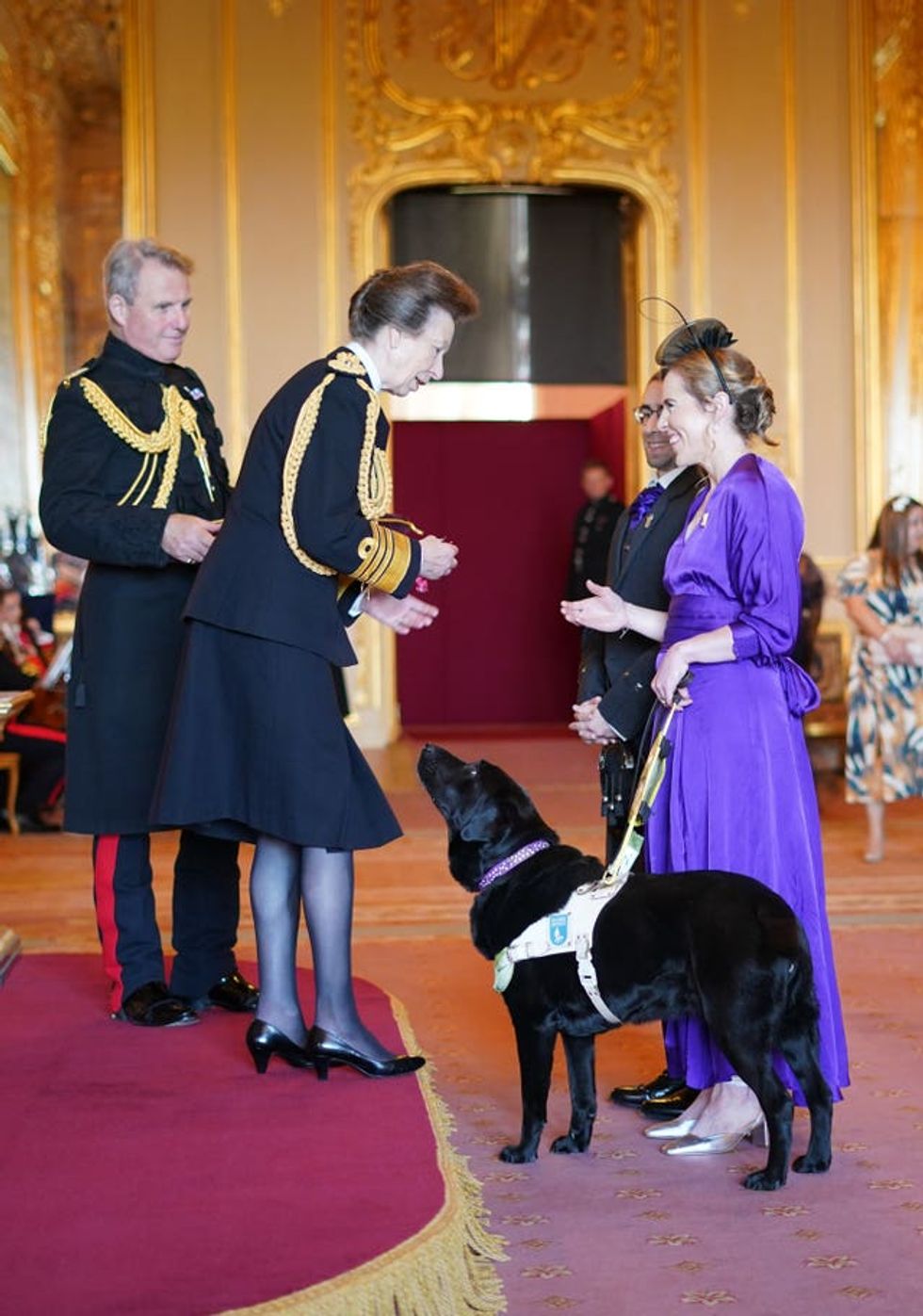 Neil and Lora Fachie, from Altrincham, have been made OBEs (Yui Mok/PA)PA Wire/PA Images - Yui Mok
Mrs Fachie, 35, said taking part in the ceremony was "probably more nerve-wracking than doing a race".
She said both of them would "very much like to defend our titles" at next year's Paralympic Games in Paris despite having become parents to their 11-month-old son Fraser since they won golds in Tokyo.
When asked about balancing competing and parenting, Mr Fachie, 39, said: "It has been a challenge but really good fun. A great challenge to be honest.
"We certainly don't get as much sleep as any athlete should and it is always a bit of a concern going into any major championship to be honest but we were lucky to compete in the World Championships this year.
"It just gives us that extra motivation to succeed. He might not remember it but he will be able to look back and see his mum and dad racing and hopefully getting gold medals."
When asked how long they plan to continue, he added: "If we enjoy it then keep going, I don't think either of us want to make those decisions in advance just yet."
His wife said she wants to continue for "as long as the body keeps going".
Doubles partners Mr Reid, 32, and Mr Hewett, 25, said Anne asked them how they got into tennis and what it was like competing on Wimbledon's famous Number One court.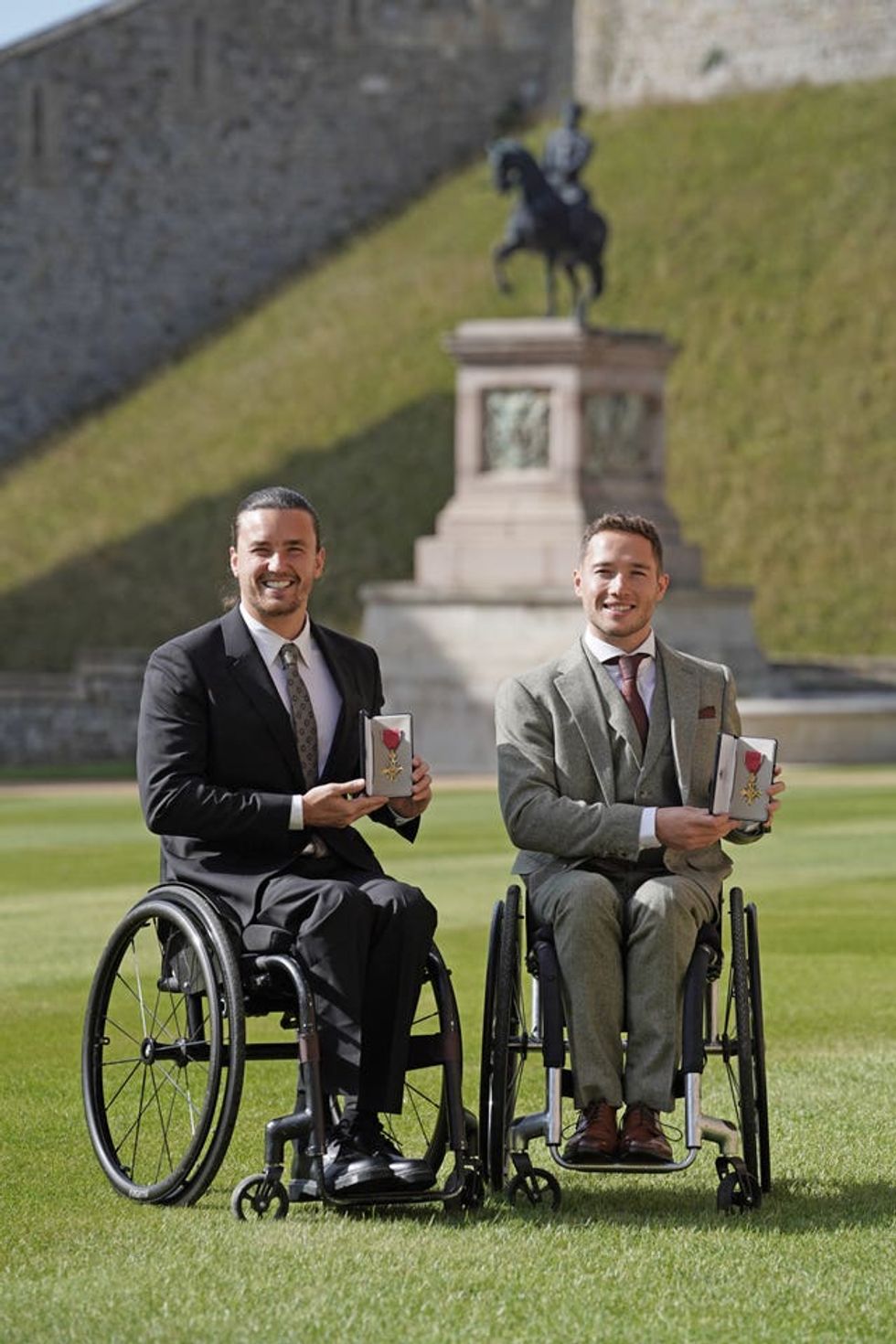 Gordon Reid (left) and Alfie Hewett were honoured at Windsor Castle (Gareth Fuller/PA)PA Wire/PA Images - Gareth Fuller
Mr Reid said: "She was very friendly and asking me how I got involved in tennis."
Mr Hewett said: "She knew I had just got back from New York (for the US Open) and I spoke to her about Wimbledon and playing on Court One.
"She knew we had won and that was in a packed court, and she asked what the experience was like."
Mr Hewett, who has not won an individual Paralympic gold, said getting one in Paris is a "big target" alongside getting a doubles gold with Mr Reid, which they have not done as a pair.
The friends also said their partnership on the doubles court has "strengthened" and they achieve the "right balance" between doubles partnership and singles rivalry.