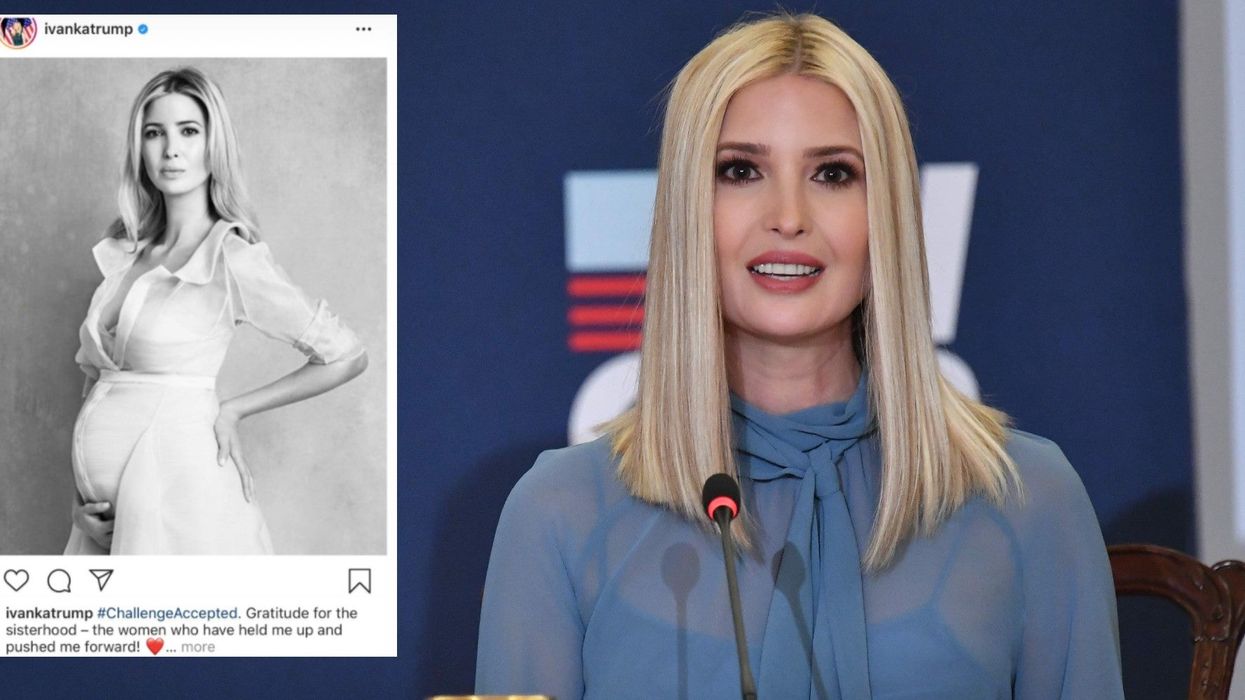 MANDEL NGAN/AFP/Ivanka Trump/ Instagram
Ivanka Trump has come under fire for taking part in a new Instagram trend called #challengeaccepted which involves women posting black and white selfies of themselves.
The trend has been mostly adopted by notable figures like Khloe Kardashian and Jennifer Aniston in a bid to support female empowerment and show solidarity towards other women.
The posts involve not much more than a black and white picture, the hashtags #challengeaccepted and #womensupportingwomen and a heartfelt message.
However, as Elle reports the origins and the goal of the challenge are a little unclear beyond the obvious point of female empowerment as the hashtag did exist in 2016 but it is believed that its resurgence has been sparked by Alexandria Ocasio-Cortez's rousing speech in Washington last week.
The New York Times reports that the earliest use of the hashtag was used by Brazilian journalist Ana Paula Padrão while it has also been suggested that the trend originated in Turkey in an attempt to raise awareness and bring attention to victims of Femicide.
The trend has come under criticism though as some believe that it is performative in nature and the more and more popular it becomes the more it dilutes the message of empowerment. Case in point, when Ivanka Trump posted a picture as part of the challenge on Tuesday, her message wasn't exactly clear at all.
She wrote:
Gratitude for the sisterhood – the women who have held me up and pushed me forward! Each day brings countless opportunities, large and small, to spread light and uplift those around us. Let's be kind to each other. Let's choose to love, support and strengthen one another. We are ALL mothers — we each bring something unique and beautiful into this world. Let's love each other. I challenge all of my followers to lead with love. You create the future as you live. #womensupportingwomen.
As an adviser to her father and the president of the United States, Ivanka has remained silent on many of the policies that the administration has done to roll back women's rights as well as failing to speak out against the many derogatory remarks and claims of harassment that have been aimed at Trump by other women.
As you can imagine, people were not impressed.
That being said, many of the comments on Ivanka's Instagram picture show support for the president's daughter but it remains to be seen just how committed she is to fighting for women's rights in the United States. While, she has vowed that authorities will help solve the cases of missing and murdered Native American women, The Cut highlights that the Violence Against Women Act has been put on hold in the Senate for months.