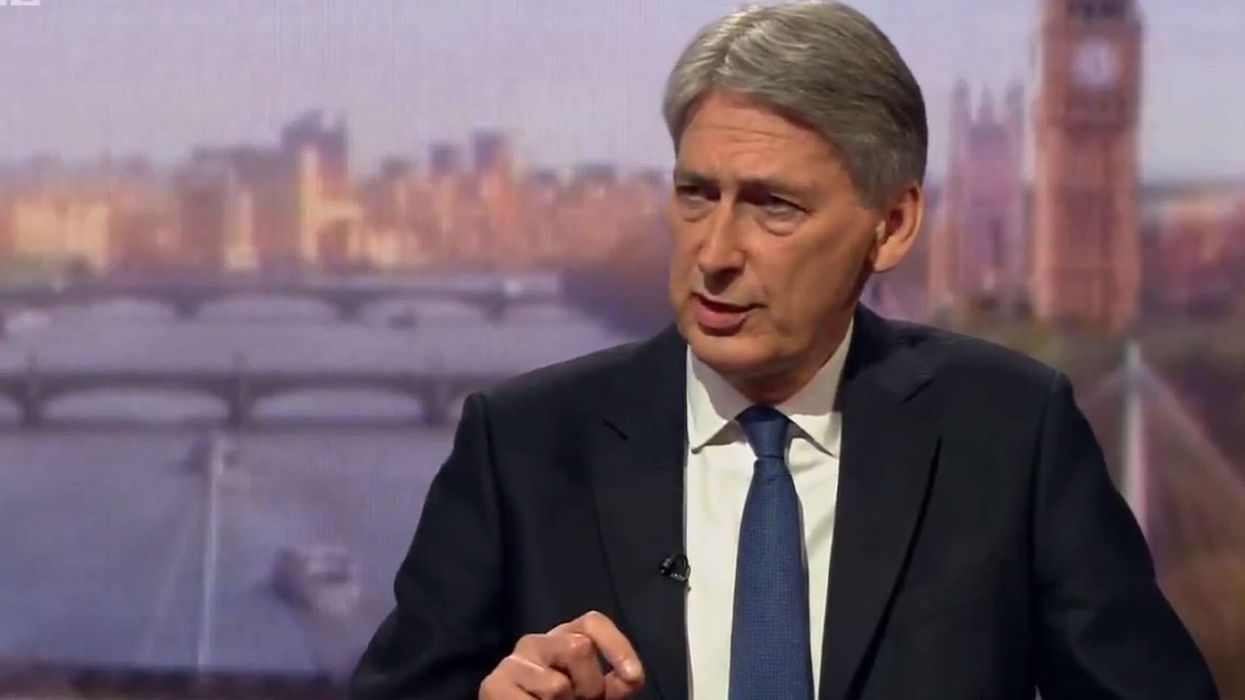 BBC/iPlayer
Chancellor of the Exchequer, Philip Hammond has been questioned about what the government could have done to prevent the Grenfell tower fire.
Appearing on the Andrew Marr show on Sunday morning, the Tory MP and Chancellor of the Exchequer, he was asked by Marr about a vote in the Commons last year which sought to ensure all private landlords made sure their homes were fit for human habitation.
Hammond was asked how he voted and he replied.
I think that was a private members bill and I don't think I voted on it.
Marr pointed out it was an amendment to the Housing and Planning Act and he voted against it.
Marr continued:
Your political critics say the Conservatives have launched this war against the health and safety culture, sneering at it at every opportunity and you have pushed it too far.
Hammond replied:
No regulation isn't always bad. Good regulation is what we need. We have a proper regulatory framework - obviously there are questions about it and it is right that the public inquiry should look at those questions - but it's not the right way to run a regulatory framework, just to accept amendments that people table to try in this way or that.
Marr interjected:
Fit for human habitation seems all right, doesn't it?
Hammond:
We already have a framework that makes sure buildings are safe and fit for human habitation. What we need to make sure is that framework is right and also make sure that it is being enforced and implemented in the correct way. And these are legitimate questions, of course they are. In the event of a terrible tragedy like this we must look at those things, and the right way to do it is to have an independent judge look at them.
He also gave an awkward response when quizzed over the safety regulations of the building and over sprinklers.
Marr asked Hammond whether regulations should have been addressed sooner, given the former housing minister Gavin Barwell refused to give a date for a review of fire regulations in tower blocks following a report arising from a 2013 inquiry into a fire in a Camberwell tower block in 2009:
You've had four years of being told something needed to be done and you haven't done it.

You'd have done it within five minutes if it were Buckingham Palace.

With these tower blocks you have sat on this for four years.
When pushed on the issue, Hammond gave a tepid answer, largely deflecting the need for precautions and repeating that a public inquiry will look into what happened.
Hammond replied:
No, I don't think that's true and it's not fair. The point is these are very complex technical issues and in this case technical expert research was commissioned so the decisions could be properly informed. Now - Did it take too long?
Marr:
Yes.
Hammond:
Did we handle it in the correct way?
Marr:
No.
Hammond:
The inquiry will determine that. That's the point of having a judge-led public inquiry with full power to call anyone to give evidence, to call for all papers, that will put all of this stuff under the microscope and show how all parties responded.
Marr also pointed out the absence of sprinklers not only in Grenfell in other towers, but in some newly-built schools, asking whether an urgent campaign of retrofitting was required.
Hammond replied:
My understanding is that the best expert advice is that retrofitting sprinklers may not always be the best technical way of ensuring fire safety in a building.

Now if it is, it should be done, but lets get the technical advice properly evaluated by a public inquiry.
Marr replied that the fire brigade had previously pointed to the efficiency of sprinklers in combatting fires in buildings.
Hammond responded these were technical questions.
Marr said:
These aren't technical questions.

Sprinklers put out fires.
Prime Minister Theresa May was criticised earlier this week after failing to meet victims of the tragedy.
An amendment to the Housing and Planning Act which was rejected by Tory MP's in 2016 was also shared prominently on social media following the tragedy.
As indy100 previously reported, it should be stressed that the amendment to the bill would not have directly effected what happened at Grenfell as the changes would have only impacted private landlords.
So far, 58 people are presumed to be dead as a result of the blaze, which includes the 30 already confirmed.