It looks like the Netherlands football team should be using a target man at the upcoming Olympics, if their national gene pool is anything to go by.
A new study, published in the journal eLife has found that Dutch men and Latvian women are the tallest in the world.
The research tracked height among young adult men and women between 1914 and 2014, finding that South Korean women and Iranian men have grown the most in height over the past 100 years.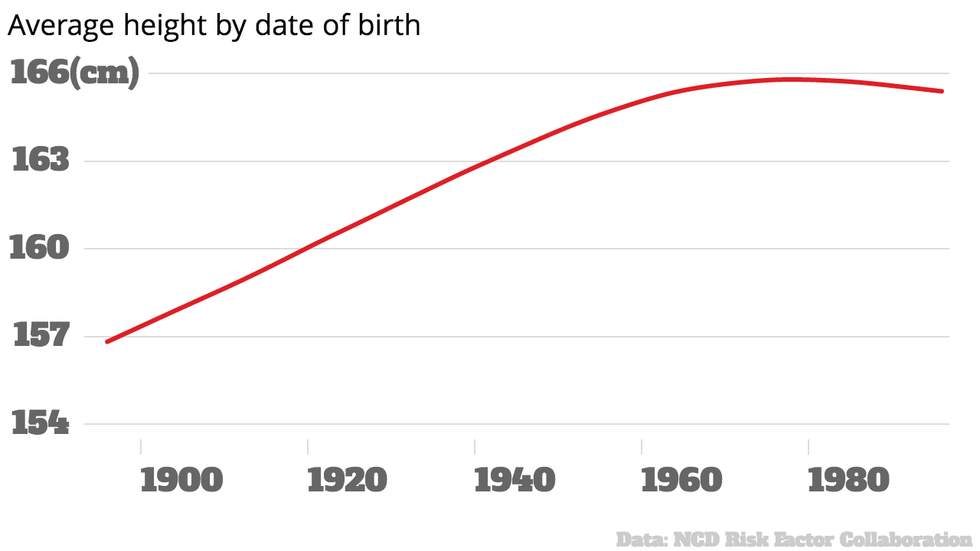 The US used to have the third tallest men in the world and the fourth tallest women just over a century ago, however the country has now fallen to 37th and 42nd respectively.
Picture: Carto/Louis Doré/NCD Risk Factor Collaboration
European countries dominate height in both genders, as the the top four tallest countries for men are the Netherlands, Belgium, Estonia and Latvia, while for women they are Latvia, the Netherlands, Estonia and the Czech Republic.
Picture: Carto/Louis Doré/NCD Risk Factor Collaboration
The smallest country for men born in 2014 was East Timor (160cm), while for women it was Guatemala (149cm).
The UK rose from 57th to 38th in the world over the course of the 100 years.
Lead researcher professor Majid Ezzati from the school of public fealth at Imperial College London said:
This study gives us a picture of the health of nations over the past century, and reveals the average height of some nations may even be shrinking while others continue to grow taller. This confirms we urgently need to address children and adolescents' environment and nutrition on a global scale, and ensure we're giving the world's children the best possible start in life.

Our study also shows the English-speaking world, especially the USA, is falling behind other high-income nations in Europe and Asia Pacific. Together with the poor performance of these countries in terms of obesity, this emphasises the need for more effective policies towards healthy nutrition throughout life.