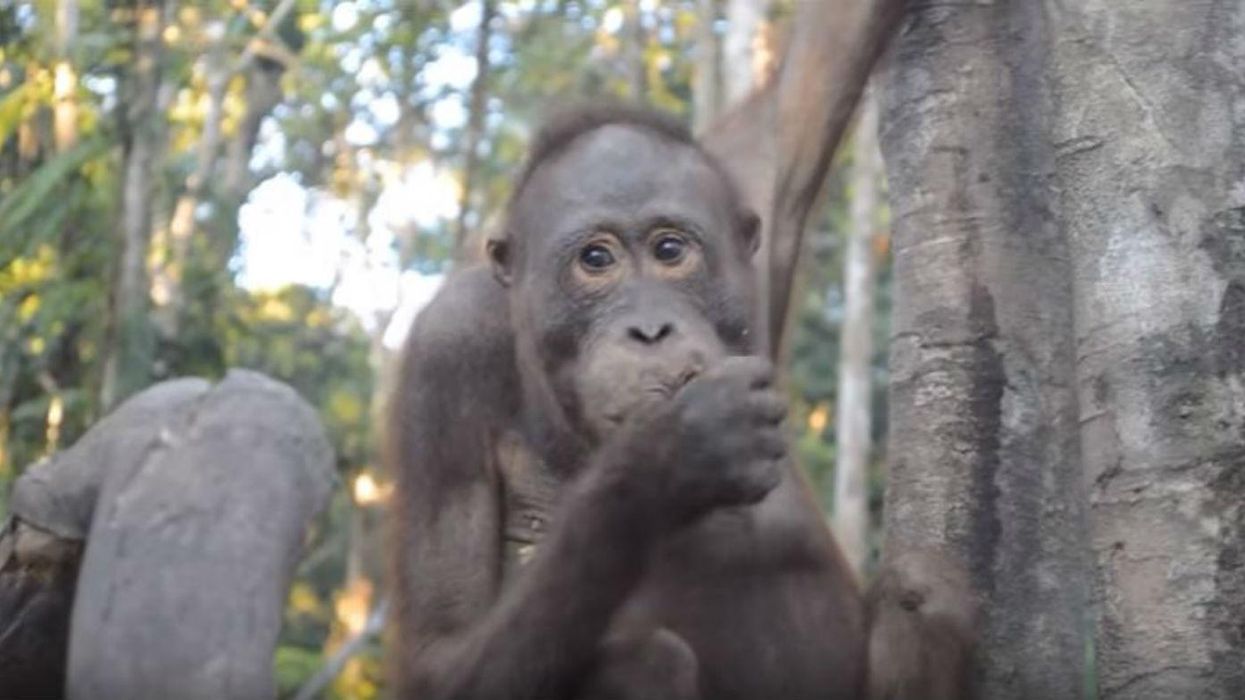 The story of a rescued orangutan will give you hope.
Bujing was dubbed the 'saddest orangutan in the world' in 2014 when he was discovered chained to the side of a house in Kalimantan, the Indonesian section of Borneo.
Orangutans are often captured and sold as pets, but owners rarely know how to properly feed them.
Bujing was saved by International Animal Rescue (IAR) and the Orangutan Project (TOP) following a tip off from the government's forestry department.
When he was rescued Bujing was suffering from malnutrition, hair loss, and had gashes on his back. He'd been stolen from the wild when his mother died and sold for £30 (GBP). His captors surrendered Bujing willingly, and he was taken away on a boat with his liberators.
Picture: International Rescue Organisation
But there is good news!
Bujing has been right at home in his new sanctuary. The IAR operate a safe haven for Orangutans in Ketapang, West Kalimantan.
Australian Kylie Bullo, who told the story of his rescue to the Daily Mail Australia, said:
Thankfully, Bujing has left behind a life of misery and despair. He now has a second chance at living the life an orangutan should.
Now nine years old, Bujing is smaller than most but he can often been seen playing with the younger apes in a video made by IAR.
There are lots and lots of pleasing videos of rescued orangutans, including baby ones on the IAR's YouTube page.
Much of the threat to wild Orangutans is produced by the palm oil trade which destroys their habitats in South East Asia.
According to Say No To Palm Oil over 50,000 orangutans have already been killed as a result of the deforestation that occurs due to the trade in palm oil.