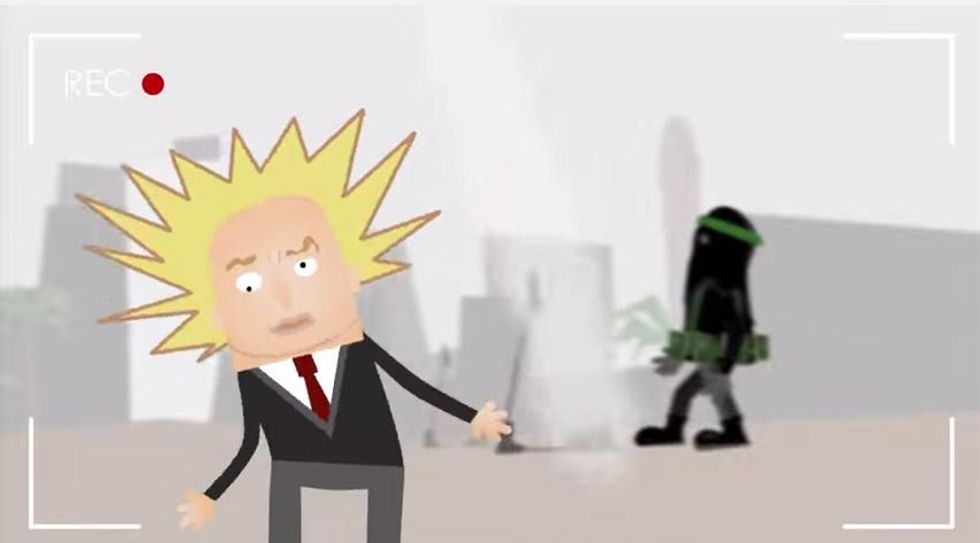 Last year, Reporters without Borders declared the Palestinian Territories as the second deadliest place in the world for journalists to work.
According to the Committee to Project Journalists (CPJ) seven journalists died while reporting on Israel's conflict in Gaza in 2014. The CPJ notes eight other journalists died during the war when their houses were bombed, but they are not counted among they dead as they weren't killed while working.
During the Gaza conflict Reports Without Borders also accused the Israeli army of deliberately targeting news professionals, something the IDF has always denied.
It's in that context, however, that Israel's foreign office released a South Park-style cartoon mocking journalists reporting on the Gaza war (Operation Protective Edge in Israel). The 50 second video titled 'open your eyes about Gaza' is in English, and clearly intended for a foreign audience.
It features a reporter claiming "there are no terrorists here, just ordinary people" as a black-clad Hamas fighter launches a rocket in the background. The journalist then moves to a tunnel used to smuggle weapons to attack Israel dubbing it the "first Palestinian subway system", before claiming "Palestinian society here is liberal and pluralistic, and Hamas allows everyone to live in dignity" as a man with a rainbow flag is huddled away.
"Hamas violently took control of Gaza in 2007. What have they been doing since? Oppressing the Gazan population and investing billions in terrorism against Israel's civilian population. Some people choose to close their eyes to the reality on the ground," the video's description reads.
Unsurprisingly, the Foreign Press Association has said it is "alarmed" by the video, saying in a statement:
At a time when Israel has serious issues to deal with in Iran and Syria, it is disconcerting that the ministry would spend its time producing a 50-second video that attempts to ridicule journalists reporting on a conflict in which 2,100 Palestinians and 72 Israelis were killed.

Israel's diplomatic corps wants to be taken seriously in the world. Posting misleading and poorly conceived videos on YouTube is inappropriate, unhelpful and undermines the ministry, which says it respects the foreign press and its freedom to work in Gaza
You can watch the full video below: