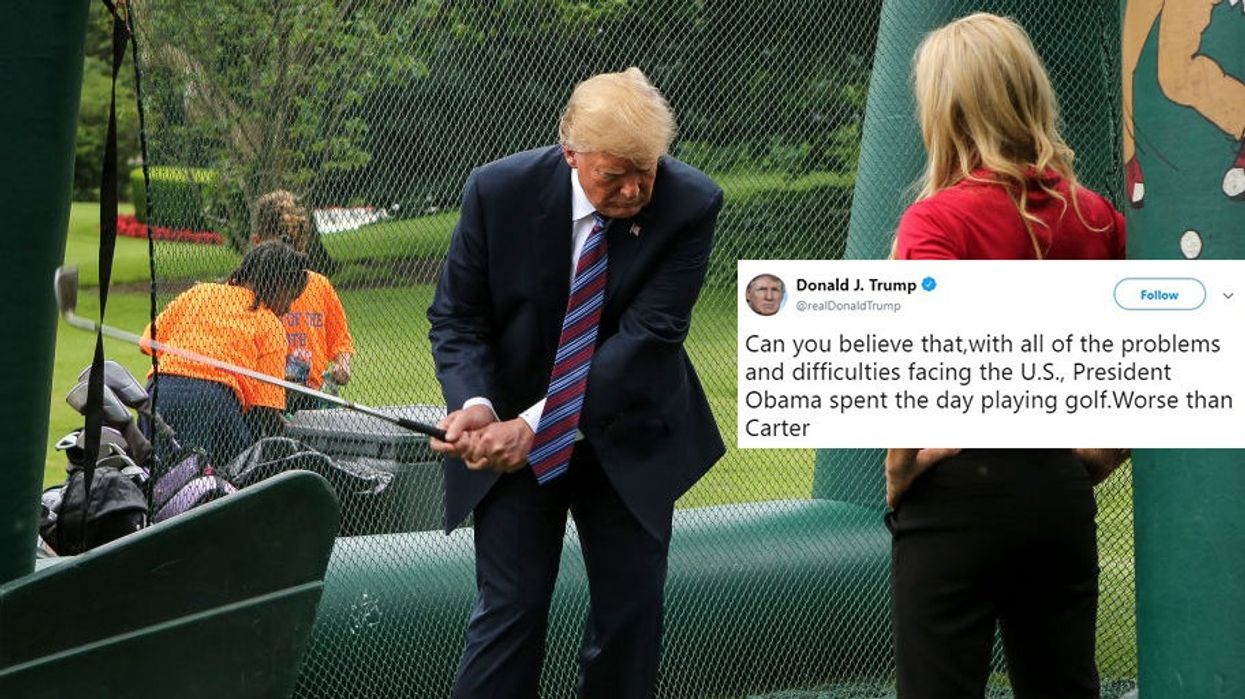 Oliver Contreras-Pool/Getty Images/Twitter
Donald Trump's love of golf seemingly knows no bounds, as the president is now literally teeing off in the White House.
Not content with playing golf at his Mar-A-Lago resort in Florida, Trump has reportedly installed a room-sized 'golf simulator' in the most prestigious building in America.
A report from the Washington Poststates that the simulator allows the POTUS to plays rounds by hitting a ball against a large screen,
The Post's sources claim that Trump's system is an updated version of a 'less sophisticated' system that Barack Obama had installed during his time in office.
Trump's virtual golf game is said to have cost an eye-watering $50,000 and was only installed in the past few weeks, with Trump footing the bill himself.
This comes amid talk of Trump's so-called 'executive time', which accounts for around 60 per cent of his scheduled hours, where he has no official meetings.
A report from Axiosfound that in 'executive time', Trump usually watches television, uses Twitter, holds impromptu meetings and makes phone calls but, as of yet, no golf.
The source told the Washington Post that Trump hasn't played any virtual golf in 'executive time' nor has he used the system whatsoever.
Either way, Twitter has been quick to have their say on Trump's new and expensive toy.
FUN FACT: Donald J. Trump is the only user of a golf simulator who has to use a golf cart to play. https://t.co/uf6HDlTz0H

— Mrs. Betty Bowers (@Mrs. Betty Bowers) 1550078477
As mentioned, Trump paid for the simulator himself - and it's not like Obama didn't already have one installed, so we can hardly be too critical.
Obama also had his own basketball court in the White House, which had been converted from an old tennis court.
In the past, Eisenhower had a golf green installed in the grounds of the building, while Richard Nixon had his own bowling alley.
While all of that sounds fair (even the president is entitled to some downtime), it's not like Trump hadn't criticised Obama for playing golf during his presidency, something the 72-year-old is now literally doing inside the very building he calls home.
There really is a tweet for everything, isn't there?