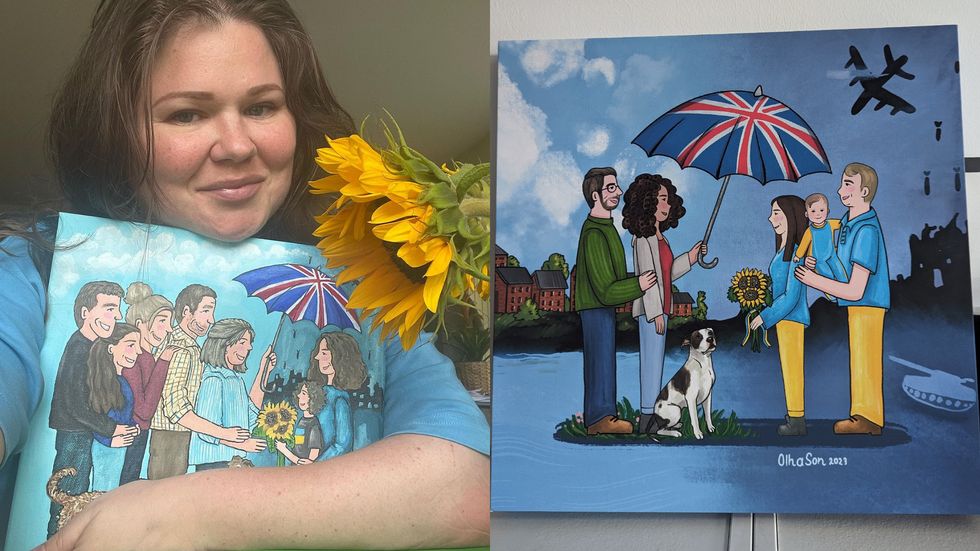 A Ukrainian artist who paints family portraits for refugees to give to their UK hosts said she feels she is "doing something important" by "immortalising" Britons' generosity and the impact of the war.
Olha Son, 35, fled Ukraine and moved in with a host family in Cornwall, before beginning to accept commissions from Ukrainian refugees who wanted to thank their British host families with a painting.
Ms Son has created numerous artworks showing Britons sheltering Ukrainian refugees with an umbrella decorated with a Union flag, which she said makes "almost 100% of the Brits cry".
She told the PA news agency: "It's like immortalising this phenomena of a British family who made a decision to open their doors to strangers from a different country, a different culture, in order to help in such a devastating situation as the war."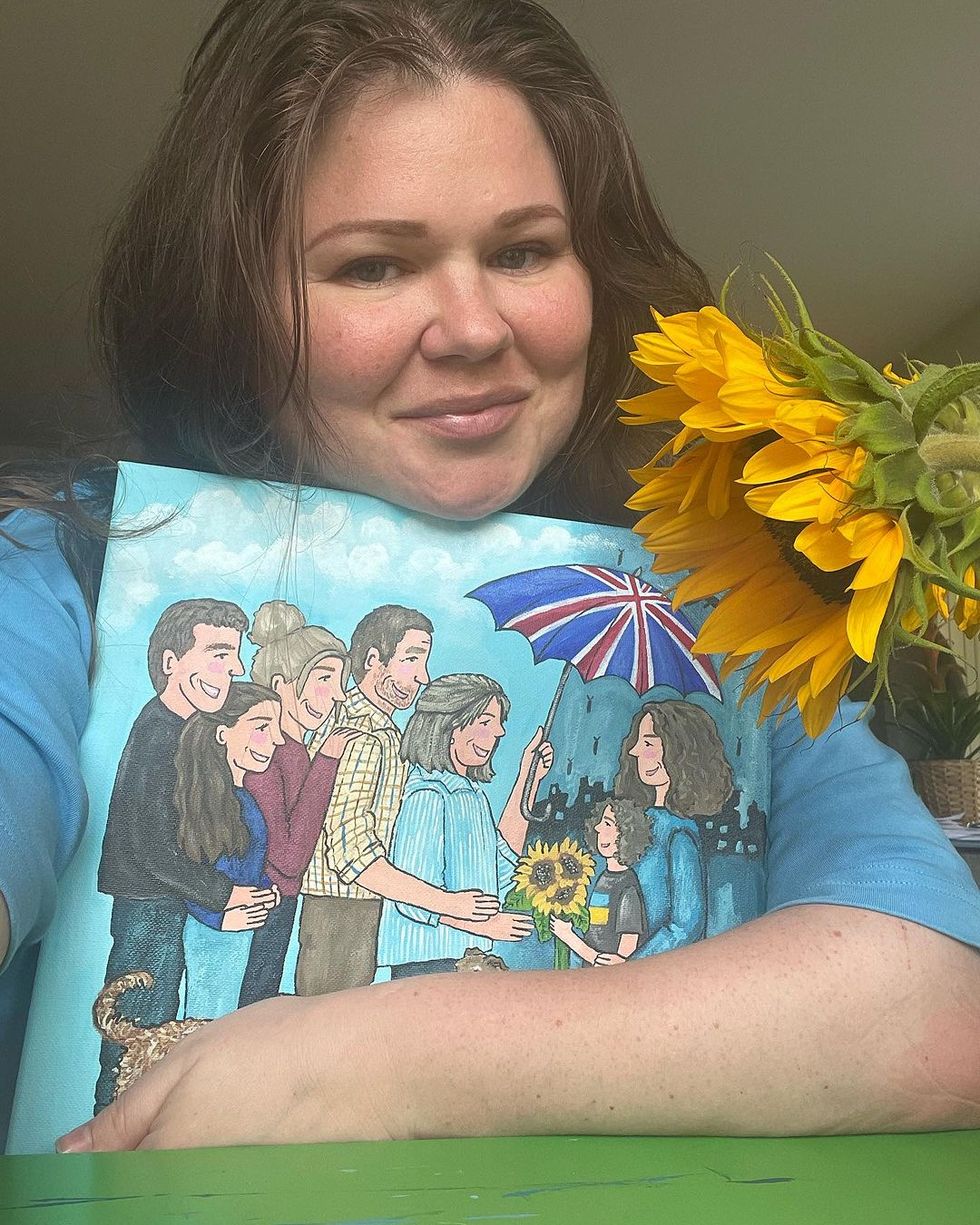 Olha Son holding one of her umbrella paintings (Olha Son/PA)
Ms Son said she started painting five years ago when she was diagnosed with depression and initially painted still lifes, before receiving a message from a fellow Ukrainian refugee asking for a gift for their host family.
She brainstormed ideas for the painting, which was "easy" because she "was in an identical situation as my customer and I knew what it feels like to feel what they feel".
She said: "That Ukrainian lady picked up the idea where a girl in a grey coat is holding an umbrella with a British flag over a girl who is wearing clothes in the colours of the Ukrainian flag."
Ms Son posted a TikTok of her painting to her account, @olhason_art, and has received over 66.5k views and hundreds of comments because "a lot of Ukrainians could relate to this painting".
She said: "Since I started painting personalised umbrella [paintings], I receive a lot of messages like 'we all couldn't hold our tears back, it was such a heart-warming moment'.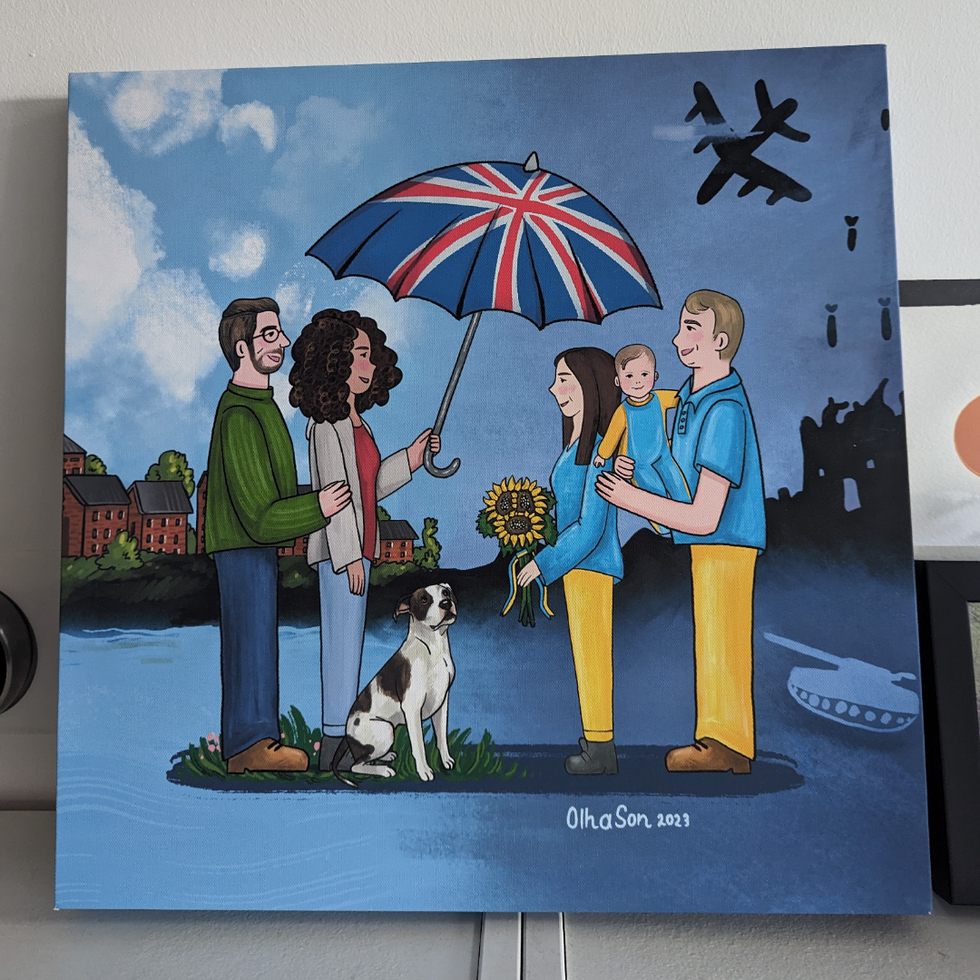 Jessica Ryan Smith, Kevin Kennedy Ryan and their dog Holly with a Ukrainian family they hosted (Olha Son/Kevin Kennedy Ryan/PA)
A British couple who received a painting from the Ukrainian family living with them said it was "very moving" and they "got a bit teary" to receive the group portrait.
Kevin Kennedy Ryan, 33, and Jessica Ryan Smith 32, based in Sheffield, took in a Ukrainian couple and their young son for several months.
Mr Kennedy Ryan said: "We had a big dinner the night before they left and they gave us some gifts and obviously we gave them some gifts and we had a big cry."
The couple gave them a painting showing their two families, painted by Ms Son, which Mr Kennedy Ryan said left them "speechless" and "drove home some of the reality of the situation".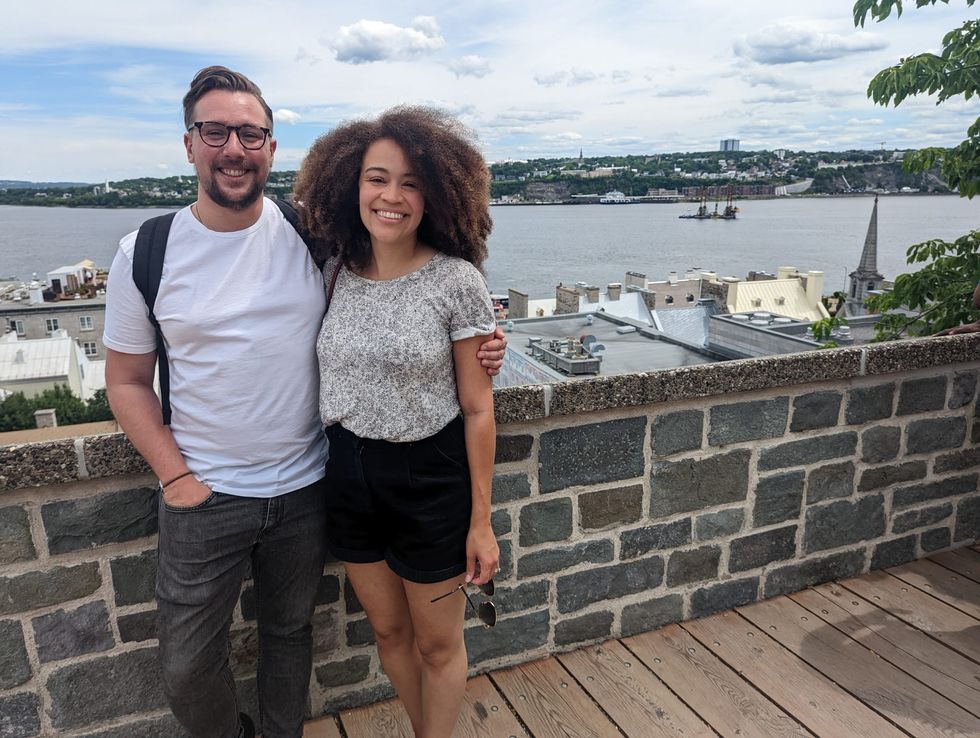 Kevin Kennedy Ryan and Jessica Ryan Smith, who hosted a family from Ukraine (Kevin Kennedy Ryan/PA)
During the months of cohabitation, the British couple hosted a "magical" Christmas dinner with their Ukrainian guests and watched the son walk his first steps, with Mr Kennedy Ryan saying it was "really wonderful watching him grow".
The British couple offered their home to refugees before Russia invaded Ukraine and said: "It's not necessarily about refugees from Ukraine or any one particular area. We all have this humanity that we share together."
Ms Ryan Smith said: "These are people that are oftentimes fleeing horrendous situations and they don't really have many options and they're probably one of the lowest points of their lives.
"I feel like it's one of those things that the least we could do is offer them a safe place to stay.
"I hope that if I was ever in that type of situation, that somebody would extend the same gratitude to me."