The University of Tennessee at Knoxville recently embarked upon their fifth annual 'sex week.'
The workshops at the school aim to teach students how to enjoy their own sexual health and raise awareness on various subjects.
The event is organised by an on-campus group called Sexual Empowerment and Awareness at Tennessee.
Workshops and talks during the week, which started on April 6, featured creatively named events such as 'Gender Smackdown', 'CSI: My Period' and 'Butt Stuff 2.0: The Pegging'.
The full schedule for 2018 can be seen below: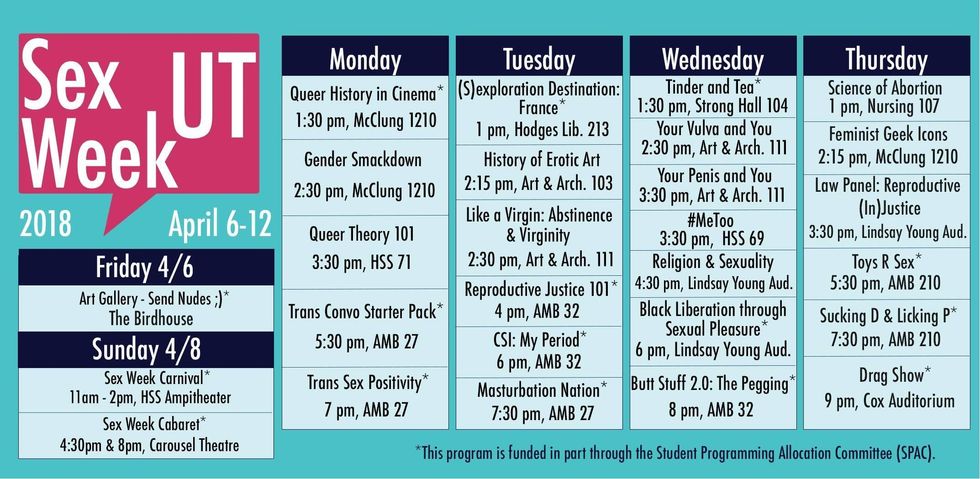 Picture: Sex Week UT
As you can guess from some of those names, this is a mostly liberal event where people are encouraged to explore their sexual habits and desires without shame or embarrassment.
Considering that most people at the university are likely to be young, and are at a stage in their life where they are experimenting in the bedroom, few would begrudge anyone who attended these events.
That being said, conservative commentators in America took exception for the existence of the event. In his column on Fox News, Todd Starnes labelled the event a "Sex Week Carnival" and "six days of XXX-rated debauchery".
He wrote:
The workshops at the event have names too offensive to list here, but suffice it to say they are not the type of educational activities most parents have in mind when they fork over thousands of dollars of hard-earned savings to send their 18-year-olds off to college.

And while many Tennesseans will be attending church on Sunday, university students will be participating in a "Sex Week Carnival" that's about as far from church as you can get, and instead looks like it belongs in a porn film.

Sweet Lord Almighty, America.
Similar sentiments were echoed by former Tennessee state Senator Mae Beavers. The 70-year-old Republican, who spoke to Starnes on his radio show, was not in keeping with the values of Tennessee.
She said:
Tennessean's certainly do not approve of this kind of behaviour.

The university does not reflect the values of Tennessean's and I think it's about time Tennessean's stood up and demanded their legislature de-fund these things.
Christian Evangelist Franklin Graham also criticised the event. In a Facebook post, he claimed that Sex Week was "pushing filthy trash on young people".
Steve Gill, who is a 61-year-old conservative radio host based in Tennessee, also lent his voice to the debate. Fox News quotes him as saying:
The liberal agenda of the leadership at Tennessee is frankly out of control and completely disconnected with the values and concerns of Tennessee taxpayers.
However, despite Gill's concerns about taxpayers money going to waste on such an occasion, the university noted that no state funds were used to host the events and that it was all privately funded.
Others have come out in defence of the event. In a letter to Knox News, a local from Sale criticised Starnes' reaction.
Hancen A is quoted as saying:
Rather than leaving frisky and sex crazed, audience members are more likely to embrace a cast member whose story shined light on their own personal darkness.

Whether it be a student who overcame the vigorous obstacles of living as a gay man or other forms of discrimination, sex appeal always served as the frivolous avenue for spreading the more potent agenda: Love thy neighbour.  

Despite the undignified journalism of Starnes, these students courageously uncover an essential understanding of sex that demands respect and love for the other be at the forefront.

So, a word of advice: Be careful attending a Sex Week event because there's a vitality of love you might not find in your church.
In addition, the founders of Sex Week - who list some of core values of the event as open-mindedness, inclusivity and sex-positivity - say in a statement on their website:
Appreciating the diversity and unity of the human experience entails understanding the range of sexual and gender identities we hold and express, and how these are shaped by culture, politics, religion, the environment, and even the economy.

College is about education and thoughtful discussion, and that includes important topics like sex and sexuality.