The Labour leader was asked what he would change about the Downing Street décor during a phone-in with LBC's Iain Dale on Friday afternoon.
This is what happened to his face after Alex, in Stanmore asked:
Ed, let's say you make it next May and you win. What will you refurb (sic) first in 10 Downing Street?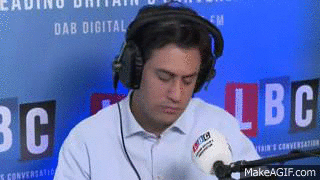 Mr Miliband handled his answer well, saying "I'm not into that... We're certainly not measuring the curtains. We're fighting an election to win an election and I'm not thinking about spending public money on refurbishments."
[See also: Classic films improved by Ed Miliband eating a bacon sandwich]3
You can watch the moment in its full glory from 37:30m in this video.
H/T Laura Pitel.