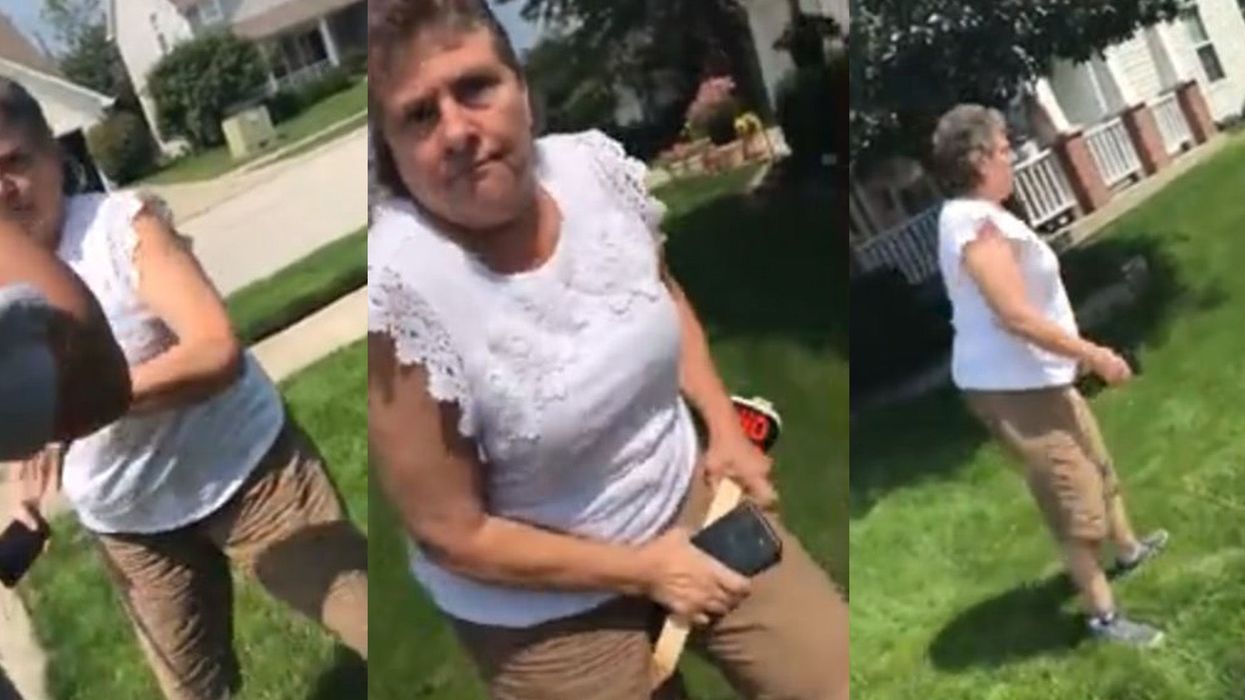 Facebook/ Luvia Roman
A couple in Indianapolis, Indiana were subject to racist slurs and a physical assault by their neighbour on their own property.
According to Newsweek, Miguel Rios and Luvia Roman moved into their house in Twin Creeks Drive about a year and a half ago but their life has been made a "living nightmare" by the neighbour Vicki New.
In that time they claim to have been subject to numerous racist attacks by New the most recent of these came on Sunday.
In video captured by Roman and share on Facebook, New is seen walking on to their driveway and removing 'no trespassing' signs before snapping them in half and throwing them at Rios.
67-year-old New also shouts at the couple, while they are trying to defend themselves: "Don't touch me. I'll kill you."
A separate video, filmed from a camera on their house shows the incident from a different perspective.
Both videos have been views tens of thousands of times on Facebook.
In another video, posted by their neighbour Corey Banks at the start of August, New can be heard using the n-word.
Warning: the following video contains strong language.
In an interview given to the American Spanish-language broadcast network Univision, Roman stated that until last Sunday all of the attacks had been verbal and never physical.
Rios added in an interview with the NBC affiliate WLWT:
She keeps telling us she's going to kill us and we're not sure when that night's going to come.

Threw it [the sign] at my face and then after that she broke the other one and then it hit my wife in the face.

It's been a living nightmare.
The signs that New destroyed were placed there by police who visited both parties on the Thursday prior to the above incident to settle about a dispute about the driveway.
Roman added that she lives in constant fear and believes that attacks are purely because they are both Hispanic.
We've never done anything to this lady. Before we bought and saw the home, she started trying to attack us because we're Hispanics.

When we came out of the car she starts to say go back to Mexico, insults that are so bad that I can't even say them in front of my daughter, who is barely four-year-old.
However, in an update to the story, it has been confirmed by ABC affiliate RTV6that New has now been arrested on the preliminary charges of criminal trespassing and battery resulting in bodily injury.
After the arrest, Roman admitted that it "felt great because it's been a long ride." Although the case is still under investigation she said that she hopes New has learned her lesson.
I felt like at first, police weren't taking this seriously. I know for sure that the case was closed. 

Hopefully, it may teach her a lesson, you know, not to do what she does.
HT Daily Mail