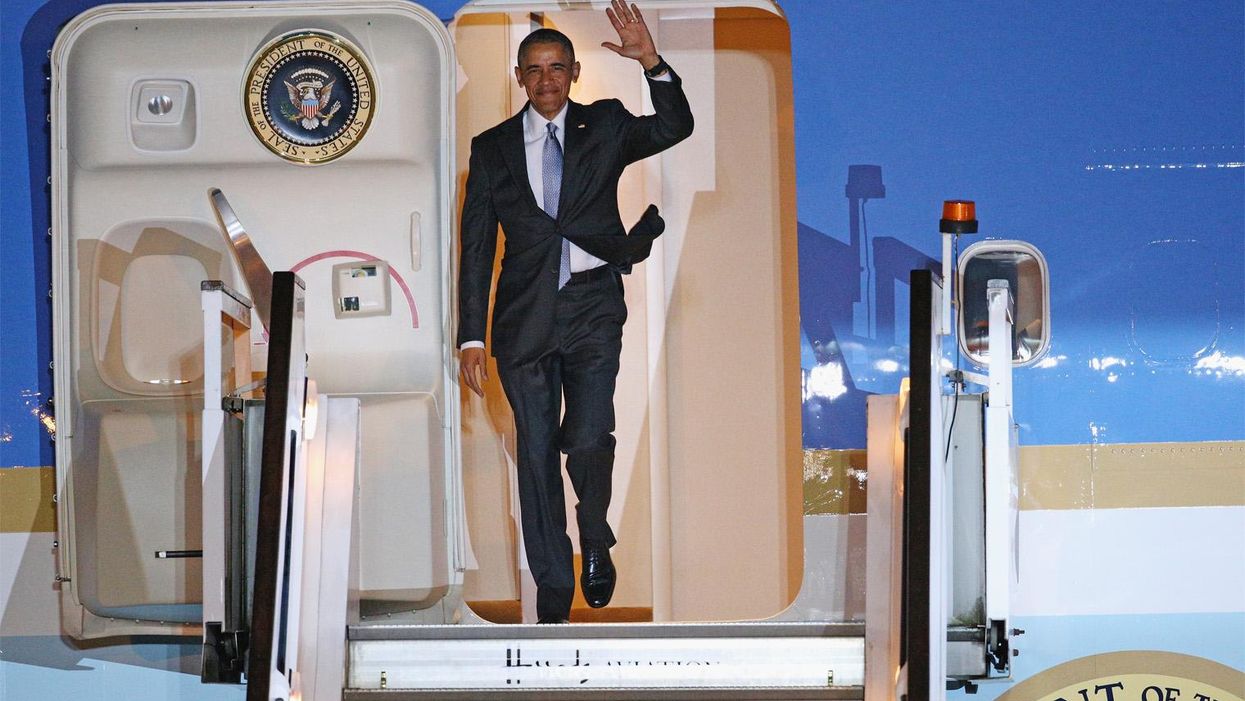 President Obama has landed in the UK for his EU referendum campaign mission lunch with the Queen as part of her 90th birthday celebrations.
It is the last visit the Obamas will make to the UK, at least as President and First Lady, and they surely will have a to-do list for the occasion.
That said, they only have three days, and at some point have to fit in talks with David Cameron.
So here's our suggestion of a few things Barack should try while he's in the UK which he couldn't possibly do in the US - even as Commander in Chief.
1. Drink in a pub from the Eighth Century:
Ye Olde Fighting Cocks, in St Albans, Hertfordshire features in the Guinness Book of Records as the country's oldest, that could be nice.
Eating in a pub four and a half times older than the country you lead could also add a dash of perspective.
2. Eat Kinder Eggs and proper bacon:
Kinder eggs are not allowed in the US, where there has been a ban on confectionary with small parts or toys since 1938.
And let's not even get started on that streaky 'bacon' they sell in the States.
3. Plug in to the electrical mains with three prongs:
4. Drink at 18:
He'd need a time machine first, but we shouldn't forget that the UK drinking age is 18, compared to the US' 21.
And of course both countries maintain a 100 per cent adherence to this age limit. Universally.
Which brings us to...
5. Get absolutely banged up and then fixed by the NHS for free:
Healthcare free at the point of entry is a national bloody treasure.
6. See some Roman ruins:
Caesar never quite made it to Plymouth Rock, so perhaps Obama would like to see Hadrian's wall?
Picture: Getty
Or the villas at Fishbourne, Bignor, Littlecote or Chedworth. Or the Roman Baths in Bath, then Aquae Sulis?
Picture: Getty
Alternatively, he could see our ancient monument from 3100 BC, Stonehenge.
7. Have a Barbeque in a raining 12 degrees Celsius:
It's a tradition.
8. Get angry about Freddo inflation:
Twenty-five bloody pence now! Goodness sake!
9. Not see a gun for years:
Then when you finally do see some armed police walking down the high street, you act like you're the most guilty person who has ever existed, the whole time staring fixedly on the firearms.
He'd have to stay a while, but it's also far less likely he'd be shot here, making it a bit more tempting for retirement than Florida Keys.
10. Watch the cricket, or the rugby:
Until you've watched wickets tumble in the slips to reverse-swing on the fifth day of a test match at Lord's you haven't lived.
Picture: Getty
That or watching an offload-filled ten-try match at Twickenham which ends with a dropgoal from the twenty-two from the side who have lost a player to the sin bin.
Americans you think this doesn't mean anything - it does.
11. Go for a walk:
In the blooming lovely countryside, right next to your house, without having to drive anywhere.
12. Watch advert-free TV on the BBC:
Uninterrupted, quality programming.
No poltical adverts.
No cartoon mascots screaming for your attention.
Just a nice calm announcer letting you know that The Night Manager is on next.
13. Tour the country with ease:
If you want to go to Edinburgh for a weekend, you just can, and you don't even have to fly.
Let's see you make New York to LA without Boeing or a breakdown on the motorway.