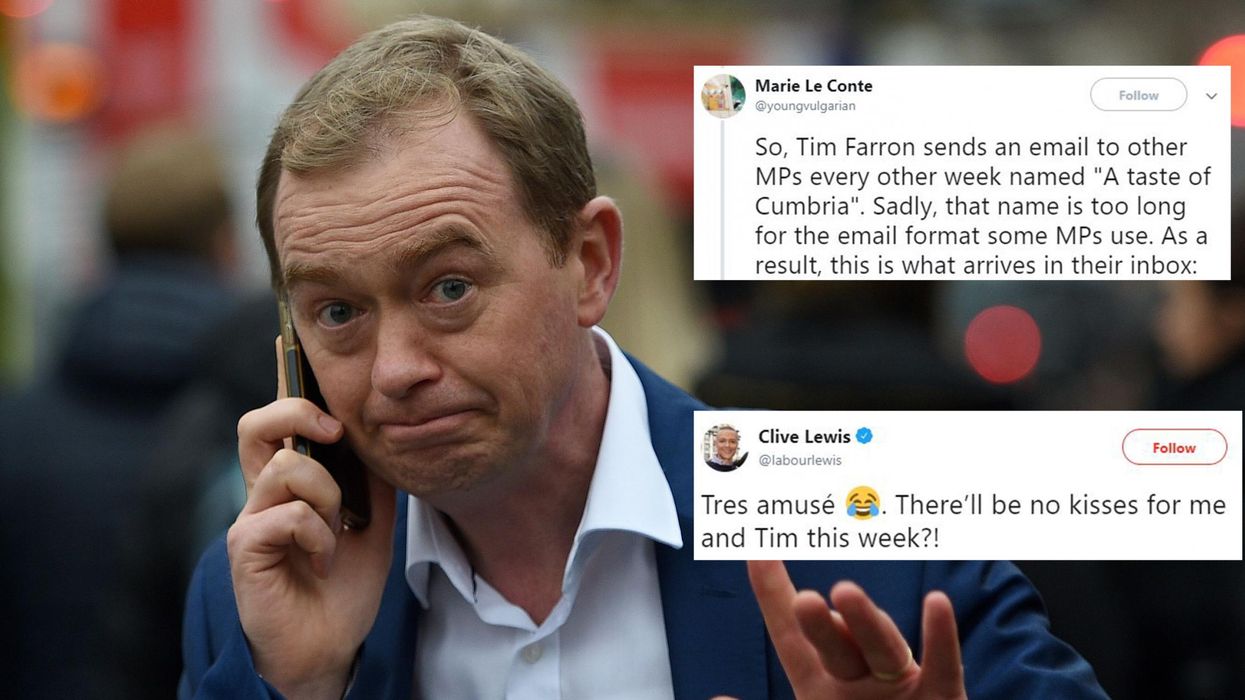 Oli Scarff/ AFP/ Twitter
The former Liberal Democrat leader Tim Farron hasn't been in the news much since stepping down from the role after the 2017 general election.
Yet the 48-year-old found himself thrust back into the spotlight on Wednesday due to an unfortunate bit of cropping in an email inbox. Allow us to explain.
The email was part of a weekly series where MPs use the Jubilee Room to host food producers from their constituency.
In the title of the email, Farron appears to have called it 'A Taste of Cumbria', as he is the MP for Westmorland and Lonsdale.
However, a tweet from the political journalist Marie Le Conte shows that when the email landed in inboxes, it came out a little wrong and probably NSFW.
The email could have been to celebrate 'Cumbria Day', which did take place on Wednesday, but - as you can see - the title makes it look like he might have been promoting something else altogether, and we really don't think this is the time or place to describe what it might have been.
This is obviously a small joke that probably didn't occur to everyone, but the tweet has since gone viral and received more than 1,000 retweets and 3,000 likes at the time of writing and the Twitter can't get enough of it.
Some chose to make reference to comments that Farron had made in the past about sexual identity.
Regardless, it's safe to say that Clive Lewis, the Labour MP for Norwich South, will be steering clear of Farron for a few days.
indy100 has contacted Tim Farron for comment.
HT The Poke