Hope Hicks, the White House communications director, is resigning.
This news broke one day after she reportedly admitted to the House Intelligence Committee in a private testimony that her job required her to tell "white lies" for President Trump.
In the nine-hour interview, the 29-year-old added they were not about anything substantive or relevant to the Russia investigation.
Hicks had been considering leaving her post for months, according to the New York Times.
Despite her place as one of the last remaining member of Donald Trump's original inner circle of senior staff at the White House, Hicks has more-or-less successfully kept her name out of the spotlight - until now.
Who is Hope Hicks?
As a teenager, the Greenwich, Connecticut native took up modelling - even once appearing in a Ralph Lauren ad - and was co-captain of the lacrosse team, a hobby she continued at Southern Methodist University.
From here, it took just two years from her graduation in 2010 to land a PR job in New York city, a role in which she was trusted to handle Ivanka Trump's high-profile lifestyle brand.
The Trump organisation hired her full-time in October 2014. In January the following year, Trump summoned her to his office to tell her his plans of running for President. In rare on-record comments, Hicks told the New York Magazinewhat Trump said:
Mr. Trump looked at me and said, 'I'm thinking about running for president, and you're going to be my press secretary.'
Though her experience in politics was non-existent, she rose to become one of Trump's most trusted advisers. Forbes included her in their 30 Under 30 list, lauding her as a "one-woman press team for Trump's historic presidential campaign".
Her unflappable reputation took a hit in May 2016 when she was caught having a public screaming match with campaign manager Corey Lewandowski. It was later reported that the pair had dated.
Hicks switching between various press roles until she was eventually appointed as the permanent White House Communications Director in September, 2017.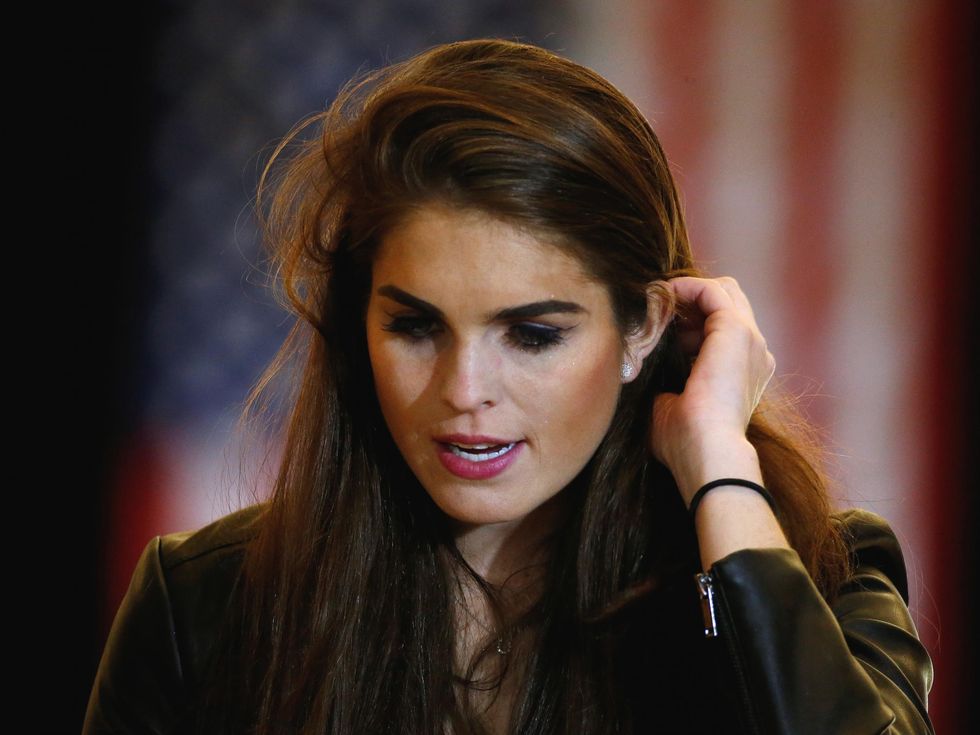 White House communications director Hope Hicks has quit
What does Hope Hicks have to do with Russia and other scandals?
After enjoying relatively little public attention since joining the White House, recent weeks have seen a reversal of fortunes for Hicks - and that's not just because of the "white lies" comment.
Last summer, it was revealed that Trump's eldest son, Donald Trump Jr, met with a Russian lawyer in 2016.
Hicks was reportedly with the President on Air Force One when he crafted an explanation that the meeting was primarily concerned with a Russian adoption scheme.
Emails released later showed that Trump Jr had enthusiastically agreed to talk to a Russian lawyer and others after he was promised "dirt" on Hilary Clinton.
Hicks has preciously vehemently defended the President and his team against charges of inappropriate ties to Russian figures.
Two days after the 2016 election, she told the New York Times:
We are not aware of any campaign representatives that were in touch with any foreign entities before yesterday, when Mr. Trump spoke with many world leaders.

Those discussions were congratulatory and forward looking.
Earlier this month, another scandal erupted after the press reported that she was then dating White House staff secretary Rob Porter, who had been accused of domestic violence.
It was Hicks who reportedly helped draft the initial White House statement defending him.
What does Donald Trump think of Hope Hicks?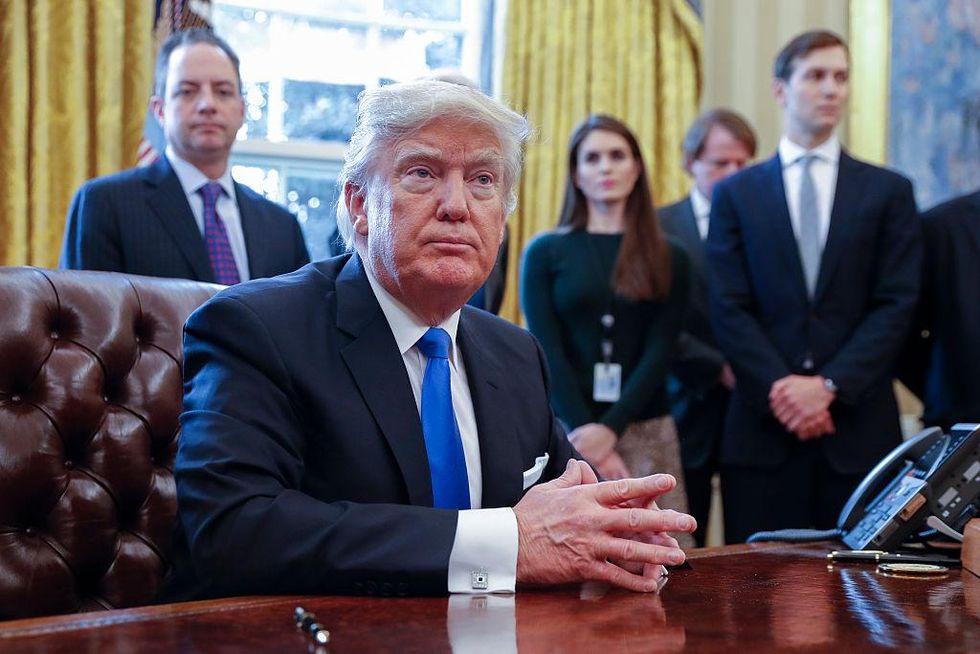 Picture: Hicks (second right) behind Trump after he signed one of five executive orders related to the oil pipeline industry. January 24, 2017 (Getty Images / Pool / Pool)
Hicks was fiercely loyal to Trump before most gave him a chance. At the beginning of his campaign, when people saw him as a dismissible laughing stock, she was handling press requests and reporters. She believed in him when not many did.
Others have stumbled into and out of Trump's orbit, but she had staying power. This unquestioned devotion goes far with Trump. One Trump ally told CNN's Jeremy Diamond:
I don't think it's possible to overstate the significance and just the importance of her role within the White House.

She's an invaluable team member and one of the originals.
In response to her resignation, Trump said in a statement:
She is as smart and thoughtful as they come, a truly great person.

I will miss having her by my side, but when she approached me about pursuing other opportunities, I totally understood.

I am sure we will work together again in the future.
Michael Wolff reports in Fire and Fury: Inside the Trump White House that White House aides referred to Donald Trump's daughter Ivanka as the President's "real wife" and Hicks as his "real daughter".
"Hicks was in fact thought of as Trump's real daughter, while Ivanka was thought of as his real wife," Mr Wolff wrote.