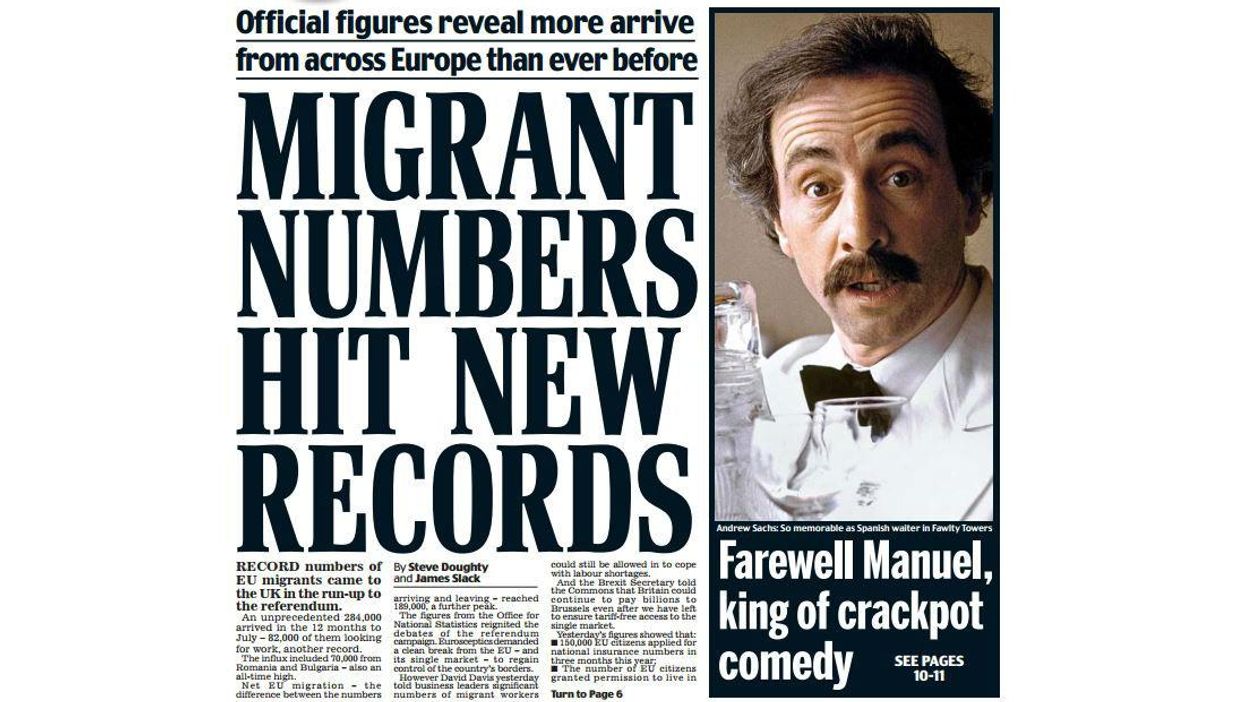 The Daily Mail
The comic actor Andrew Sachs has died aged 86. It was announced on Thursday that the performer had passed away the previous week.
Best known for playing Manuel on Fawlty Towers, the much loved TV icon was eulogised on the front page of the Daily Mail.
Next to the tribute, which featured a photo of Sachs in character as the immigrant hotel worker Manuel, the Daily Mail ran a story about the number of immigrants arriving in the UK.
The paper quotes figures which state that net migration was 189,000 in the 12 months preceding July 2016.
The topic of immigration is a common feature of Daily Mail front pages, but many have pointed out some facts about Sachs:
Sachs was born in Berlin to a Jewish father Hans Emil Sachs and Catholic mother Katharina (née Schrott-Fiecht).
Hans Emil was an insurance banker who moved the family out of Germany in 1938.
In a 2008 interview with the Independent Sachs recalled:
We moved to the centre of Berlin and at my second school, coming home one day, I saw the windows of Jewish establishments bashed in after Kristallnacht.
According to Sachs, his father was arrested while the family were eating out at a restaurant. Hans Emil was released the day after thanks to a business contact in the police, and the family travelled to Britain in December 1938.
Sachs was eight at the time.
The Daily Mail acknowledges Sachs' history as an immigrant on page 10, in a large piece on the life of the actor.