Should Donald Trump complete his unlikely rise to the White House, David Cameron's comments in parliament on Wednesday suggest that Britain's special relationship with the US may no longer be so, er, special.
Following a question from Labour MP Tulip Siddiq, in which she criticised the Republican front-runner for his proposal to ban Muslim immigration, David Cameron agreed that his comments were "divisive, stupid and wrong", but did not agree that Britain should ban him on hate speech grounds.
The prime minister argued that Britain was "one of the most successful multi-racial, multi-faith, multi-ethnic" countries in the world and said that instead of spreading fear or hatred, Trump's arrival would help to "unite us all".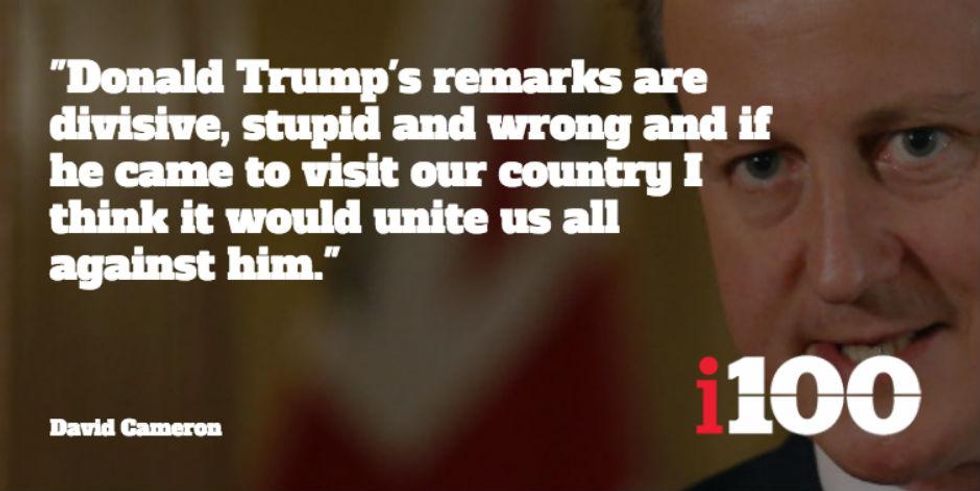 Siddiq asked during PMQs:
Not often I say this... But hear, hear Mr Prime Minister

Posted by Evan Bartlett on Wednesday, 16 December 2015
In our country we have legislation that stops people from entering the country who are deemed not to be conducive to public good.

Does the prime minister agree that the law should be applied equally to everyone, or should we be making exceptions for billionaire politicians?
The prime minister responded by saying:
First of all, let me join the honourable lady in being proud of representing a country which I think has some claim to say we are one of the most successful multi-racial, multi-faith, multi-ethnic countries anywhere in the world.

There's more to do to build opportunity and fight discrimination. Now I agree with her that it is right that we exclude people when they are going to radicalise or encourage extremism.

I happen to disagree with her about Donald Trump. I think his remarks are divisive, stupid and wrong and I think if he came to visit our country I think it would unite us all against him.