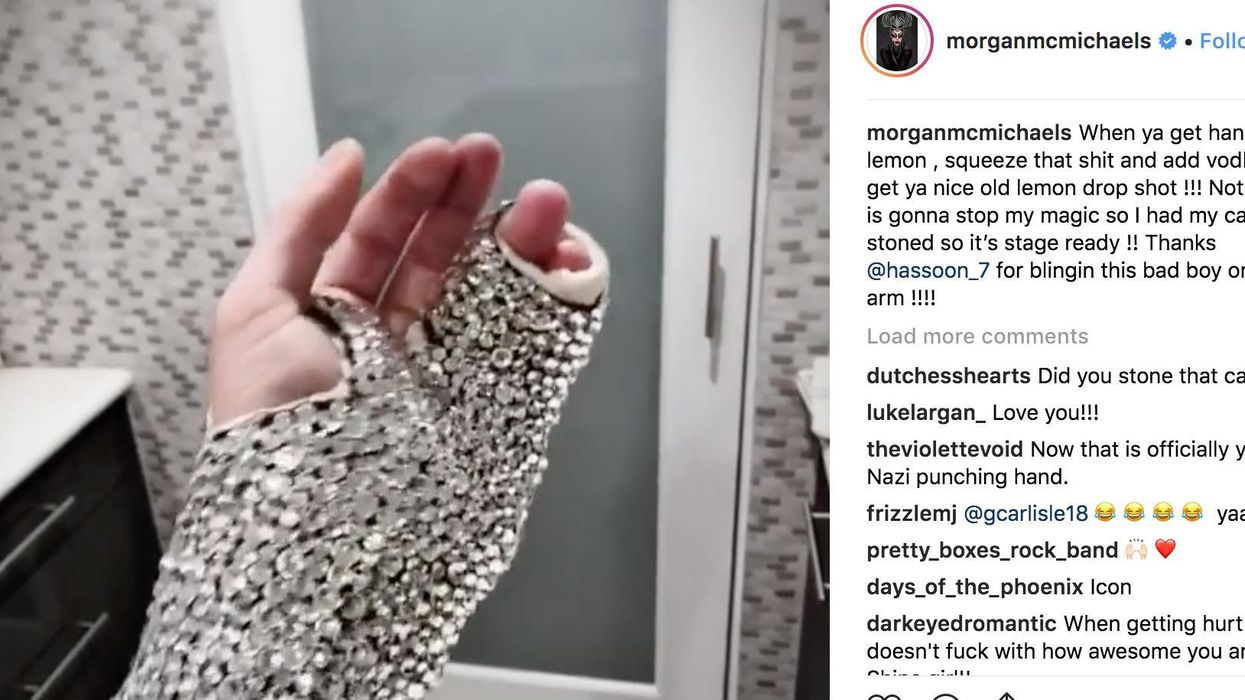 Morgan McMichaels Instagram screengrab
RuPaul's Drag Race star Morgan McMichaels posted a video of her hand in a cast covered in rhinestone jewels.
McMichaels claimed she injured herself in self defence, and wrote:
I was approached by a man at the store who informed me that he was a Nazi and he wanted to cut my f****t throat after he took a swing I obliged him and finished the fight...this f****t will not be victimised.
She added: 'When ya get handed a lemon, squeeze that s**t and add vodka, get ya nice old lemon drop shot !!! Nothing is gonna stop my magic so I had my cast stoned so it's stage ready!"
This isn't the first time drag queens were recipients of homophobic abuse.
Earlier this year, another RuPaul's Drag Race star, Farrah Moan suffered cruel abuse from a female after performing a the O2 Academy. Footage from a Newcastle kebab shop went online, and Farrah tweeted that the jibes with "homophobic" in nature.
People online are sending McMichaels messages of support
Morgan McMichaels: queen of following through https://t.co/ysMDdV5Ss0

— bunz (@bunz) 1539311206
Morgan McMichaels > Indiana Jones

— Ξvan Ross Katz (@Ξvan Ross Katz) 1539362626
@BunnyJCiccone @paulblankjr Wow. Stan.

— CR (@CR) 1539370873
Morgan McMichaels has been contacted for comment.