Anthony Harvey/Getty Images
ITV has confirmed that Holly Willoughby will replace Ant McPartlin as co-host of I'm A Celebrity… Get Me Out of Here!
Willoughby, who previously worked as a presenter alongside Philip Schofield on This Morning, is really looking forward to her new job, and said she "couldn't be more excited to have been asked to stand alongside Dec for the next jungle adventure".
I love Ant and want to send him my best wishes and support for a continued recover.

These are big shoes, not to fill, but just to keep warm for a little bit… Honestly, I'm a huge fan of I'm a Celebrity and actually feel like I've won a competition to go and hang out on my favourite show.

When is it a good time to tell Dec I'm scared of everything that moves?
Lots of publications reported on the move, and the Mirror followed it up with an article titled 'What will happen to Holly Willoughby's kids while she's presenting I'm A Celeb.'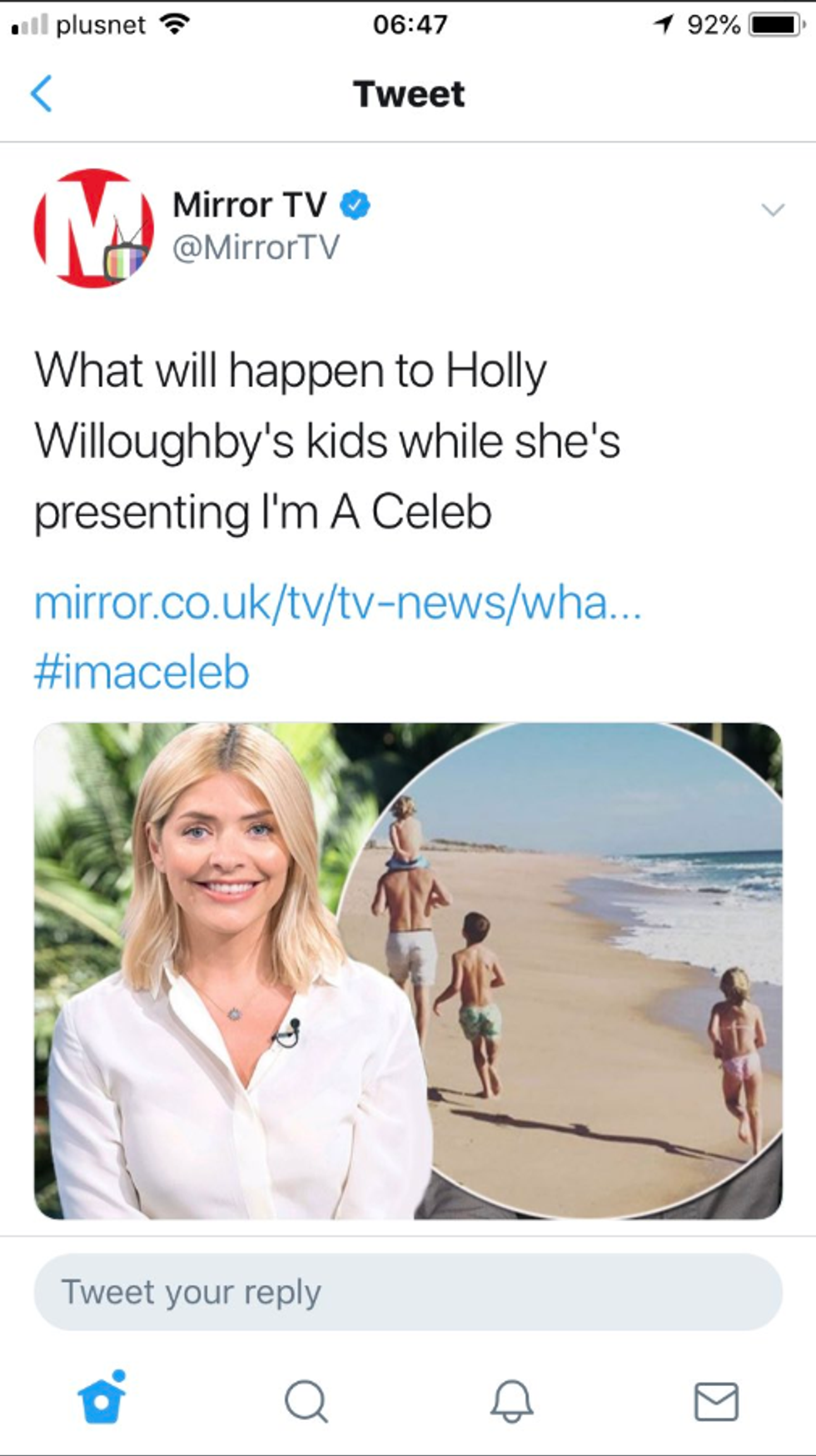 (Picture: Twitter screengrab)
A tweet with the same title was sent out from the official Mirror TV account as well.
They were quickly picked up by people online, who called the angle sexist.
The article goes on to say that Willoughby "put plans in place for her three children with husband Dan Baldwin" and an insider told thepublication that, while leaving her children for a month was a "sticking point", she was "thrilled" that they were able to join her.
Twitter user Zarina Kapasi wrote:
After Holly Willoughby being announced as the stand in for Ant McPartlin - newspapers asking the question what will become of her children while she is away? Really. Do these children not have a responsible father? Why is Dec not being asked why he is still going to Oz when he will be father of a newborn?
People pointed out that the headline made it seem like Willoughby had sole responsibility for her children. However, they have a dad.
The whole thing was accused of being outdated in its sentiment.
Following the backlash, the tweet was removed and the headline, changed.
Irish broadcaster Rick O'Shea was one of the first to notice that the Mirror tweet is no longer available. The headline on the article now reads: "Holly Willoughby found solution to a month away from her kids - then said yes to I'm a Celebrity job".
​Sky News journalist Paul Smith noticed it as well.
And Talk Radio podcast presenter Jamie East pointed out that Dec is expecting a child, but not much has been said in the way of 'what will he do when the child is born?'
The Daily Record, who is published by the same company as the Mirror, Reach PLC, ran with the same original headline.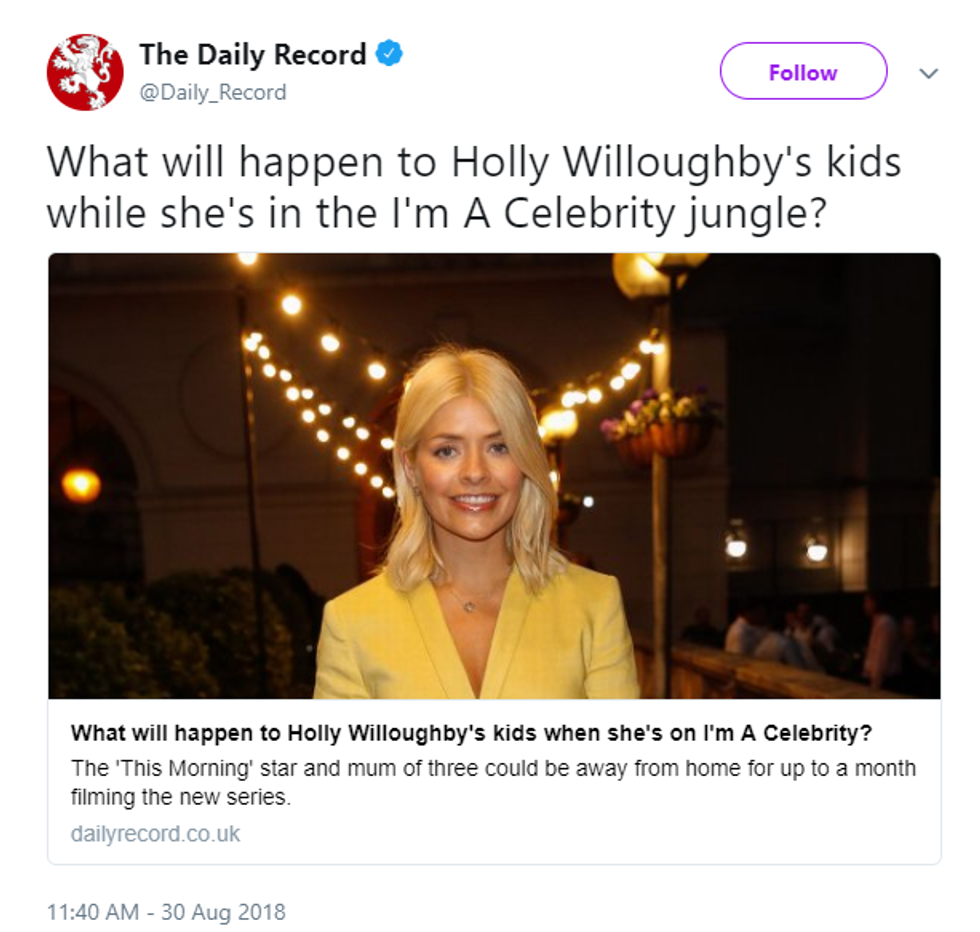 (Twitter screengrab )
Glasgow Women's Aid pointed out the seeming double standard in reporting about men and women:
Would you be covering this if it was a male presenter?
indy100 has contacted Reach PLC for comment after being redirected by The Daily Mirror.