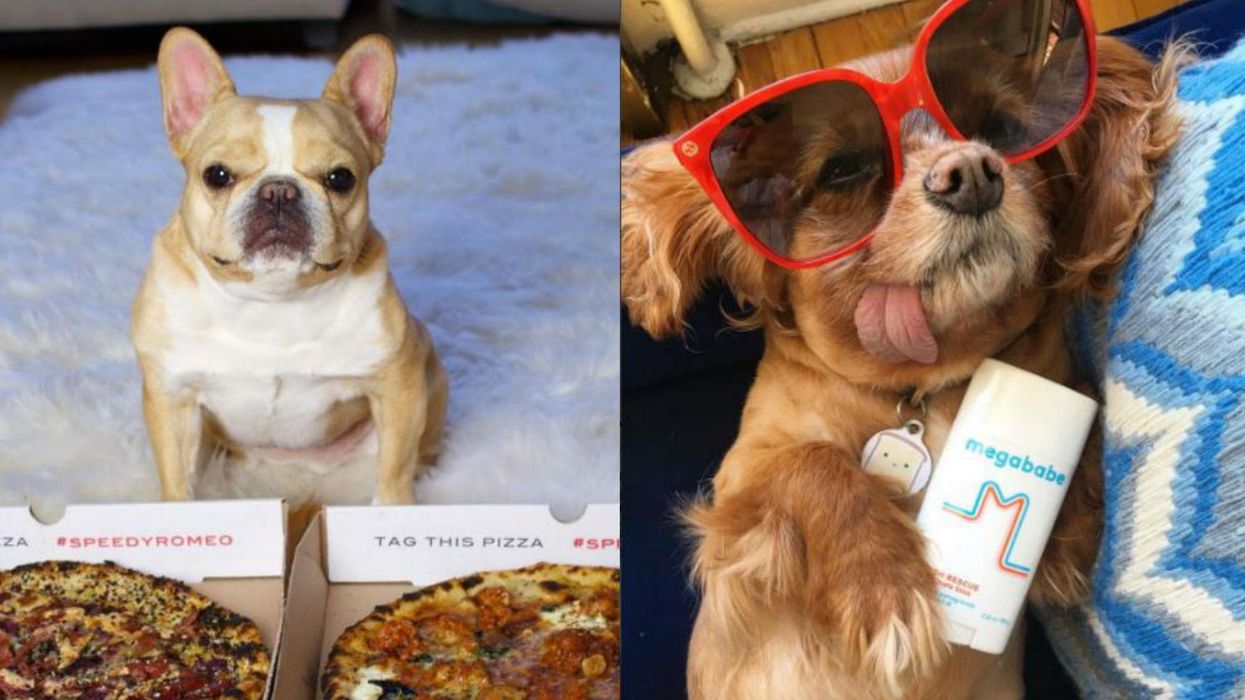 (L) @chloetheminifrenchie/Instagram (R) @toastmeetsworld/Instagram screengrabs
Everyone knows that Instagram has been monetised.
There have been too many botched copy and paste jobs from PR emails by our favourite Instagram accounts, for any of to be naive about this any longer.
But not the dogs. Surely not the precious dog accounts.
The revelation that the We Rate Dogs Twitter account is also a million dollar marketing base for merchandise should already have shattered any illusions you may have had about the sanctity of canine accounts.
But these are some of the dog Twitter accounts that Mashable have found are raking in enough for a dog house in Barkbados and a Land Rover Discovery.
'Manny the Frenchie' is a French pit bull with over a million followers.
According to Mashable this dog has made multiple public appearances, including on Good Morning America.
Most importantly for keeping him in pedigree chow, Manny and his owner have a sponsorship deal with Turtle Wax and Dremel.
The owner of mini French pitbull Chloe (174,000 followers), Loni Edwards has secured beauty sponsorship for Chloe, and has set up an agency for managing dog Instagram talent.
The posts that include adverts are not restricted to dog related products.
Here, Chloe advertises a floating mattress for humans:
And here 'Toast Meets World' models human fashion items, such as frames:
Similarly, a chafing cream for (presumably) human thighs.
Dogs with sponsorship deals and as many followers as Manny can earn anywhere from $10,000 to $15,000 per sponsored post, according to Edwards' agency.
Edwards told Mashable
Of course there's many variables that go into it — the rates pets can make per post depend on the following, the engagement, and what's involved in the campaign,

But generally those with a couple hundred thousand followers are making $3,000 to $5,000 per piece of sponsored content, while those in the millions make $10,000 to $15,000.
Before you become too resentful of a dog and their entrepreneurial owners, many of the same dogs use their account to promote charities and donate their earnings:
According to Chloe's website, the dog has used her fashion brand connections to raise cash for the Humane Society of New York.
[Chloe] recently collaborated with luxury scarf line Donni Charm to create dog scarves, as well as worked with a factory in NYC to create Pawtty Bags, essentially little dog purses to hold poop bags,
Toast the dog has campaigned for dog adoption.
HT Mashable
More: The internet is going crazy for a golden retriever that lives on the roof