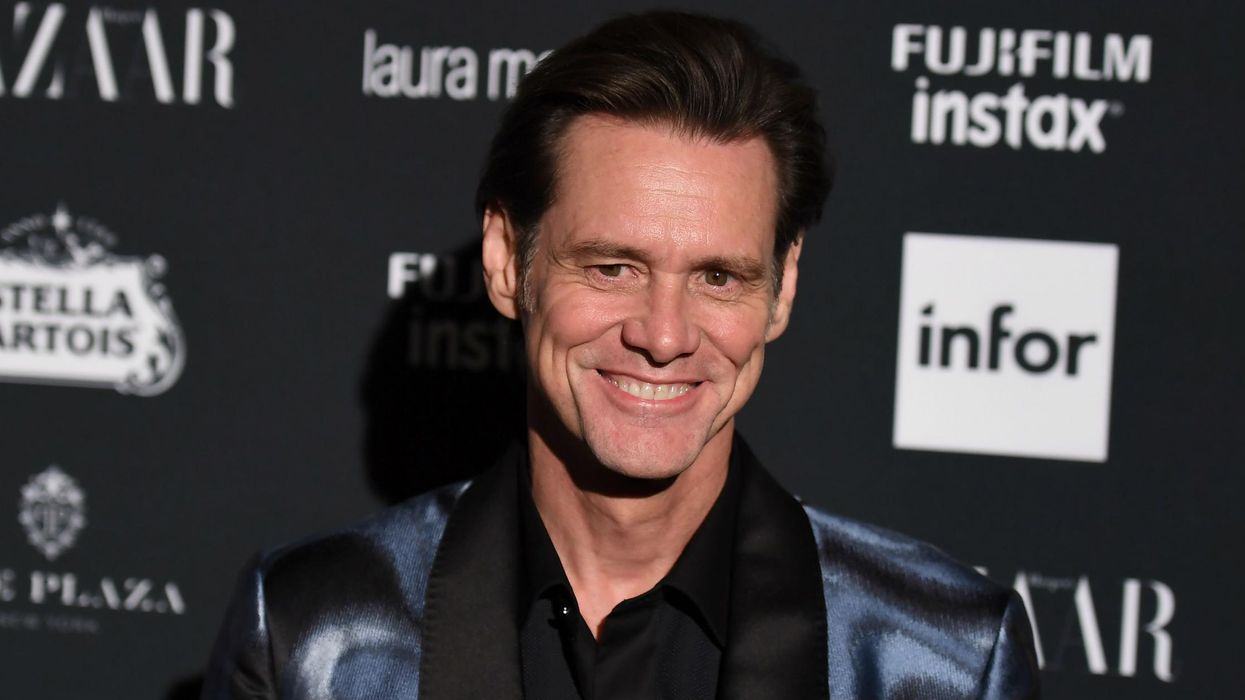 ANGELA WEISS/AFP/Getty Images
Jim Carrey might be best known for starring roles in Ace Ventura: Pet Detective and The Grinch, but he's recently gained quite the reputation as a political artist.
This week, the actor shared a painting of an angry elephant spearing two gun-toting poachers, accompanied only by the caption: #teamelephant. His artistic political statement came just 24 hours after a Russian trophy hunter made headlines for his murder of a large bull elephant in Zimbabwe.
#teamelephant https://t.co/L8sATd4FaK

— Jim Carrey (@Jim Carrey) 1522196058
Although the species is endangered, elephant skin auctions are legal in Zimbabwe and the Trump administration recently lifted a ban on importing trophies of dead elephants from the country, and from Zambia, into the United States.
It was also announced this week that Grace Mugabe, wife of former Zimbabwean President Robert Mugabe, would face a formal investigation prompted by her alleged ties to an ivory poaching and smuggling syndicate.
Elephant conservation isn't the only topic Carrey feels passionate about. Earlier this month, he angered US Republicans by painting likenesses of President Trump and White House Press Secretary Sarah Huckabee Sanders. It goes without saying that neither portrait was flattering, with Trump being directly compared to the Wicked Witch of the West.
If you liked my last cartoon you may also enjoy... "THE WICKED WITCH OF THE WEST WING AND PUTIN'S FLYING MONKEYS" https://t.co/slBG7j1s8d

— Jim Carrey (@Jim Carrey) 1521478946
These political statements might once have seemed uncharacteristic coming from the famously eccentric actor, but the last few months have seen him make headlines often. Remember his bizarre outburst at a New York Fashion Week event last year? Speaking to E! News' Catt Sadler, he exclaimed:
There's no meaning to any of this. I wanted to find the most meaningless thing that I could come to and join, and here I am.

I mean, you gotta admit, it's completely meaningless.
The statements saw him branded a nihilist, but Carrey has continued to speak out, more recently converting his Twitter account into a steady stream of politically charged art.
From a sexually explicit portrait of Donald Trump and a mystery lover (parts of the internet obviously think it's Stormy Daniels) to a picture of the Parkland victims emblazoned with an urgent call for Congress to act on gun control, Carrey rarely shies away from voicing his opinion.