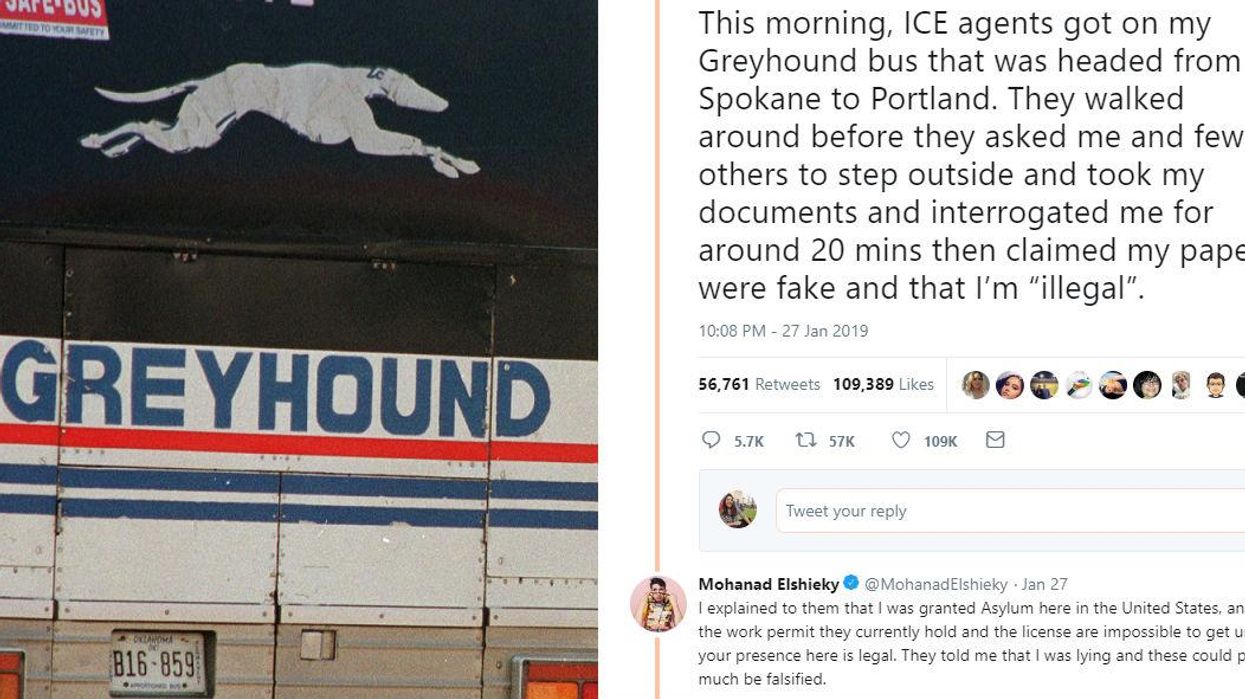 Alex Wong/Newsmakers and Twitter
A Libyan-American comedian claims he was interrogated by US border officials and told his immigration papers were "fake" whilst travelling on a Greyhound bus.
Mohanad Elshieky, a Portland-based comedian, says US Customs and Border Protection agents forced him to get off a bus in Spokane, Washington and show proof of citizenship.
When Elshieky, who has been living and working in America for five years, showed the relevant papers, the agents accused him of having fake documents. They went on to call him "illegal."
In a Twitter thread that has been shared across the internet, he wrote:
I explained to them that I was granted Asylum here in the United States, and that the work permit they currently hold and the license are impossible to get unless your presence here is legal. They told me that I was lying and these could pretty much be falsified.
He went on to detail that the agents called immigration, and he could "hear the person on the end of the line saying that yes they can see my name and yes, I entered the country legally."
That was not the end of the incident. The agents, Elshieky claimed, got off the call and said there were "no records" of his asylum.
Custom and Border Protection officials told the Washington Postthat the agency had been doing such "routine" checks for a number of years, however civil rights activists have described such searches as "uncommon."
In response to concerns raised about the increase of such checks in light of Donald Trump's insistence to build a wall along the southern Mexico border, the bus company released a statement titled "Your rights & rules on board."
It stated federal officials "may stop and board a bus within 100 miles of any border under federal law" and wrote the following advice:
You have the right to remain silent.

When in doubt, do not answer questions about your citizenship or immigration status or sign any paperwork without the advice of a lawyer.

If you have valid immigration documents, provide them. Never provide false documents.

You have the right to ask agents if you are being detained and why.

You can refuse a search of your belongings by saying 'I do not consent to a search.'

You have the right to record video of immigration agents but do not to interfere with their activities.
People online were shocked at how Elshieky was treated.
US Representative for New York Alexandria Ocasio-Cortez condemned ICE
As did many others
More: Brexit: Nigel Farage left red-faced after his incorrect facts about Ireland and EU on live TV
More: Trump asked for global warming to 'please come back fast' in another misguided climate change tweet