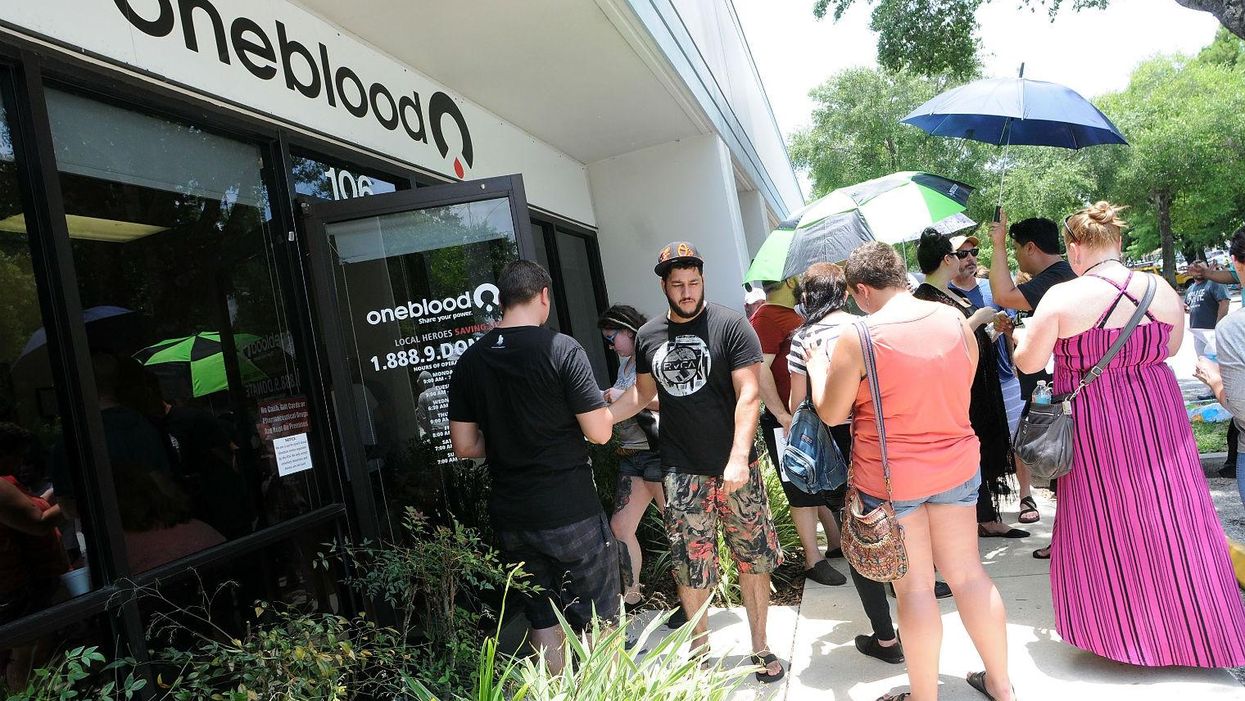 UPDATE: OneBlood donation clinic has since stated that they are not accepting blood and plasma from gay and bi men who have had intercourse in the last 12 months
Around 50 people have been killed and another 53 injured in a "domestic terrorism incident" at an LGBT nightclub in Florida in the early hours of Sunday.
29-year-old Florida resident Omar Mateen fired indiscriminately at partygoers and then took a group that had been hiding in the bathroom hostage. He was killed when police stormed the premises at around 6am local time.
Two witnesses, Jermain Towns (left) and Brandon Shuford, wait down the street for news following shooting and hostage stand-off at the Pulse nightclub. Towns said his brother was in the club at the time (Picture: AP)
In the wake of the attack, local hospitals have been urgently seeking blood donors. And while hundreds are volunteering, there has been anger that one group who really wants to help aren't allowed to: gay men.
Under federal law there have been restrictions on gay men donating blood in place since 1983 during the height of the Aids scare. Changes have been made in recent years, such as allowing gay and bi men to donate if they have been celibate for more than 12 months - but progress has been slow.
Reports were circulating on Sunday that one prominent local blood bank in Orlando, however, said that in the wake of the shooting it is accepting donations from anyone - gay men included.
OneBlood wrote on its social media accounts:
There is an urgent need for O Negative, O Positive and AB Plasma blood donors following a mass shooting in Orlando, Florida.

The need for blood continues. All eligible O Negative, O Positive and AB donors are urged to please donate today.
The clinic has since clarified that it will be complying with federal regulations by not accepting blood and plasma from gay and bi men who have had intercourse in the last 12 months.
All donations will be given a full screening, the clinic added, and anyone in a position to donate is encouraged to do so.