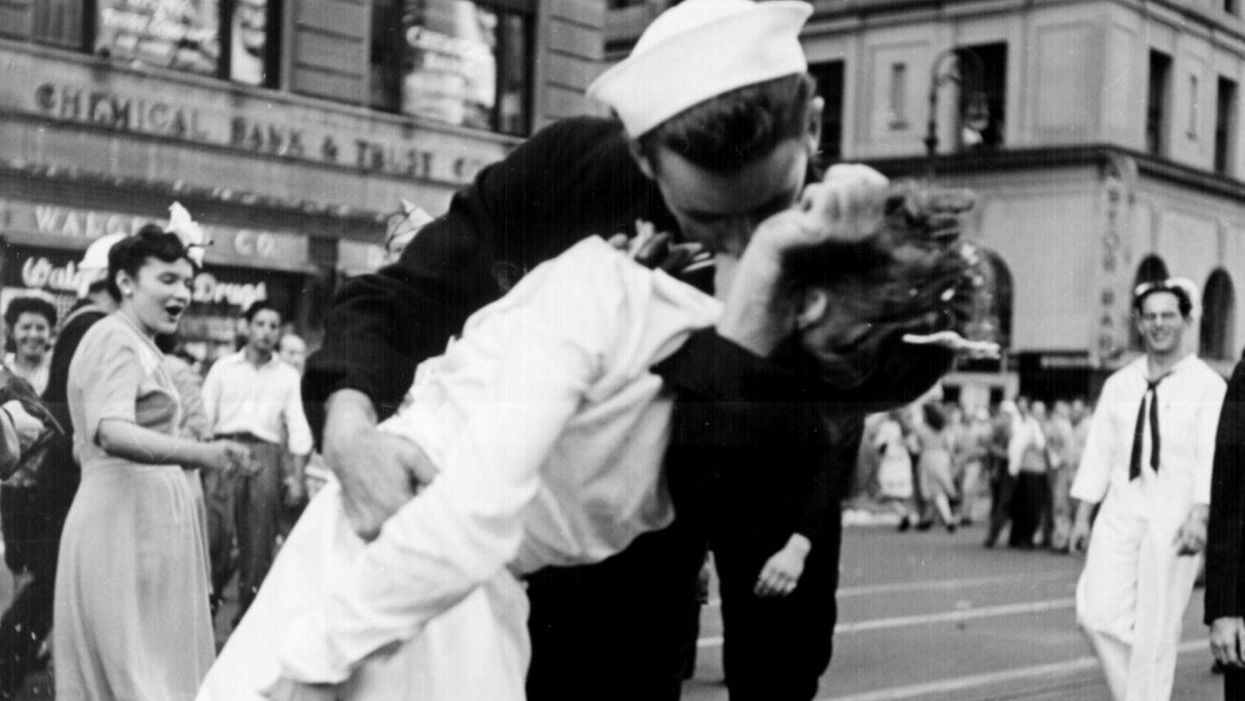 One of the most iconic photographs of the 20th century might not be all it appears.
The photograph, which was taken by Victor Jorgensen in New York's Times Square, shows a sailor and who appears to be a nurse locked in a kiss after the announcement of Japan's surrender and the end of the Second World War.
The woman in the photo, Greta Friedman, died on Thursday, prompting a resurgence of the photograph.
Picture: Victor Jorgensen/Wiki public domain
People all over the world celebrated the VJ Day image as a beautiful ode to passion and patriotism, and have tried to replicate it.
The iconic image was recreated many...
Picture: Rex
many...
Picture: Rex
Many
Picture: Rex
Times
Picture: Rex
However some people are beginning to suspect that the photo's circumstance is actually very sinister …
The image might not be the romantic, impromptu kiss it is known for.
The sailor in question, George Mendonsa, had been on a date and drinking. When the announcement of the end of the war came through on 14 Aug 1945 he was ecstatic, and sought to celebrate the nurses who were instrumental in the war, as well as the fact that he wouldn't have to fight.
Mendonsa had spotted Friedman, who was wearing what appeared to be white nurse's overalls. She was 21 years old at the time, and in fact a dentist's assistant on a break.
He grabbed and kiss her - a woman he didn't know.
In a transcript of an interview for the Veterans History Project in 2005, Friedman said:
Suddenly, I was grabbed by a sailor. It wasn't that much of a kiss. It was more of a jubilant act that he didn't have to go back. I found out later he was so happy that he didn't have to go back to the Pacific where they had already been through the war. The reason he grabbed somebody dressed like a nurse, that he felt so very grateful to the nurses who took care of the wounded.

It wasn't my choice to be kissed.
Feministing cites blogger Leopard, who gives a damning review of the kiss:
Far from being a kiss between a loving couple, we learn that George and Greta were perfect strangers. We learn that George was drunk, and that Greta had no idea of his presence, until she was in his arms, with his lips on hers.

It seems pretty clear, then, that what George had committed would be considered sexual assault.
The photograph was published by Life magazine, and in 1980, after asking the two previously unknown people to come forward the duo were brought together twice, once more by CBS in 2012:
Picture: CBS/screengrab