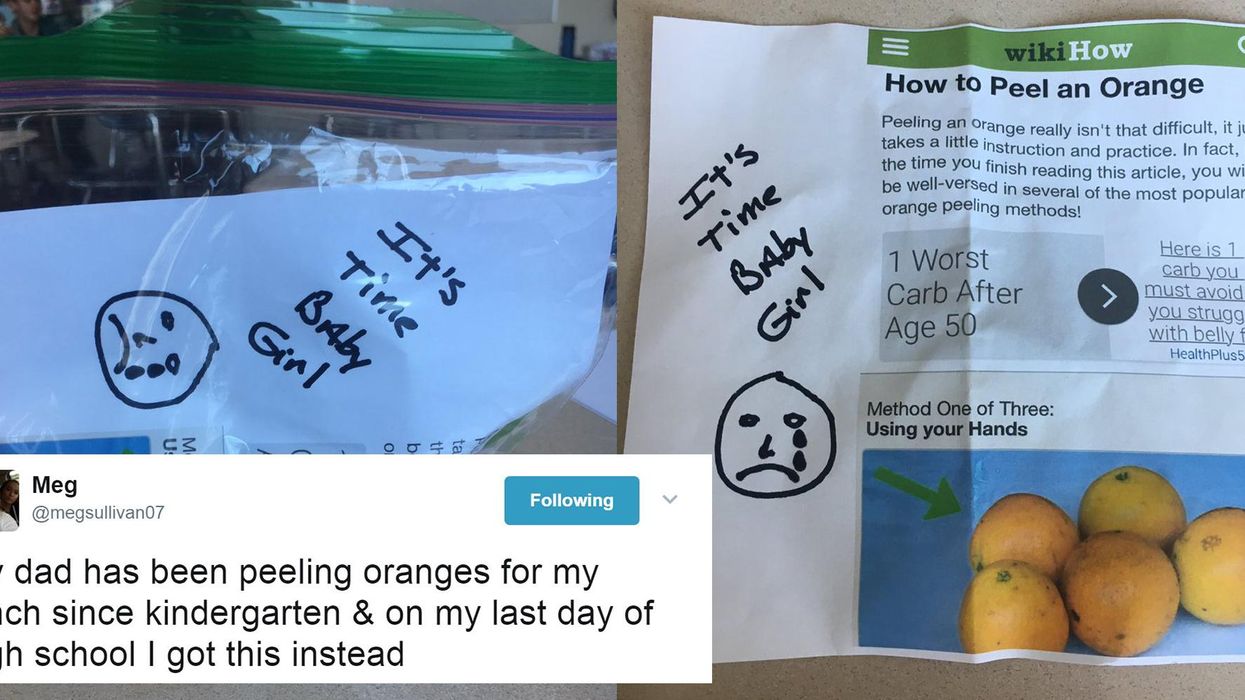 Twitter / @megsullivan07
Leaving school is an emotional time. It's the end of an era, the dawn of adulthood, and the start of something new and exciting for many.
For parents, it's even more sad. Tom Sullivan, from Tacoma, Washington decided to make his 18-year-old daughter Meg have a memorable last day of school before she left for Grand Canyon University which is 1,400 miles away in Arizona.
Tom had been making his daughter's lunches for school since she was in nursery. Last year their family started to make jokes that he still peels oranges for her despite the fact she was 17.
So, for her last day of school, he decided to mark her transition into adulthood by sending her to school with two unpeeled oranges and a printed out a wikiHow article on "how to peel oranges".
My dad has been peeling oranges for my lunch since kindergarten & on my last day of high school I got this instead https://t.co/N8B2qb43qA

— Megs (@Megs) 1496260824
On it he wrote a note saying "It's time baby girl" followed by a drawing of a sad face.
Meg told TODAY, she found the note cute but also found it sad because it hit her that high school was over.
I felt like the note was like turning the chapter in my childhood and bringing me toward my new independent life as an adult.

It's been so long, so many years he's made my lunches.

Now he can't go to college with me, and I'll just be on my own. I was kind of sad. I'll be sad to leave
Meg added that her and her Dad are very close, and that she's mostly lived with him since her parents divorced.
He goes above and beyond and does special things for me to make me know that I'm loved.
Her Dad echoed her sentiment, speaking to TODAY he said:
It was mostly in fun, but absolutely, it was, this is the end of one chapter and the beginning of another, where it's going to be different.

It represents all of the things she's going to need to be doing on her own.

I could have put money on her lunch account. But it's one of those little things I thought was important, that she knows somebody's taking the time to take care of her.

I thought it would be funny, but apropos to print out a thing saying, 'This is how you peel an orange.

I don't worry about her at all. She's extremely smart and she's talented and she's driven.

Now she's going to peel her own oranges, and she'll peel them great.
Meg's tweet now has over 100,000 retweets, she told indy100:
All of my friends, and even people I haven't talked to in a really long time are like "you're so famous".

I had a big family party for graduation yesterday and all of my family was like "I just can't believe it" but they're all glad my dad was recognised for being so great, because he really is and they have all known that since he was little.
People on twitter are absolutely loving it.
@megsullivan07 https://t.co/NxCtpEF8Ki

— 🥀 (@🥀) 1496313728
Meg told indy100 that as she just lives with her Dad, she's going to miss him a lot, but she's excited for the next chapter of her life:
The two of us have a lot of fun together, and we've got each other which will always be enough. I go through phases of being sad and then excited to leave. Some days it hits me all at once that I'll no longer have my childhood life, but some days I'm just excited to go out and experience new things. I think it's important to have a mix of feelings about it, that way when I do leave I'll always look back and appreciate the special times I did have in my childhood.
She added that her Dad won't be alone as he's planning on moving with his girlfriend Shelly to somewhere closer to his work in Georgia and that her and her Dad are planning to visit each other "a bunch".
She also said that her family have lots of fun together.
I'm the youngest in my family and I have one brother named Kelly. He's 22, and living in Montana. Kelly visits occasionally, but like my dad, is extremely caring and is always there for me even across the states. Shelly also has two "kids" who I consider siblings. Jillian is turning 20 this month and goes to Washington State University. She lives with us half the time in the summers and we're basically the same person so we have lots of fun together.