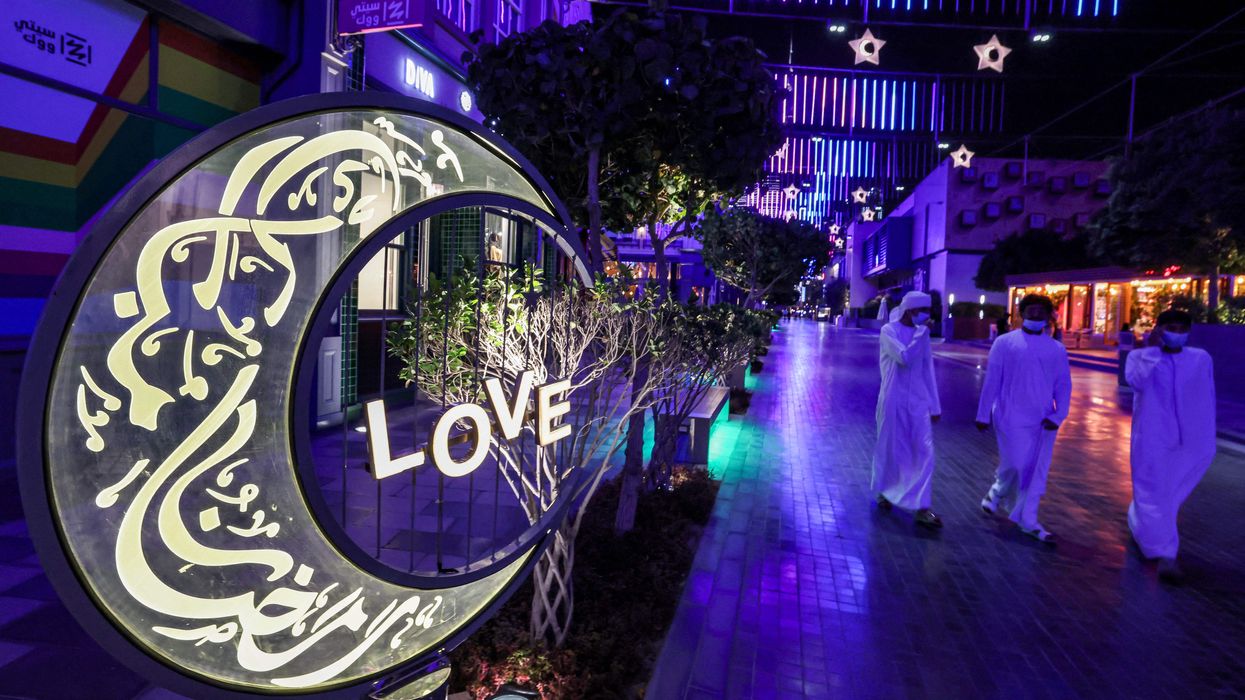 Photo by GIUSEPPE CACACE/AFP via Getty Images
With 1.8 billion Muslims residing within the world, it's highly likely you'll encounter someone who celebrates the holy month of Ramadan beginning today.
For those who don't celebrate Ramadan, it can be somewhat confusing understanding what it is, and the customs associated with the holiday.
For example, is there anything specific you should do or say when in the presence of Muslim friends or acquaintances during Ramadan? Luckily for you, we've got you covered: Here are a few things you need to know regarding Ramadan.
What is Ramadan exactly and who celebrates it?
Considered the most sacred month of the year for Muslims, Ramadan is a time of spiritual discipline, when one's relationship with God or Allah is thoroughly examined. During this time, Muslims fast every day from dawn to sunset, engage in extra prayer and study the Qur'an.
Ramadan is also a time to spend with friends and loved ones. There is often a big three-day celebration called Eid al-Fitr, or the Festival of the Breaking of the Fast at the end of Ramadan. It is viewed as a celebration and a time of joy.
What occurs during Ramadan?
Throughout Ramadan, Muslims won't eat or drink between dawn and sunset. This is referred to as fasting. During this period, Muslims will wake up before dawn to eat their first meal of the day (known as the suhoor). Their second meal of the day is referred to as iftar, and occurs directly after sunset - when the evening call to prayer is made.
Exceptions are made to children, pregnant women, the elderly and those who are sick.
In addition to fasting, Ramadan is also a time for spiritual reflection, prayer, doing good deeds and spending time with family and friends. That being said, Muslims must abstain drinking any liquids, smoking cigarettes, and engaging in any sexual activity, from dawn to sunset for the entire duration of Ramadan.
What is typically eaten?
Once fasting ends, Muslims often indulge in a variety of different delicious dishes during suhoor and iftar meals. A few of them include Turkish pide bread, fattoush salad, Haria soup, fried pakoras, kebabs, kunafa (Kunafeh), khasta kachori and baklava, which is a layered pastry filled with chopped nuts, and sweetened with syrup or honey.
How do people mark it?
The important thing to understand about Ramadan is that it follow a lunar calendar — based on the cycles of the moon. Because it is the ninth month of the Islamic calendar, the dates move backward eleven days each year. This means the dates are never the same and vary every year.
Depending on the year, Ramadan lasts 29 or 30 days, with the observance of the new crescent moon marking the official start of Ramadan.
How do you wish someone a Happy Ramadan?
By saying Ramadan Kareem, which translates to Have a generous Ramadan, or Ramadan Mubarak, which is roughly translated as Happy Ramadan.
At Eid al-Fitr, you can change the changes to "Eid Mubarak" which roughly translates to Happy Eid.