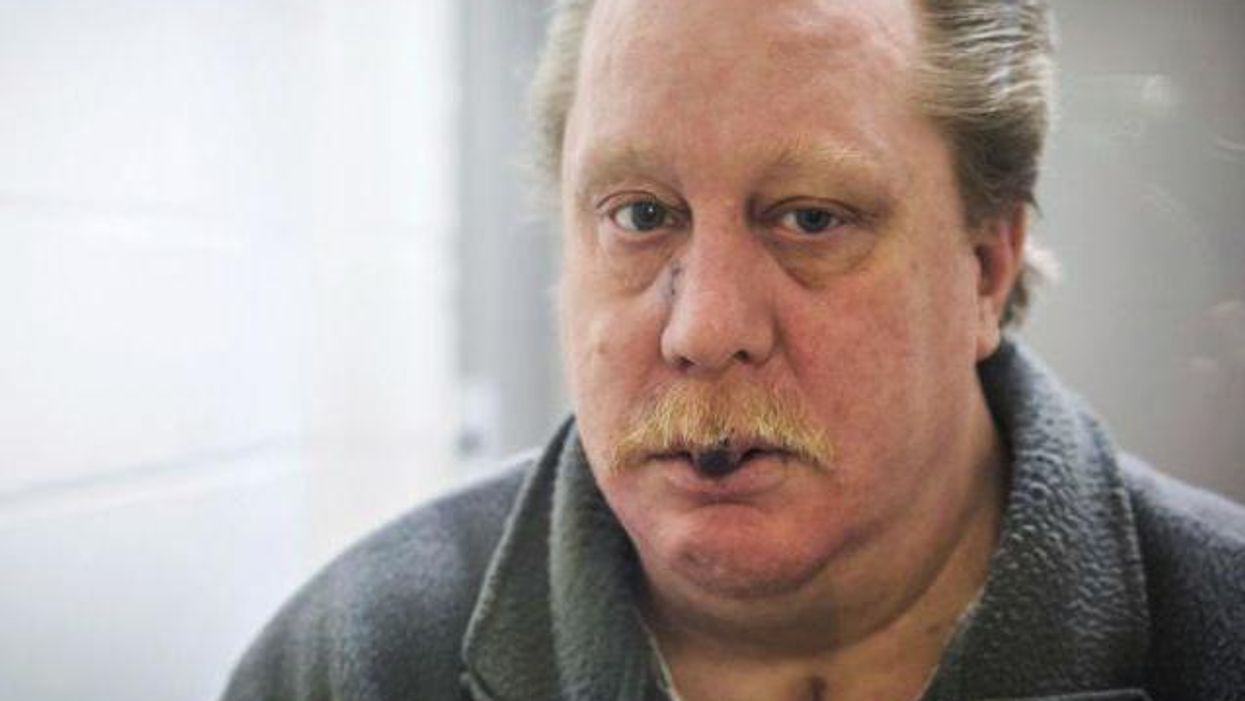 AP
A Missouri death row inmate whose life was spared by a last-minute stay of execution four years ago is asking the U.S. Supreme Court for another reprieve, claiming the process of killing him could cause blood-filled tumors to burst inside his head.
Russell Bucklew is scheduled to die by injection Tuesday evening for killing a former girlfriend's new boyfriend during a violent rampage in 1996. He would be the first Missouri prisoner put to death since January 2017.
Bucklew, 49, was within an hour of execution in May 2014 when the U.S. Supreme Court halted it over concerns about Bucklew's rare medical condition, cavernous hemangioma. The ailment causes weakened and malformed blood vessels, tumors in his head and throat and on his lip, and vein problems.
His attorney, Cheryl Pilate, is again asking the Supreme Court to intervene, claiming Bucklew's condition has only gotten worse.
The tumor on Bucklew's lip has grown substantially since 2014 and is now the size of a grape, Pilate said. She believes the internal tumors have grown, too, and will likely rupture and bleed during the execution, potentially causing Bucklew "to choke and cough on his own blood during the lethal injection process."
"Mr. Bucklew's rare and severe condition creates a very substantial risk of a gruesome execution, with choking and gagging on blood and the infliction of excruciating pain," Pilate said.
A court document for appeal claims an execution would violate Bucklew's constitutional guarantee against cruel and unusual punishment., adding:
"Bucklew's execution will very likely be gruesome and painful far beyond the pain inherent in the process of an ordinary lethal injection execution."
The condition also compromises his veins, and Pilate said the fatal injection couldn't be administered in the typical way through an arm vein. Hawley wrote that the lethal dose of pentobarbital could be administered through a leg or other vein instead of the arm.
Pilate also has asked for clemency from Republican Gov. Eric Greitens. A spokesman for the governor declined comment.
Bucklew's appeals have suggested that if the execution is carried out, the state should use lethal gas instead of an injection of pentobarbital. Missouri law still provides for the option of lethal gas, but the state no longer has a gas chamber and has not used the method since 1965.
None of the 20 inmates executed since Missouri began using pentobarbital in 2013 have shown obvious signs of pain or suffering.
Bucklew became angry when his girlfriend, Stephanie Ray, ended their relationship in 1996. Hawley said in court filings that Bucklew slashed Ray's face with a knife, beat her and threatened to kill her. She took her children and left.
Over the next two weeks, Bucklew stalked Ray, even as he stole a car, firearms, two sets of handcuffs and duct tape. He eventually found out where she was staying and broke into the southeastern Missouri trailer home of Michael Sanders, Ray's new boyfriend, fatally shooting him. When Sanders' 6-year-old son came out of hiding, Bucklew shot at the boy and missed.
Bucklew pistol-whipped Ray, put her in handcuffs and dragged her to his car, where he raped her.
Police pursued Bucklew -- a chase ending in a gunfight that wounded an officer. Once in jail, Bucklew managed to escape and went to the home of Ray's mother, where he attacked her with a hammer before he was finally captured.
Some civil rights organisations have joined in asking that Bucklew be allowed to live out his life in prison. In a letter last week to the Inter-American Commission on Human Rights, the American Civil Liberties Union wrote that executing Bucklew "would be egregious, torturous, and in violation of the U.S. and international law prohibiting torture, cruel, inhumane or degrading treatment or punishment."
AP