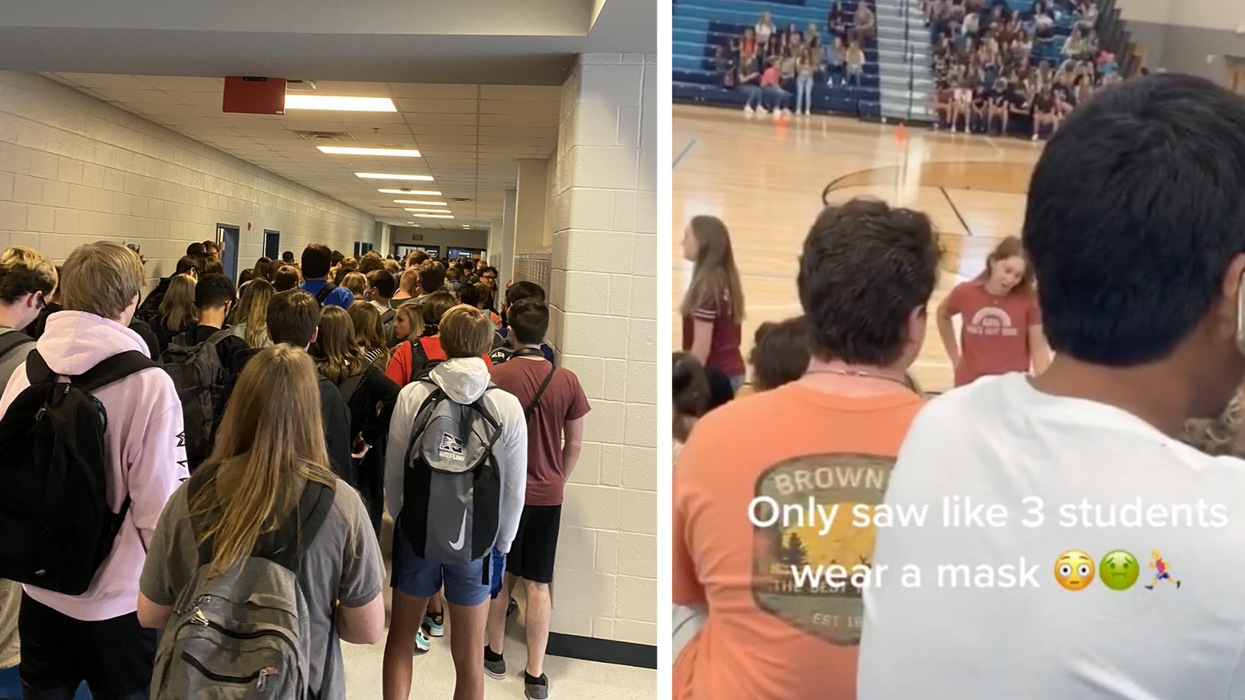 Twitter/TikTok
Despite fierce debate in the US and fears of a 'second wave', some states have decided to reopen schools and in-person classes.
In states like Tennessee and Georgia, pupils in many schools physically returned to buildings for the first time in months.
But what some students encountered shocked them so much they have been 'whistleblowing' via social media platforms like TikTok and Twitter.
Videos and photos of crowded hallways, with many students not wearing masks, have flooded the internet, giving rise to fears that precautions to prevent the further transmission of coronavirus are not being observed in school environments.
One Georgia teenager was reportedly suspended after uploading footage of packed corridors at her school.
Hannah Watters posted images from North Paulding High School in Dallas, Georgia, after experiencing 'concern' that CDC precautions weren't being followed.
The pictures were shared by other accounts and quickly went viral, leading to Watters' suspension, she says.
Speaking to CNN , the teen said she didn't regret her suspension.
"I'd like to say this is some good and necessary trouble," Watters said.
"My biggest concern is not only about me being safe, it's about everyone being safe because behind every teacher, student and staff member there is a family, there are friends, and I would just want to keep everyone safe."
Another teenager, who uses the handle @heyhannah on TikTok, also shared a video which reveals scenes from inside her school on her first day back.
Stills show crowded gymnasiums and few students wearing masks.
"Can someone tell me why the f**k I was one of a handful of students wearing a f**king mask?" she asks, during the clip, which has racked up 2.4 million views.
There was also outrage as it became clear that masks were not going to be enforced – despite dress codes that penalised young women being common.
People noted a massive double standard.
Teachers have also voiced their opposition to back to school plans; in Gwinnett County, Georgia, dozens staged a socially distant protest and honked horns at the decision to make people return to the classroom.
In Tennessee, two school districts have already closed after reopening just two weeks earlier, following reported coronavirus cases connected to the return of in-person learning.
Coffee County Schools and Blount County Schools, have reportedly closed schools or changed learning schedules after localised outbreaks.
Seems as though some state officials have some lessons to learn about managing this pandemic effectively...